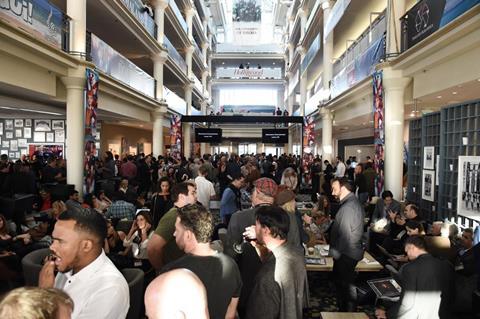 Pure Flix/Quality Flix is screening the thriller Welcome To Mercy for AFM buyers, alongside five new films including God's Not Dead: A Light In Darkness, and Little Women.
Welcome To Mercy hails from Scream and The Scary Movie executive producer Cary Granat and opens in the US on Friday [November 2] via IFC in 15 cities.
Ron Gell, vice-president of international sales and distribution for Pure Flix/Quality Flix, is screening the film on Friday and Saturday. The story centres on an American single mother who returns to Latvia to say goodbye to her dying father, and experiences visions and wounds resembling the stigmata.
When she is transported to a remote island convent to seek the help of a mysterious religious order, she discovers the sinister cause of her affliction. Tommy Bertelsen directed.
Kristen Ruhlin, Eileen Davies, Lily Newmark, Toms Liepajnieks, and Dainis Grube star. Granat, Darren Goldberg, Ed Jones, Joel Michaely, Nick Oleksiw, Max Pavlov, Igor Pronin, and Yulia Zayceva served as producers.
"It's great to be reunited with Cary, someone I've known for many years, for the production of his latest film," said Gell. "Early buzz on the film describes Welcome To Mercy as a 'gender-flipped' twist on The Shining and a mixture of iconic thrillers such as The Exorcist and The Nun. We are excited to bring a new thriller to international buyers at AFM along with five top notch features."
The sales roster includes Indivisible, Life With Dog, and Death Of A Nation.