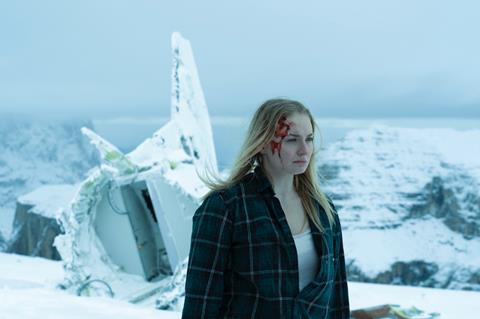 Jeffrey Katzenburg's short-form SVoD service Quibi is launching with 50 shows spanning drama, unscripted and bite-size entertainment news and lifestyle programming.
The service is launching on April 6 with content including a series called Most Dangerous Game, starring Liam Hemsworth, a Jennifer Lopez-executive produced gameshow Thanks A Million and car stunt series Elba Vs. Block, the first UK commission for the platform.
Additionally, the platform is offering a 90-day free trial for a limited time, if users sign-up before the launch date.
Over its first year, Quibi said it will release 175 original shows and 8,500 quick bites of content.
The service will split material into three content pillars: Movies in Chapters, Unscripted and Docs, and Daily Essentials.
Scripted series ('movies in chapters') will be streamed in seven-to-10 minute segments, while unscripted and documentaries will be shows of 10 minutes or less and split into sub-categories such as food, fashion, travel, animals, cars, builds, music, sports, comedy, talk, variety and documentary.
Daily Essentials features curated five to six-minute quick bites across news, entertainment and lifestyle.
Quibi: Highlights of launch slate
Movies in Chapters
Most Dangerous Game – dystopian action-thriller starring Liam Hemsworth and Christoph Waltz
Desperate to take care of his pregnant wife before a terminal illness can take his life, Dodge Maynard (Hemsworth) accepts an offer to participate in a deadly game where he soon discovers that he's not the hunter but the prey.
When the Streetlights Go On – thriller starring Chosen Jacobs and Sophie Thatcher
After the murder of a beautiful young girl rocks a suburban community, the victim's sister and her high school peers must struggle to find a sense of normalcy while coming of age in the midst of the murder investigation.
Survive – action survival film starring Sophie Turner and Corey Hawkins
Two people crawl out of the wreckage of a plane crash and must battle the wilderness and brutal conditions to get back to safety
Flipped – comedy starring Will Forte and Kaitlin Olson
A couple who embark on a home development career stumble across a cartel's money cache and are forced to renovate the cartel's mansions to repay the money they took.
Unscripted and Docs
Thanks A Million
Executive produced by Jennifer Lopez, this series features grateful public figures who kickstart a chain of kindness by gifting $100,000 to an unsuspecting individual who must pay it forward.
Chrissy's Court
Real people, real cases and real, legally binding decisions in a court presided over by Chrissy Teigen.
Daily Essentials
Last Night's Late Night
Entertainment Weekly breaks down the previous night's late-night shows every morning with a breakdown of the smartest monologues, best interviews and must-see sketches.
This daily recap series highlights the best moments from the previous evening's shows to determine who won the night and the week.
Sexology with Shan Boodram
Created by Corin Nelson and Shan Boodram, this series features certified sexologist and intimacy expert Shan Boodram as she shows viewers how to navigate the realities of sex, dating and relationships in a world where the rules of love and attraction are often confusing and fluid.
Around the World by BBC News
Bulletins drawing on the BBC's vast global network, along with its 100-year history of impartial and authentic storytelling.
A version of this story first appeared on Broadcast, the sister site of Screendaily.