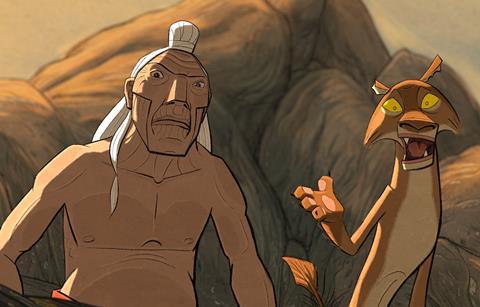 The Red Nation International Film Festival, which spotlights American Indian and Indigenous cinema, has announced the line-up for its twenty-eighth edition, running November 1-12 in Los Angeles.
The festival, staged by the Red Nation Celebration Institute (RNCI) at the Fine Arts Theatre in Beverly Hills, will open with Aron Gauder's animation Four Souls Of Coyote, best feature jury award winner at this year's Annecy, and Madison Thomas' post-apocalyptic drama Finality Of Dusk.
Spotlight screenings include Riley Keough and Gina Gammell's 2022 Cannes Camera D'Or winner War Pony and Josh and Rebecca Tickell's documentary Common Ground, winner of the Human/Nature award at this year's Tribeca festival.
Features set for Red Nation's closing night are Maria Clements' Canadian Screen Awards nominee Bones of Crows, Nina Nawalowalo's New Zealand documentary A Boy Called Piano and The Unknown Country, Morrisa Maltz's 2022 drama with Killers Of The Flower Moon star Lily Gladstone. Gladstone is also the focus of the festival's closing night documentary short Lily Gladstone: Far Out There, from Brooke Pelion Swaney.
In total, the festival will offer 82 films - 47 of them directed by women - including features, animations, documentaries, shorts and student films.
To coincide with the American Film Market (AFM) in the first week of November, RNCI and the AFM are partnering to present Economic Development on Native Land, a November 2 discussion session about the significance of filming on Native land.
Red Nation founder and president Joanelle Romero commented: "The RNCI board of directors is thrilled to share the compelling selection of work at this year's festival honouring our storytellers of authentic voices".
"The festival theme for 2023 is Only One Water," Romero added. "As we are in a climate crisis, it is urgent that we come together through environmental social justice films and music."