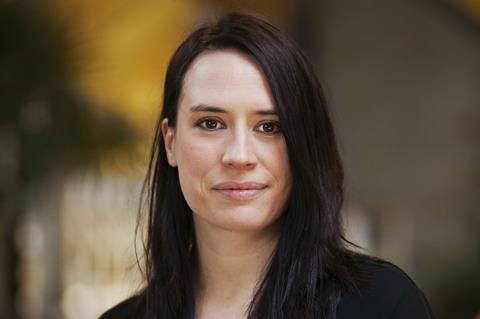 International Film Festival Rotterdam (IFFR) director Vanja Kaludjercic has announced an ambitious redesign of its traditional format to ensure the 50th edition in 2021 is still amply celebrated in spite of potential Covid-19 restrictions in the backdrop.
Under the new plans, the previously announced dates of January 27-February 7, 2021, have been revised so that the 50th edition will now run as an extended multi-part event, spanning February to June.
It will kick off with a hybrid opening event running from February 1-7 and culminate with a summertime celebration from June 2-6 to mark the first edition of Rotterdam, which took place in June 1972. The industry-focused IFFR Pro will run online in February.
In between these times there will be a range of socially-distanced physical gatherings in Rotterdam, as well as online events for audiences unable to travel to the port city from February to June.
"IFFR, like other major festivals, is built on the principle of large groups of people gathering together to watch as a collective, which is simply not possible given the current restrictions," said Kaludjercic.
Like most of Western Europe, the Netherlands is currently living under partial lockdown measures to slow the second wave of Covid-19. While many of these restrictions could be lifted in the coming weeks, there is a strong chance they will be reapplied in the New Year if cases rise again when people gather over the festive season.
"These limitations made us rethink in what form we can best serve the filmmaking community, our collaborative partners and audiences under these circumstances," said Kaludjercic.
The February 1-7 screening programme will consist of physical and virtual screenings of IFFR's main Tiger, Big Screen and Ammodo Tiger Short competition strands, as well as the Limelight line-up of preview screenings for upcoming arthouse releases.
Physical screenings will take place at traditional festival venues of de Doelen and the KINO Rotterdam. Films will also be available to watch online for audiences across the Netherlands as well as accredited press and industry worldwide.
That same week, the industry-focused IFFR Pro Days, headlined by the Cinemart co-production market and the Rotterdam Lab, will run fully online. The Rotterdam Lab, aimed at fostering producers at the beginning of their careers, will run slightly outside these dates from January 25-February 5.
Commenting on the move online, IFFR Pro Days head Marit van den Elshout promised a personalised, made-to-measure programme for each of the participating projects and individuals.
"In a world marked by distance, we feel a responsibility to support the film industry and to help forge the connections that lie at the heart of our industry," she said.
Summertime celebration
The June 2-6 event will have IFFR's new major programming strand Harbour, which was announced by Kaludjercic back in July, at its heart along with the Bright Future titles.
There will also be a special anniversary programme drawing on the history and highlights of past editions of Rotterdam.
The hope is that the global health situation will have improved enough by June to be able to envisage wider-scale public events aimed at local audiences and invite international guests who have played their part in the festival's rich history.
Kaludjercic has not ruled out that aspects of this June event could become a more permanent fixture in the future, to extend the festival's reach beyond its January, February dates.
"We're looking forward to discovering whether these events can live outside of the festival framework," she said.
The array of physical and online events taking place between February and June include an interactive AR art installation throughout Rotterdam, bannered Tiger On The Loose.
Another highlight is the Vive le cinéma ! exhibition presented in collaboration with the Eye Filmmuseum in Amsterdam, consisting of commissioned audiovisual works by filmmakers including Lucrecia Martel, Lemohang Jeremiah Mosese, Carlos Reygadas, as well as Nanouk Leopold and Daan Emmen with a joint project.
The festival's IFFR Unleashed streaming platform will also play its part with a 50/50 collection offering, consisting of 50 programmer favourites from past editions. Confirmed titles include 1972 selection The Cow by Iranian director Dariush Mehrjui, and Eliza Hittman's first feature It Felt Like Love, which played in the Tiger competition in 2013.
Challenging first edition
Kaludjercic officially took over the reins of IFFR from previous director Bero Beyer on March 1, just two weeks before much of Europe went into lockdown to combat the first wave of Covid-19.
Her plans for her inaugural edition have been marked by the pandemic from the start.
"I knew immediately that we were facing a very different set of circumstances from what the team had experienced up until then. Especially as the 49th edition, which was one of the last big events to take place in the international film industry, had been a great success with massive admissions of some 340,000," she recounted.
"Coming off those heights was hard as we tried to figure what kind of festival we could create if the pandemic continued, especially in this important 50th edition year. Early on, we came up with a number of different scenarios, going back and forth between physical, hybrid or online events."
Kaludjercic admits that her optimism grew over the summer, especially after the Venice Film Festival went ahead in late August.
"That gave us a huge amount of hope," she said.
But rising cases of Covid-19 across Europe including the Netherlands from September onwards, combined with Dutch government projections for the flu season in January, soon convinced the IFFR team they would have to rein in their physical plans.
"Rather than trying to continue with the usual format until we reached the point of no return and have to cancel, we decided we had to entirely redesign this year's edition," explained Kaludjercic.
Giving more details on the February component, Kaludjercic said that plans to enlarge the festival's flagship Tiger Competition from 10 to 16 titles, which were also announced in July, remained intact.
She suggested, however, that it is unlikely that many of the teams connected to the selected films will be able to attend physically.
Instead, the festival plans to connect filmmakers with audiences through digital conversations and events, using an online platform developed in collaboration with other leading Dutch festivals, the Netherlands Film Festival, the International Documentary Festival Amsterdam, and Cinekid.
"I'm not saying we wouldn't host filmmakers physically in Rotterdam, but right now that possibility looks unlikely," she said.
Like neighbouring IDFA, which is due to take place at the end of November, IFFR will seek to hold theatrical screenings for the invited films, however small the audience.
In the backdrop, uncertainty around how and when the Berlinale and Cannes might unfold in 2021 has not impacted IFFR's ability to secure titles, said Kaludjercic. She even acknowledged that some of the titles in Cannes special 2020 selection were under consideration.
"There are always titles that are having to choose between the festivals taking place at the beginning of the year, whether that is Rotterdam, Sundance or Berlin, and others waiting for Cannes, and this hasn't really changed.
"It hasn't become tougher for us," she said. "The number of submissions hasn't decreased and we're still seeing plenty of films that we'd like to support and present in our competitions."