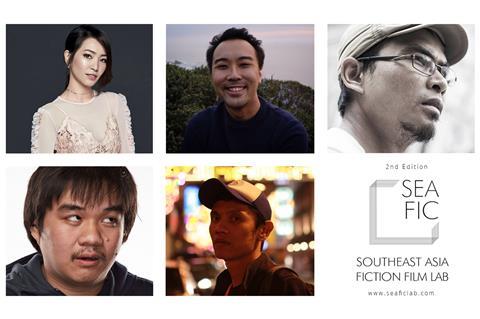 Southeast Asia Fiction Film Lab (SEAFIC) has finalised the selection for its second edition, focusing on first-time filmmakers from Laos, Indonesia, Singapore and Thailand.
Established producers such as Fran Borgia (A Yellow Bird) and Anthony Chen (Pop Aye) are attached to some of the projects, which cover topics including family strife, sociopolitical bureaucracy, cross-cultural humour and deadly crocodiles (see details below).
The five projects were selected by a committee that includes Sri Lankan director Vimukthi Jayasundara, Japanese producer Yukie Kito, New Europe Films Sales CEO Jan Naszewski, Macao film festival's Lorna Tee, Berlinale Talents' Florian Weghorn and former Fortissimo Films chief Michael J. Werner.
The first session of the SEAFIC script and mentoring lab will take place February 24-March 3, 2018 at Monoceros Resort in Chiang Mai, Thailand.
All five projects will be automatically enrolled in the SEAFICxPAS programme, a producer's lab organised by Nantes Festival des 3 Continents' Produire au Sud initiative, which will be held alongside SEAFIC.
The five selected projects include:
AH GIRL
Dir: Geck Geck Ang, Prods: Sharon Ng, Fran Borgia (Singapore)
Synopsis: Ah Girl, 7 years old, has to choose to live with either her mum or pa after her parent's divorce.
AJOOMMA
Dir: He Shuming, Prod: Si En Tan, Anthony Chen (Singapore)
Synopsis: A middle-aged, Korean-drama obsessed widow from Singapore trying to find a new purpose in life travels out of the country for the first time to Seoul, and promptly gets lost.
ARNOLD IS A MODEL STUDENT
Dir: Sorayos Prapapan, Prod: Donsaron Kovitvanitcha (Thailand)
Synopsis: Arnold is a high school student in Bangkok and a school representative for an academic contest. One day, he gets involved in cheating on a prestigious military school's entrance examination.
CROCODILE TEARS
Dir: Tumpal Tampubolon, Prod: Mandy Marahimin (Indonesia)
Synopsis: A mother tries to prove her son's innocence after he was accused of murdering a young woman who died in their crocodile farm.
RAISING A BEAST
Dir: Xaisongkham Induangchanthy, Prod: Abigail Lazaro, Steve Arounsack (Laos)
Synopsis: Two Hmong siblings with diverging destinies are responsible for grooming a bull into a prize fighter that will earn the family money and honour.