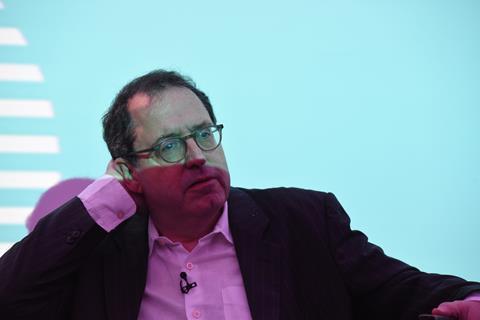 Michael Barker, who co-founded distributor Sony Pictures Classics, has warned that there is an unsustainable amount of films being released in cinemas.
The New York-based exec said that on a recent Friday in the city, there were 42 new openers in cinemas, when not long ago the number would've typically been less than half of that.
"There's too much content being generated and there's no room. A lot of them don't deserve to be in theatres and should be on those other platforms [online services such as Amazon and Netflix]," he commented.
However, he added that he is "very optimistic" about the future of indie cinema and that "theatrical is here to stay".
"It has always been difficult and every five years it's a different challenge, I won't allow pessimism," he continued.
Barker was speaking at the annual keynote address of the Film London Production Finance Market in London, an industry event held during the BFI London Film Festival.
Solutions
Barker posited a variety of solutions that he believes can help the future of the independent business.
On the exhibition side, he said that, while theatrical is here to say, cinema owners needed to "class it up" and create an "ideal experience" that will entice viewers into theatres. "Presentation is key, and exhibitors are rising to the occasion of making their theatres better," he said.
Creative exhibition was also an important way of attracting young audiences, he said, pointing to US cinema chain Alamo Drafthouse as one company that is successfully getting a younger crowd through its doors. Subscription models such as the one run by UK theatre chain AMC are also a way to attract young people, he added.
For distributors, the key to survival is to make movies stand out in the crowded theatrical marketplace. "We are in this era where our job is to make films as distinctive as we can so that the public pays attention. The problem with technology right now is that everyone has a bit of ADD [Attention Deficit Disorder]. It's very difficult to focus. It's chaos out there, that's the challenge to cut through, that wasn't the case when I started in the business."
"Finding any way you can make your film stand out in the marketplace, that's what needs to be done," he said.
Independent film value

Barker also talked up the long-tail value of independent cinema, in contrast with blockbuster studio releases.
"In this day and age, [for studios] it's about making money quickly in wide releases. The financials of this studio business require these big franchises. Independent films have really long tails of value, and that's different from big studio pictures."
"Diversification of films and quality of films from around the world enhance the value of a film library," he continued. "They promise revenue way down the line and enhance the value of the entire company. "
Paying close attention to all revenue streams – including libraries but also ancillaries such as TV and inflight – would be key to future survival, Barker said.