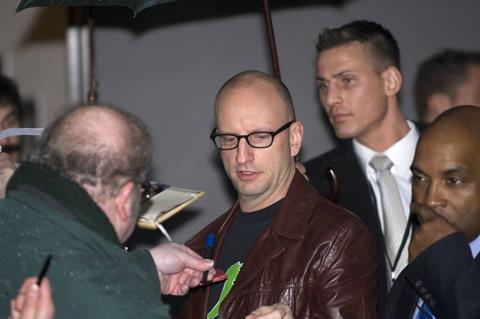 Slamdance top brass said on Tuesday (10) they will honour Steven Soderbergh with the 2019 Founders Award, when the filmmaker will also take part in on on-stage conversation with festival co-founder and president Peter Baxter before a sneak preview of his new film, High Flying Bird.
Slamdance also announced that the world premiere of Ski Bum: The Warren Miller Story will open the festival and This Teacher will close the festival.
The Founders Awards is presented to "a Slamdance alumnus who has continued to represent the Slamdance organization and support the filmmaker community of Slamdance well into their careers." Soderbergh's Schizopolis screened at Slamdance in 1997.
High Flying Bird is scheduled to launch on Netflix on February 8, 2019 and stars André Holland, Zazie Beetz, Melvin Gregg, Sonja Sohn, Zachary Quinto, Kyle MacLachlan and Bill Duke. The film tells the story of a sports agent (Holland) who negotiates a business proposal with a rookie baseball client (Gregg) during a pro basketball lock-out.
Ski Bum: The Warren Miller Story is directed by Wordplay filmmaker Patrick Creadon and produced by Christine O'Malley, both of O'Malley Creadon Productions, Jeff Conroy for BoBCat Studios, and Joseph Berry Jr. of Lorton Entertainment. The documentary chronicles the life and times of legendary filmmaker Warren Miller, a driving force in the development and promotion of skiing in the US, who died earlier this year aged 93.
This Teacher is directed by Mark Jackson, and won the grand jury prize at the Los Angeles Film Festival in September. The narrative feature follows a French Muslim woman who travels to New York to reunite with her childhood best friend.
Other additions to the line-up include out-of-competition selection The Drone from Zombeavers director Jordan Rubin, and Special Presentation selection America The Beautiful, a found footage thriller by Blessing Yen and James Kaelan that shot entirely on iPhones.
Slamdance will take place from January 19-25, 2019 in Park City, Utah.