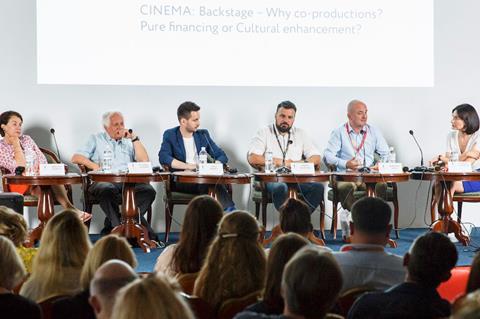 The need to support the development of the film industry in Ukraine through international ties was in sharp focus at the Odesa International Film Festival yesterday (July 17), with delegates arriving in the seaside city to attend a conference focused on the benefits of co-production.
"The most important issue for us today is to bring Ukrainian cinema to the international landscape," said festival president Viktoriya Tigipko in her opening address. "Co-producing is crucial for us. We see the opportunity to do much more."
One immediate boost to the industry would be to finalise the country's entry to Eurimages - the European funding programme run by the Council of Europe - Tigipko said.
Eurimages head Roberto Olla confirmed the country has had its application accepted. However, there is now a delay on the governmental side with a new Ukrainian parliament due to elected this weekend, which will be responsible for making the Eurimages decision.
International focus
The wider industry activity at this year's festival in Odesa has a distinctly international feel to it. Now celebrating its 10th year, and the eighth for its industry programme, the event is more outward-facing than ever.
Julia Sinkevich, the festival's general producer the pitching event, which takes place today (July 18). For the first time it had been opened beyond national borders to accept entries from neighbouring countries. As such, there are participants from Armenia, Austria, Azerbaijan, and two from Georgia in the showcase. The work-in-progress strand has undergone the same transformation.
"[We have] expanded the industry activities to promote Ukraine to the international industry. We are the largest country in Europe, [but] we need to work together. There has to be a way to make our voices heard," she said.
Philip Ilienko, a former producer and now head of the Ukrainian State Film Agency since 2014, noted the country had been forced to completely reinvent its film industry after the collapse of the Soviety Union in 1991. Before then, the Ukraine had boasted a proud cinema industry stretching back to the early days of the invention of the medium. Sergei Eisenstein famously shot the most iconic sequence of his 1925 classic Battleship Potemkin on the Potemkin Stairs, a stone's throw away from the venue for the festival's industry events.
"We found ourselves in a situation where we had to kickstart the Ukrainian film industry almost from the beginning. The support from government for the film industry only came back in recent years," he noted.
Ilienko claimed the recent conflict between Ukraine and Russia, which broke out after the latter's annexation of Crimea in March 2014 and is ongoing (though currently on ceasefire since March), had actually increased the government's interest in supporting culture.
"Since the war started, the attention from the government on culture has increased. The origin of conflict is in culture – we have to support culture to avoid conflict. It's the only way," he said.
Ilienko also acknowledged, however, ongoing instability in the country's leadership made any progress unreliable (such as the delay in joining Eurimages).
Efforts continue at the agency to foster co-production, he said, pointing out that since he joined it had completed 19 official co-productions through bilateral treaties. Those include several recent high-profile titles: Agnieszka Holland's Mr Jones, a co-production with Poland and the UK, Benedikt Erlingsson's Woman At War, a collaboration with Iceland and France, and Sergei Loznitsa's Donbass, made with Germany, France, Netherlands and Romania.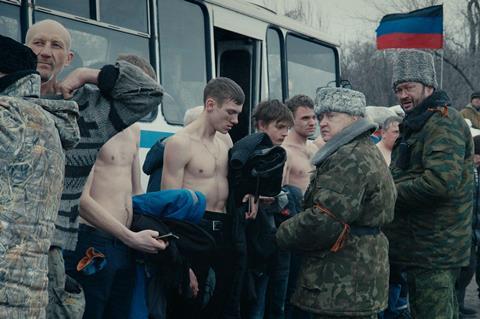 The country is looking to expand further afield, and signed an audiovisual co-production agreement with Canada two weeks ago, with projects already in development, noted Ilienko.
Importance of co-producing
Co-producing has two-fold importance, delegates stated during the conference; while it's financial benefits are evident, the cultural benefit of sharing projects can have lasting impact.
"[There is] a human element beyond the project, it's the joy of working with people in other countries who share the same taste of filmmaking," added Roberto Olla.
"One of our missions is to highlight our unique culture to the entire world," said Ilienko.
"Some think co-producing really brings cultural value," said moderator Tamara Tatishvili, a producer who until recently was the Georgian representative at Eurimages. She joined the European Women's Audiovisual Network as strategy and partnerships manager this week. "[For example] It's nice when foreign DoPs come and work in Ukraine."
Ilienko agreed sharing knowledge and talent was crucial, "We needed expertise no one from our country really has. We have used colleagues from nearby countries in recent years which has been really helpful."
Over-reliance on co-production
However, other attendees suggested co-producing was too often the default route for producers to take, and it is not necessarily beneficial for every project.
"Not all films should be co-productions, in my opinion. You co-produce because a project requires it artistically or economically," suggested Olla. "Why would you share the cake with someone else if you can eat it on your own?"
Katriel Schory, the long-time head of the Israel Film Fund who recently stepped down from his position, offered cautionary words about the pitfalls of international co-production.
"I once co-produced a film which is considered the worst in Israel [he didn't reveal the title]," Schory revealed. "I lost everything on it, because I co-produced for the wrong reasons. You have to go in eyes wide open. We have to understand there is a price to pay. I'm for it [co-producing] if you really understand the rules of the game."
"Not every project calls for it [co-producing] and everyone has to ask questions. The people who originally set up the production should always remember they have to draw the line on compromise - it can be a honeymoon, a nightmare, or somewhere in-between," he continued. "[When you co-produce] You have bigger budgets and more partners, but less creative freedom. I am for it, but you have to be super-careful when you embark on this journey."
Speaking on a later panel, Cedomir Kolar, the Oscar-winning producer of films by Danis Tanovic, Samuel Maoz and other high-profile international directors, celebrated the impact co-producing had had on his career, which has seen him work on more than 30 titles in the last 30 years.
Kolar was one of the first producers to receive money to support a co-production from the Eurimages fund, when he got backing for the little-seen 1994 action comedy Iron Horsemen, which starred Jim Jarmusch and Aki Kaurismäki; the latter also producing with Kolar.
Some of his successful co-productions include Ritesh Batra's The Lunchbox, which was a co-production between India, France, Germany, the US, and Canada, Danis Tanovic's No Man's Land, a France, Bosnia and Herzegovina, Italy, Belgium, UK, and Slovenia co-production, and Samuel Maoz's Foxtrot, a Israel, Switzerland, Germany, France collaboration.
"Without co-productions, how could I do it?" he said. "Co-producing is my bread, it is the blood in my veins, I could never exist without it."