Adaptation of Saint-Exupéry classic draws more than 12.5 million admissions internationally.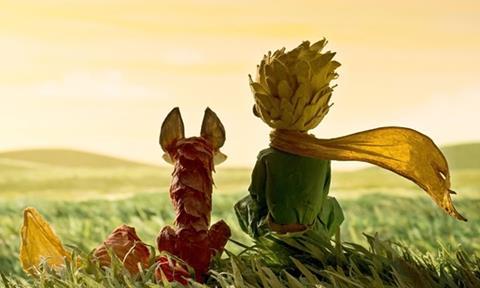 Mark Osbourne's The Little Prince has become France's most successful feature-length animation export of all time, attracting more than 12.5 million spectators at the international box office since rolling out across the globe over the summer.
French cinema export agency Unifrance said the film's global box office had overtaken that of Luc Besson's Arthur and the Invisibles (Arthur et Les Minimoys), which generated 10.3 million admissions over a three-year period (2006-2009).
The film, lead produced by Dimitri Rassam and Aton Soumache and Alexis Vonarb at Paris-based On Entertainment, was US director Osbourne's first feature-length work since co-directing Kung Fu Panda, which grossed more than $650m worldwide.
The film began its box office career in France on July 29 where it beat Disney's Big Hero 6 in its opening weekend and has drawn just over 1.5 million spectators to date.
Its international career has proven even more successful. In Brazil, where it was released at the end of August, The Little Prince topped the box office for three consecutive weeks, selling more than 2 million tickets to date.
In China, where Fundamental Films handled the October release featuring a starry voice cast led by Huang Bo and Zhou Xun, it grossed $23m in its first three weeks in cinemas.
Other successful markets have included Mexico, where The Little Prince sold 2 million tickets in two weeks, as well as Colombia and Poland.
"It's performance is even more remarkable if you take into account the fact that the career of The Little Prince is still ongoing with upcoming releases in Germany, Italy, Britain and the US still to come," said Unifrance in a statement.
"The success of The Little Prince shows that Antoine de Saint-Exupéry's tale is both universal and timeless and that French animation is living through a golden age," it added.
Saint-Exupéry's 1943 novella, about the friendship between a stranded pilot and an alien little prince who falls to earth, is the third most translated literary work in the world.
Osbourne adapted the novella alongside British screenwriter Irena Brignull and Bob Persichetti, weaving in a contemporary tale about a little girl who discovers the original story through an elderly neighbour.
In an innovative move, the film combined CG animation with stop-motion animation, to delineate between the contemporary world and that of the book.
Paramount Pictures, which handled the release in France, is planning a wide US release for the film in March. Warner Bros will release the picture in Germany and Japan. Entertainment One is handling the Canadian release. The Weinstein Company holds UK, Australian and New Zealand rights.
Paris-based Wild Bunch, which handled international sales, has sold the title into more than 50 territories.