EXCLUSIVE: The "last frontier" for high-end drama is opening up, according to industry experts.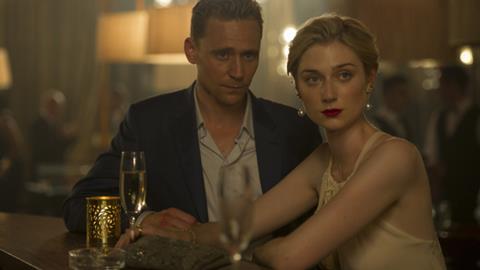 After scoring a Chinese distribution deal with Youku Tudou in April, BBC-AMC spy series The Night Manager has clocked up a hefty 40 million views on the platform, making it one of the most successful high-end drama exports to the territory.
While the Emmy-nominated series is by no means the first from UK to break out in the market – Downton Abbey and Sherlock are among those to have previously excelled – the ratings success reinforces the growing opportunity for high end English-language drama in China, where conditions and context are creating key opportunities for international content creators.
"The Chinese market is in many ways well ahead of the west in terms of the evolution of its television landscape," explains The Ink Factory co-CEO Simon Cornwell, producer of The Night Manager, in which Tom Hiddleston plays a Cairo hotel worker recruited to infiltrate an arms dealer's inner circle.
"You have big streaming companies duking it out with premium offerings in a very fast-growing market, and viewers (especially those affluent and well-educated ones) migrating away from broadcasters at an incredible rate.
"You only have to ride on the Beijing or Shanghai subway and see half the carriage glued to their big-screened smartphones watching their favourite TV shows (which by the way stream perfectly even deep underground) to realise how profound that transition in consumption is," he continues.
"It is yet another reminder to us that whatever we are seeing in the US and the UK (even with Apple finally entering the market) is just the very beginning of what is in store in terms of our journey into a post-broadcast world, with all of the interesting consequences for television, for film, and indeed for the way we think about narrative form generally, that that implies."
Shift
The market (with a population of 1.4 billion) is an increasingly important part of financiers' recoupment plans.
For £30m-budgeted The Night Manager, China represented "one of the show's most important territories", acknowledges Chris Rice, partner overseeing international TV at US agency WME, which packaged the series and sold it to 188 markets via its subsidiary sales business IMG.
IMG has been known as a sports rights and production giant, with a portfolio including Wimbledon, the IPL and the Premier League, but The Night Manager marked its entrée into the drama sales business.
"China is becoming an increasingly important piece of the puzzle for international TV shows," says the LA-based executive. "It's early days but it feels like TV is experiencing a shift similar to that of the movie business 2-3 years ago. China has become an important - though still complicated - territory to navigate".
The first and largest complication when it comes to selling entertainment to China remains its quota.
At present, OTT operators such as Youku Tudou, iQiyi and LeEco are the most likely homes for English-language TV. These digital giants can currently show a volume of foreign language series equivalent to 30% of their previous year's total volume of scripted content. Further restrictions exist for primetime windows on national satellite channels and linear broadcasters are subject to the strictest quotas.
Talent
Chinese buyers can also afford to be picky, says Tom Broom, vice president, IMG Media Asia Pacific.
"The sheer volume of English language scripted content that is now produced means that Chinese entities can be selective, with the quotas providing a further funnel into content that can be sold lucratively.
"This content must compete with popular local drama and very popular Korean drama," he continues.
"For existing hit English language series or series with a 'driver' talent or talents that are very popular in China, the market can be very lucrative. However, newer titles or tiles without such talent can be harder to sell on a standalone basis."
"China is a very talent driven market," confirms Rice. "On Chinese productions, the proportion of budget spent on talent is significantly higher than what you see in other countries. It is very celebrity and talent driven right now and that translates to their acquisitions."
Tom Hiddleston's exposure in China via Marvel movies The Avengers and Thor was key for The Night Manager, as Maggie Xiong, international acquisitions executive for Youku, attests.
"The talent was one of the most attractive parts," she says, going on to also highlight the series' subjects of "secret agents, adventure and heroism" and its bingeability (6 x 60) as other key incentives. The show, which screened with Chinese subtitles, only saw minor cuts to its sex and action scenes.
New class of show
The new distribution opportunities available to financiers are having a knock on effect on how content creators sculpt drama.
"There is a new class of TV show which we call a 'global television show', rather than simply a US or European show," says Rice. "These feature movie stars, they are directed by big filmmakers and they can be set all around the world."
The executive also highlights The Young Pope, the upcoming English-language series from HBO, Canal Plus and Sky as another to fall into this category. The project is directed by acclaimed Italian filmmaker Paolo Sorrentino and stars Jude Law playing the first American Pope.
Accordingly, high-end content creators, financiers and packagers have been shifting their company structures to accommodate the new dynamics in the market.
Warner Bros last month appointed its first managing director for the territory with a remit to oversee film and TV distribution.
WME itself is well positioned to exploit the niche thanks to its talent access and IMG's 13 offices across Asia. Screen has learned this week that one of the company's LA-based finance and distribution agents Joe Austin will relocate to China to help expand its entertainment sales in the market.
Last year, Sony-owned Left Bank Pictures struck a co-development deal with China International Television Corporation. Chief executive Andy Harries at the time called China "the last frontier for television".
While local and international media outlets are still hamstrung by censorship in China and entertainment quotas remain stringent, the "last frontier" for high end drama is opening up.