Fresh from the Emmy success of The People vs. OJ Simpson US screenwriter Larry Karaszewski talks about his upcoming Jonathan McAfee and Patty Hearst projects.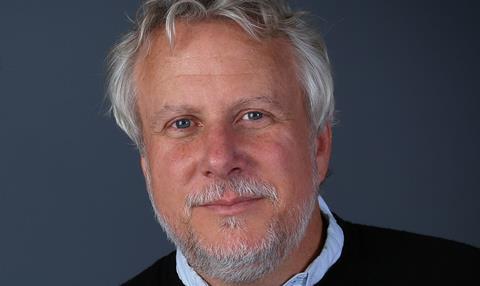 US Screenwriter Larry Karaszewski (Ed Wood) has revealed that development of Warner Bros' bio-pic about eccentric software tycoon Jonathan McAfee, for which he wrote the screenplay, is coming together fast.
Speaking to Screen on the fringes of the Memphis Indie Film Festival (Nov 1-7), Karaszewski said the project was close to attaching a director and stars.
"Things are happening with this at the moment. I would love this to be the next picture that goes," said Karaszewski, who co-wrote the screenplay alongside long-time writing partner Scott Alexander.
Karaszewski was attending Memphis Indie as a jury member on the narrative features competition and also for a 20th-anniversary screening of The People vs. Larry Flynt, which he and Alexander also co-wrote.
The McAfee project hones in on a murky chapter in McAfee's life when he fell foul of the authorities in Central American country of Belize when he retired there in 2008.
Karaszewski describes the project as "The Social Network meets Apocalypse Now… It's basically about his years in Belize when he goes off the grid. We only talk a little bit about his years working on computers and inventing anti-virus software."
A 2015-announced Patty Hearst project berthed at Fox 2000 is not as advanced in its development.
The project is based on Jeffrey Toobin's book American Heiress: The Wild Saga Of The Kidnapping, Crimes And Trial Of Patty Hearst. Toobin also wrote The Run Of His Life: The People v. O.J. Simpson, which formed the basis for The People vs. O.J. Simpson.
Karaszewski denied rumours that Jennifer Lawrence has been attached to star in the film. "She's not attached, but there is definitely interest all around in making that happen, but she's not attached."
Karaszewski said he and Alexander do not like directors and talent being attached until they are happy with the script.
"I don't like getting talent involved until a script is ready to go. We always found that if we don't attach people until we're ready to go, we have much more fluidity."
The screenwriter said that this philosophy developed after Oliver Stone was attached to direct The People vs. Larry Flynt, before eventually stepping into a producer role to allow Milos Foreman to direct.
Patty Hearst, Mount Rushmore projects
On the Patty Hearst project, Karaszewski says, "I think like OJ Simpson, there is a lot of stuff that resonates to today. It's as if Paris Hilton got kidnapped by ISIS. There is a little bit of that.
"It's a really good story that people have forgotten about. The ISIS thing was more of a joke, but the idea of a young person who get politicised and the whole question of was she a part of it? Was it Stockholm Syndrome? Was she brainwashed? There are so many different elements to that story that I think people will find it very fascinating."
The screenwriters have also set up a movie, Great Men, at Amazon Studios about the Mount Rushmore sculptor Gutzon Borglum. The film is based on the John Taliaferro book Great White Fathers. The action will detail the decade that it took Borglum to carve out the heads on the side of the mountain.
"The Mount Rushmore project is something that we have wanted to do for a long time. For a while, we always presumed that it would be something that would be too difficult to make, but now with the advances of CGI, I think that it is going to be an exciting thing to see. It's like the building of the Sphinx or the Pyramids, it's a crazy thing that happened."
As yet they have not signed to write another television series: "I think that the stuff that is bad in television is the stuff that should really only be two hours long but is stretched out into 10 hours."
Trump movie
Karaszewski said that he and Scott – who specialise in taking stories of outsiders and reappraising their history - receive two calls a day for them to make a film about GOP Presidential candidate Donald Trump.
"I think we would be resistant to it, only because you need a little bit of time to digest these things. I think I would like to forget about this election for a while."
As a member of the Indie Memphis narrative features jury, Karaszewski handed the $1000 Duncan-Williams Scriptwriting award to writer director Musa Syeed for his film A Stray about a Somali Muslim in Minneapolis who befriends a scruffy street dog.
The $1000, Best Feature award went to Deb Shoval's AWOL, about a female soldier who falls in love with a married mother-of-two.