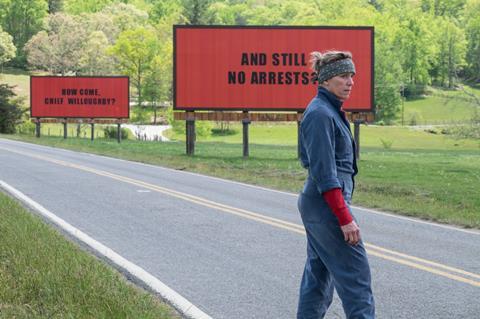 Golden Globe-winning drama Three Billboards Outside Ebbing, Missouri will receive a theatrical release in China on March 2 as part of an expanding slate handled by the territory's National Alliance of Arthouse Cinemas (NAAC).
China's Huaxia Distribution, one of only two state-approved distributors of foreign movies, is overseeing the film's distribution, working closely with Fox Searchlight and the NAAC. The alliance is responsible for booking the film into its members' screens, which currently number around 600 in 89 cities across China. The three co-distributors will also collaborate on the film's marketing.
"The number of screens in the alliance is increasing continuously, so by the time we release the film we expect it to be on more than 600 screens," says NAAC president and China Film Archive (CFA) director Sun Xianghui.
The Fox Searchlight title, which won four Golden Globes including best drama, is nominated for nine Baftas and expected to pick up several Academy Awards nominations when they're announced tomorrow (Jan 23). The China release is scheduled to coincide with the Oscars ceremony, which takes place on Sunday, March 4.
In addition to China Film Archive and Huaxia, the NAAC includes exhibitors Wanda Cinemas, Lumiere Pavilions and Bill Kong's Broadway Circuit, along with Chinese auteur Jia Zhangke's Fabula Entertainment.
Arthouse slate
According to Sun, the NAAC is now also working on the import of Berlin Golden Bear winner On Body And Soul and Oscar and Bafta-nominated documentary I Am Not Your Negro.
Since launching last year, the alliance has released Manchester By The Sea and Brazilian docudrama Nise: The Heart Of Madness and has lined up Japanese auteur Hirokazu Kore-eda's The Third Murder for the first quarter of 2018. It also distributes Chinese arthouse and low-budget genre films, which so far have included Zhang Dalei's Summer Is Gone and comedy Absurd Accident.
As the box office for flat fee imports, usually more commercial titles such as the Resident Evil franchise, other action films and occasional outliers like Bollywood hit Dangal, has been growing in recent years, minimum guarantees for China rights have also been increasing. NAAC isn't paying MGs at the same level as some commercial buyers, but Sun calls on foreign sales agents and producers to give the alliance time to develop the audience for arthouse fare.
"Our alliance is new so we still need time to cultivate the market – at first it will be difficult for us to make a profit," says Sun. "But we will provide opportunities for these films to meet with Chinese audiences, and through collaboration, we will eventually build a healthy film market and achieve a win-win situation."
Sun and her colleagues attend international film festivals, including Berlin, Cannes and Toronto, to look for titles, which are then presented to a ten-strong selection committee of film critics and industry experts in Beijing.
"We prefer to choose films that are nominated in A-class film festivals, although titles with high artistic qualities and classic films will also be considered," Sun says.
"The selection committee is not only looking at the nature of the film, but also the nature of the content, to ensure that it's suitable for the China market."
This means that politically sensitive films, or those with strong violent or sexual content, are unlikely to be considered, as China does not have a ratings system and the NAAC must comply with the censorship standards of the State Administration of Press, Publications, Radio, Film and Television (SAPPRFT).
While this rules out many award-winning arthouse films, Sun says there are still plenty of titles to choose from that would otherwise struggle to secure a Chinese theatrical release. While China's box office grew to $8.6bn last year, the market is still driven by US studio films and big-budget Chinese productions. NAAC is an attempt to bring diversity to an otherwise decidedly mainstream market.
Sun says that the alliance has the capacity to handle around 100 films a year, some through mini festivals and themed screenings, while foreign titles released through formal distribution should number around 10-12 per year.
She also explains that the alliance has an "additional quota" to the existing revenue-sharing and flat fee quotas for imported films, which together number around 60 foreign titles a year.
However, the additional quota does not have a specific limit and must comply with Chinese policy on the ratio of local and foreign releases. Currently, local films must account for at least 70% of the total number of screenings: "As a new alliance we can't confirm the exact number of quotas, but we can predict around one title a month," Sun says.