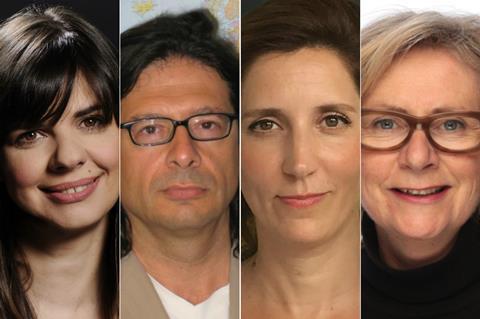 The TorinoFilmLab (TFL), the year-round initative that supports first and second time international filmmakers through training, development, funding and distribution activities, has unveiled a major expansion and reorganisation of its staff.
After three years in the role, artistic director Matthieu Darras is stepping down to be replaced by the newly-created roles of two curators and three heads of studies. The curators are Bosnian producer Amra Bakšić Čamo and Berlinale World Cinema Fund project manager Vincenzo Bugno. They will take up their roles in January 2019.
Camo has participated in several TFL programmes and is the founder of Sarajevo-based production company SCCA/pro.ba, as well as the head of the Sarajevo Film Festival's CineLink industry programme. Bugno is one of the co-creators of the Berlinale's World Cinema Fund, and a member of the Berlinale's selection committee.
The three new heads of studies are Swedish producer Eva Svenstedt Ward, Argentinian producer Violeta Bava, and Italian script consultant Nicola Lusuardi who will head up the ScriptLab, FeatureLab and SeriesLab respectively.
Ward was a script consultant on the Millennium trilogy, Bava works as a consultant for the Venice film festival and was the director of the Buenos Aires Lab co-production market, and Lusuardi is a screenwriter for RAI and Sky.
Darras previously oversaw the three labs, working closely with TFL executive director Savina Neirotti. Neirotti's role going forward remains unclear.
New head of industry
Additionally, the well-respected co-production guru Jane Williams, who established the Dubai Film Market and the Dubai Film Connection, has been appointed as TFL's new head of industry. Williams has also worked as the head of studies at Venice's Biennale College from 2006 to 2018.
Williams will work with Vanja Kaljudercic, the existing executive who deals with Partnerships who is also the director of acquisitions at London-based MUBI. The department will oversee annual events including the TFL Meeting Event.
The Audience Design Fund will be managed by Danish creative producer and script developer Valeria Richter, while Francesco Giai Via will be in charge of scouting projects for Italy. Via is the director of Annecy Cinéma Italien and a consultant to the Venice film festival.
Israeli producer Eilon Ratzkovsky will be the head of studies for the on-demand workshops arm TFL Extended.
The TorinoFilmLab was launched in 2008 with a budget of €1m to invest in first and second time filmmakers. Linked to the Torino Flm Festival, TFL is promoted by the Museo Nazionale del Cinema and works closely with Film Commission Torino Piemonte. It is backed by Creative Europe's MEDIA programme.
READ MORE: The Brit 50: the top film production companies in the UK