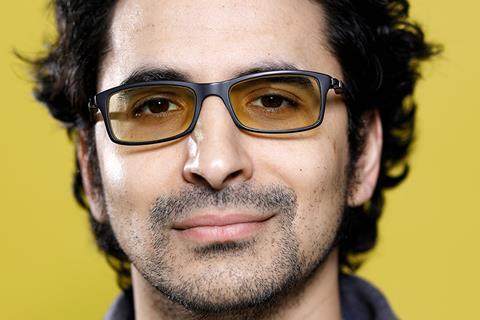 UK-based Palestinian director Said Zagha endured a 48-hour travel ordeal after being detained at Cairo airport while travelling to the El Gouna Film Festival over the weekend.
The filmmaker told Screen he was held in squalid conditions without food and water before being given an Egyptian military escort back to London.
The El Gouna Film Festival, which is on the Egyptian Red Sea resort from October 14-22, had invited Zagha to participate in its CineGouna Springboard platform supporting narrative features in development and post-production.
He was due to pitch the upcoming feature Weedestine in person at the event on Sunday (October 17). Set against Palestine's Israel-controlled Area C, the drama revolves around a law-abiding mechanic, on a mission to avenge the death of his eldest son, who got caught up in the rising cultivation of marijuana in the fractured zone.
The filmmaker, who holds Jordanian and Palestinian passports and also has permanent residency status in the UK, believes the problem arose from the fact that his Jordanian passport is a so-called "T series" Jordanian passport that shows the holder is Palestinian and does not have full citizen rights.
"When I got the invite from El Gouna in September, I went to the Egyptian consulate to check what I needed to do. I showed them my Jordanian passport and they told me I didn't need a visa on that specific Jordanian passport. I was sceptical and told the festival let's apply under my Palestinian passport and make sure I have a permit to enter. They told me everything is going to be fine."
Zagha's problems began when he tried to board his festival-booked flight to El Gouna's nearest airport Hurghada on Friday (October 15) via Istanbul.
"Turkish Airlines wouldn't let me on. The festival booked me a new flight on Egypt Air for the next day and told me they had my name at the airport and that it was being coordinated," recounts Zagha.
On arriving in Cairo on Saturday evening, Zagha was immediately detained by security officials and told there was no trace of his arrival having been logged in advance. After a back and forth between airport intelligence agents and the festival, El Gouna bought Zagha a new ticket back to Heathrow for 9am the next morning.
"The minute the security officers knew I had a flight booked back to London, they took me to a detention facility that was disgusting, it smelt of sewage. It was full of Palestinians. I was almost crying. None of these people were criminals or terrorists. They just have the wrong type of citizenship."
Zagha says he was held there until one hour before his flight back to the UK without food and water.
"They came at 8 am and escorted me all the way to gate. At the gate, I was met by a colonel who had my passport and boarding pass and was told he was going to sit next to me the entire flight and would not return my passport until we had landed."
It is not the first time Palestinian cinema professionals have been detained and deported when trying to enter Egypt to attend a festival or for work. In 2018, Ali Suliman, one of Palestine's best-known actors, was also turned back at the airport while en route to be a member of the jury at El Gouna.
Zagha and other Palestinian filmmakers are now planning to issue a joint statement about the situation. "This is systemic. It happens to Palestinians all the time," he said.
In spite of the ordeal, Zagha and his Jordanian producer Mais Salman decided to go ahead with the CineGouna Springboard pitch for Weedestine on Monday. "We felt that after all this toil it would be a shame to sit it out. So, she pitched in person and I joined on Zoom," he said.
Screen has reached out to the El Gouna Film Festival for comment.