It's good news and it's bad news for UK cinemas in 2019: numbers look to be down slightly but admissions will be among the decade's best. Screen reflects on the bumpy start and a bumper finale.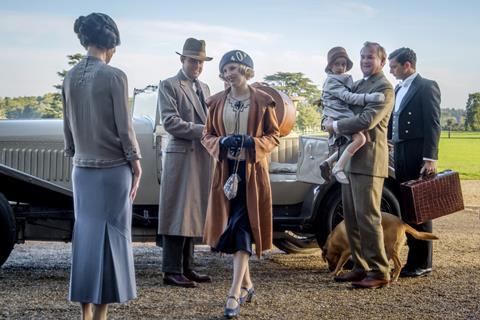 Calibrating 2019's UK box office is all a matter of perspective. Compared to 2018, film distributors and cinema operators may be disappointed that annual box office looks set to be down slightly. On the other hand, after a disastrous first quarter, the sector may be celebrating what has been a remarkable recovery. It is also worth recalling that UK cinemas achieved exceptionally strong admissions in 2018 — the highest since 1970. With a strong finish looking likely for December, 2019 admissions could be close to last year's total and among the highest for the past 50 years.
Both Phil Clapp, chief executive of the UK Cinema Association, and Andy Leyshon, who has the equivalent role at the UK's Film Distributors' Association, are hailing 2019 as a good year for their members. "You can't really think of it as anything other than a fantastic success as a year," says Clapp, while Leyshon offers: "To have fought back to within a few percentage points of 2018 and to have the chance to almost match last year's high, then it's been great."
Disney magic
For the year to December 5, box office was trailing the equivalent period of 2018 by 4.1%, although that disparity should reduce thanks to strong end-of-year titles such as Star Wars: The Rise Of Skywalker,Jumanji: The Next Level and possibly Cats. Wherever the full year ends up, the numbers will be in stark contrast to Q1, which ended a dispiriting 24% down on 2018 box office, thanks to a combination of weak holdover titles from December 2018, a commercially patchy mix of Oscar-bait films in January and a dearth of major blockbusters.
The recovery, when it came, was overwhelmingly thanks to Disney, which delivered seven of the year's 10 biggest hits and achieved an unprecedented 34.7% market share (40.7% if Disney-owned 20th Century Fox is factored in). Disney was also the UK's top distributor in 2018 with a 22.7% market share. "Disney has dominated in market share for the last few years but this year was insane," says Robert Mitchell, head of theatrical insights at UK-based forecasting service Gower Street Analytics.
In 2018, box office was just about level with 2017 but admissions were up 3.7%, indicating that average ticket price had an equivalent decline, thanks to the impact of unlimited-use subscription models, two-for-one offers and exhibitor discounting. That trend continued in 2019, with admissions a couple of percentage points better than box office, indicating another gentle price decline.
Ticket price erosion is of little consequence to cinema operators, which benefit from healthy customer numbers at their concessions stands, but is surely a concern for distribution. "You would rather not see that trend," says Leyshon. "However, if people are visiting the cinema in very healthy numbers and customer loyalty cards are encouraging cinemagoing over other leisure choices, then you have to be happy with the overall picture."
"It does reflect a competitive market where discounting has become a feature," adds Clapp. "But there's an increasing diversity of models at a range of price points."
The year's biggest surprise is the performance of Warner Bros' Joker, which overtook The Dark Knight Rises to become DC's biggest ever film at UK cinemas, with $77.3m (£57.8m). The Gower Street Analytics team looked to two 2018 titles when modelling likely outcomes: A Star Is Born ($39.7m/£30.2m) and Venom ($26.6m/£20.2m). The former, like Joker, was a film that premiered at Venice and arrived in the UK with awards buzz. The latter, like Joker, is a comic-book property featuring a villain promoted to the protagonist limelight. Joker was released the first weekend of October, as were A Star Is Born and Venom a year earlier.
"Joker was a hard one to call," says Mitchell. "Would it be too arthouse for the comic-book fans? Would the sort of audiences that would embrace Venice awards-buzzy titles take to a comic-book movie about a psychopath? Warner Bros rode that line very carefully, appealing to both audiences. It could, on the surface, have gone very wrong. Instead it went very right."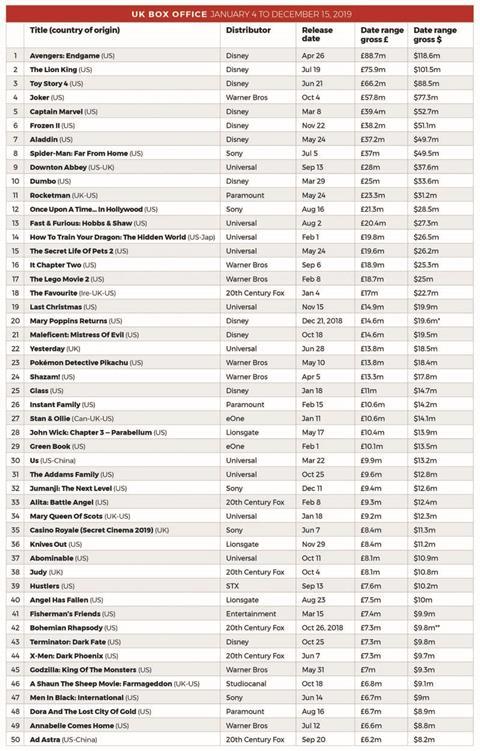 Home favourites
Leyshon points to the success of UK films in 2019, including titles based on valuable IP such as Downton Abbey (ninth) and Rocketman (11th). There was also The Favourite, Stan & Ollie, Last Christmas, Yesterday and relative underdog achievers such as Fisherman's Friends ($9.9m/£7.4m), Fighting With My Family ($7.7m/ £5.9m) and Blue Story ($5.4m/ £4.1m). Event cinema is another success story, with the category delivering $62.1m (£47.1m) to the end of November - compared to a $54.5m (£41.3m) total for the whole of 2018, itself a record-breaking year for the sector. Eight event-cinema titles cleared £1m in 2019, including NT Live's Fleabag ($5.7m/£4.3m) and Trafalgar Releasing'sLes Misérables: The Staged Concert ($4.4m/£3.3m).
Misses this year include franchises that had worn out their welcome (Men In Black: International, $8.8m/£6.7m), belated sequels (Doctor Sleep$4.4m/£3.3m) and reboots for which audiences had no appetite (Charlie's Angels, $1.4m/£1.1m).
Animation in 2019 is a category dominated by sequels that fell short of their predecessor title:The Secret Life Of Pets 2, The Lego Movie 2, How To Train Your Dragon: The Hidden World, A Shaun The Sheep Movie: Farmageddon and even Toy Story 4 - although few can complain about the Pixar hit's $87.3m (£66.2m) UK total. Frozen II looks on course to buck the trend and should overtake Frozen's $57.9m (£43.1m). Meanwhile, Abominable, with $10.7m (£8.1m), is the year's top non-sequel animation.
In 2020, the studio slates look more evenly balanced, with Universal looking particularly strong thanks to Bond film No Time To Die, Minions 2 and Fast & Furious 9.
Mitchell points out that a preponderance of original IP on Disney's slate (including Pixar's Onward and Soul, and Disney Animation's Raya And The Last Dragon) makes its 2020 offer look relatively risky. Marvel's Black Widow looks more like a Captain Marvel than an Avengers: Endgame -size hit and Mulan marks its only live-action remake of an animated classic, compared to 2019's The Lion King, Aladdin and Dumbo.
"Despite Disney's dominance in recent years, and its acquisition of the Fox slate, I think it has got more of a fight next year," says Mitchell.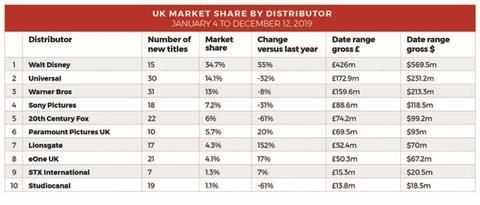 More box office reports