Universal achieves biggest ever year for any distributor in UK as it leads the market, with Disney close behind.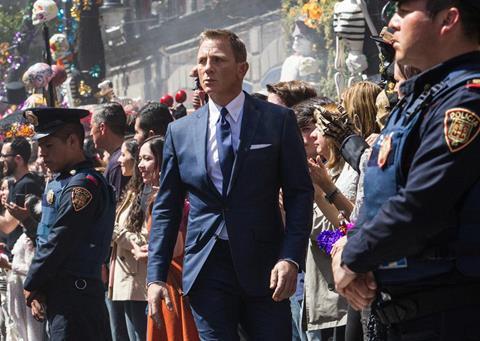 Scroll down for top ten films/distributors
Propelled by mega hits in the form of Spectre and Star Wars: The Force Awakens, the UK box office recorded its highest-grossing year ever in 2015.
According to figures from Rentrak for data up to Dec 31, 2015, the total gross across the UK & Ireland was $1.916bn (£1.310bn), up 15.26% on 2014's $1.662bn (£1.136bn) and up 11.07% on the previous best year, which came in 2012 with a total haul of $1.725bn (£1.179bn).
All regions saw notable rises on 2014, with England posting the biggest increase at 18%. Scotland and Wales boosted 12% and 10%, respectively, while Northern Ireland and the Republic of Ireland both rose 5% (when viewing in local currency).
"In our preview review of the disappointing 2014 box office, we stated that cinema is a product-driven market. The audience will turn out for the films that grab their attention but they need a compelling reason to go," stated Lucy Jones, executive director at Rentrak.
"This was emphatically proven by the record-breaking results seen in 2015 which delivered not only the biggest box office total of all time, but also Star Wars: The Force Awakens, now poised to take the crown for the biggest film of all time." In addition, it's encouraging to see the success of local films and actors, with four UK productions passing £20m for the first time since 2011."
December admissions have yet to be confirmed, but admissions for 2015 as a whole are guaranteed to be up on 2014. including November the year to date was 153.4m which is 9.3% ahead of 2014 at the same stage.
Top ten films
In terms of the top ten films in the calendar year, only two were original titles (Disney's Inside Out and Fox's Home). Seven of the top ten films were sequels, with another based on a best-selling book (Universal's Fifty Shades of Grey).
Five films managed to best 2014's biggest release, The Hobbit: The Battle of the Five Armies' $60.4m (£41.3m).
Officially, Sony's Spectre ended the year as the biggest hit of the calendar year with $137.5m (£94m) as it became the third biggest film of all time, but Disney's Star Wars: The Force Awakens has since overtaken it and will become the biggest-ever film in the UK by this coming weekend.
The Force Awakens hit £100m on Tuesday [Jan 5] after just 20 days in play.
Universal leads the market
Despite this, it wasn't Sony or Disney leading the market in 2015. That honour went to Universal who posted the biggest-ever year for any distributor with a mammoth $409.6m (£279.93m), accounting for 21.37% of the overall market.
Four of Universal's releases took a place in the top ten films of the year. Fifty Shades of Grey became the biggest-ever 18-rated film of all time with $51.4m (£35.1m), but the distributor's highest-grossing title was Jurassic World with a roaring $94.4m (£64.5m).
Due to the late record-breaking surge of The Force Awakens ($127.4m/£87.1m in 2015), Disney was a close second to Universal with a total haul of $382.8m (£261.67m) for a 19.98% share of the market.
The distributor had a further two titles in the top ten of the year: Avengers: Age of Ultron with $70.7m (£48.3m) and Inside Out which became the second highest-grossing original animation of all time with $57.3m (£39.2m).
Studiocanal top UK indie
Ending eOne's three year run, Studiocanal was the UK's leading independent distributor in 2015 with a $79.6m (£54.50m) total gross for a market share of 4.16% (down on 2014's 6.75%). The distributor released the most titles in 2015 out of the top ten with 58 releases.
As with last year, it was a homegrown title that led the way as Legend became their second biggest-ever release with $26.9m (£18.4m), providing a third of their overall 2015 haul.
With The Hunger Games: Mockingjay - Part 2 ($41.1m/£28.1m at end of 2015) taking over half of their 2015 gross, Lionsgate edged out eOne with a 2015 tally of $74.2m (£50.82m) for a market share of 3.88% (down on 2014's 5.33%).
Last year's leading indie Entertainment One UK (eOne UK) dropped from an 8% market share to 3.84% in 2015 as it posted overall takings of $73.4m (£50.33m). Their leading title was The Divergent Series: Insurgent with a $11.6m (£7.95m) result.
Rounding off the top ten was Entertainment Film Distributors with the biggest drop year-on-year in terms of gross (-65.57%), taking $29.2m (£20.02m) from its 14 releases in 2015. Southpaw provided almost half of that total with $12.7m (£8.7m).
Sony / Fox / Warner Bros / Paramount
Last year's champion 20th Century Fox fell two places to third with a total gross of $294.4m (£201.74m) from its 56 releases in 2015 for a market share of 15.40%, down on 2014's 21.33%. Original animation Home was the distributor's biggest hit of the year with a strong $37.2m (£25.4m).
Thanks to Spectre, Sony ended the year 116.83% ahead of 2014 with a haul of $220.5m (£151.28m) for a market share of 11.55%. Unsurprisingly the latest Bond mission contributed the majority of that tally with 62.12%.
2013 market leader Warner Bros fell two places to fourth as it fell 36% on 2014 with $159m (£109.01m), a market share of 8.32%. Well-received action reboot Mad Max: Fury Road was their strongest release with $25.4m (£17.4m), providing 15.96% of the overall total.
Releasing just 13 titles in 2015, Paramount boosted 5.37% year-on-year as Mission: Impossible - Rogue Nation ($30.8m/£21.1m) led them to an overall gross of $77.1m (£52.89m) for a market share of 4.04%.
Top 10 market share
1. Universal $409.6m (£279.93m) 21.37%
2. Disney $382.8m (£261.67m) 19.98%
3. Fox $294.4m (£201.74m) 15.40%
4. Sony $220.5m (£151.28m) 11.55%
5. Warner Bros $159m (£109.01m) 8.32%
6. Studiocanal $79.6m (£54.50m) 4.16%
7. Paramount $77.1m (£52.89m) 4.04%
8. Lionsgate $74.2m (£50.82m) 3.88%
9. eOne UK $73.4m (£50.33m) 3.84%
10. Entertainment Film Distributors $29.2m (£20.02m) 1.53%
Top 10 films in UK & Ireland in 2015 *
1. Spectre $137.5m (£94m) Sony **
2. Star Wars: The Force Awakens $127.4m (£87.1m) Disney **
3. Jurassic World $94.4m (£64.5m) Universal
4. Avengers: Age of Ultron $70.7m (£48.3m) Disney
5. Minions $69.9m (£47.8m) Universal
6. Inside Out $57.3m (£39.2m) Disney
7. Fast & Furious 7 $56.5m (£38.6m) Universal
8. Fifty Shades of Grey $51.4m (£35.1m) Universal
9. The Hunger Games: Mockingjay - Part 2 $41.1m (£28.1m) Lionsgate **
10. Home $37.2m (£25.4m) Fox
Top 10 British films in UK & Ireland in 2015 *
1. Spectre $137.5m (£94m) Sony **
2. The Martian $34.4m (£23.5m) Fox
3. The Theory of Everything $31.7m (£21.7m) Universal
4. Cinderella $31.2m (£21.3m) Disney
5. Legend $26.9m (£18.4m) Studiocanal
6. Kingsman: The Secret Service $24.3m (£16.6m) Fox
7. The Second Best Exotic Marigold Hotel $23.4m (£16m) Fox
8. Shaun the Sheep Movie $20m (£13.7m) Studiocanal
9. The Lady in the Van $17.4m (£11.9m) Sony **
10. Everest $15.7m (£10.7m) Universal
* Rentrak figures to Dec 31, 2015
** Still on release, gross as of Dec 31, 2015