Disney's Star Wars spin-off achieves second-highest December opening of all time behind The Force Awakens.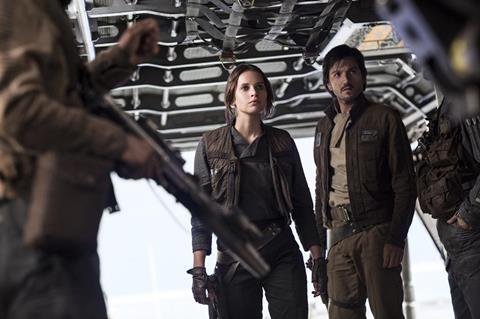 UK TOP FIVE
| Ranking | Film/Distributor | Weekend gross | Running total |
| --- | --- | --- | --- |
| 1 | Rogue One (Disney) | $21.6m (£17.3m) | $21.6m (£17.3m) |
| 2 | Moana (Disney) | $1.81m (£1.45m) | $8.55m (£6.86m) |
| 3 | Fantastic Beasts (WB) | $1.77m (£1.42m) | $56.1m (£44.89m) |
| 4 | Sully: Miracle On The Hudson (WB) | $767,000 (£614,000) | $7.1m (£5.7m) |
| 5 | Office Christmas Party (eOne) | $677,000 (£543,185) | $2.91m (£2.34m) |
(Note - Dollar conversions are based on today's rates)
DISNEY
Rogue One: A Star Wars Story has landed at the top of the UK box office with the biggest opening of 2016.
Disney's Star Wars spin-off blasted off with $21.6m (£17.3m), including $5.1m (£4.09m) from Thursday (December 15), from its 656 sites.
As well as being the biggest opening of 2016, that also marks the second-highest December opening ever behind The Force Awakens' mighty $42.5m (£34m), including $12.1m (£9.68m) in previews, from 670 sites.
While its overall opening marked the biggest of the year, Rogue One's Fri-Sun tally of $16.5m (£13.21m) is the fourth-biggest of 2016, behind Fantastic Beasts ($19.2m/£15.33m), Batman v Superman ($18.3m/£14.62m) and Captain America: Civil War ($18.1m/£14.47m).
With cinemas closed next Sunday due to Christmas Day and Christmas Eve not historically a strong cinema-going day, Rogue One will suffer a big drop this coming weekend, but will start to pull in healthy midweek numbers due to the school holidays.
Also for Disney, Moana dropped 24% on its way to a $1.81m (£1.45m) third weekend for $8.55m (£6.86m) so far. It will hope to prosper over the school holidays as it starts to gross more on weekdays.
WARNER BROS
Fantastic Beasts And Where To Find Them fell almost 50% with the arrival of Rogue One.
Warner Bros' Harry Potter spin-off conjured up a $1.77m (£1.42m) fifth weekend for a magical $56.1m (£44.89m) to date. It is now the third highest grossing film of the year, behind only Bridget Jones's Baby ($59.7m/£47.8m) and The Jungle Book ($57.7m/£46.2m).
Over the festive period, Fantastic Beasts will likely become the biggest film of the year to date, and overtake Prisoner Of Azkaban ($57.6m/£46.1m) in the process.
Also for Warner Bros, Sully: Miracle On The Hudson posted a $767,000 (£614,000) third weekend for $7.1m (£5.7m) to date. It is now Clint Eastwood's third-best result as director.
EONE
Office Christmas Party fell 40% (excluding previews) with a $677,000 (£543,185) second weekend as it rounded off this week's top five.
eOne's festive comedy has now partied to $2.91m (£2.34m) after 12 days in play and will have to make the most of the coming week.
Also for eOne, Arrival took $164,000 (£131,260) for $11.1m (£8.88m) to date, while Bad Santa 2 stands at $2.35m (£1.88m) after four weeks in play.
FOX
Falling 34% in its ninth weekend, Fox's Trolls grossed a further non-final $208,000 (£166,159) for $28.4m (£22.75m) to date.
Also for Fox, A United Kingdom and The Birth Of A Nation stand at $2.58m (£2.07m) and $278,000 (£223,517), respectively.
PARAMOUNT
In its fourth weekend, Paramount's Allied took $151,000 (£121,000) for $4.96m (£3.97m) to date.
ALTITUDE
From its 27 sites through Altitude, The Eagle Huntress - narrated by Daisy Ridley - posted a UK bow of $39,000 (£31,519), including $10,000 (£7,963) in previews.
VERTIGO RELEASING
In its second weekend, Vertigo Releasing's Snowden uncovered $35,000 (£27,836) from its 77 sites for $402,000 (£324,076) to date.
PHOENIX
After three weeks in play, Phoenix's Pitbull: Tough Women has amassed $961,000 (£776,240).
CURZON ARTIFICIAL EYE
Through The Wall recorded a UK debut of $10,400 (£8,446), including previews, from its three sites through Curzon Artificial Eye.
UPCOMING RELEASES
This week sees saturation releases for eOne's Ballerina (opens today) and Sony's Passengers (opens December 21).
Arrow Films' re-release of 2002 cult classic Donnie Darko is among the films receiving a limited release.