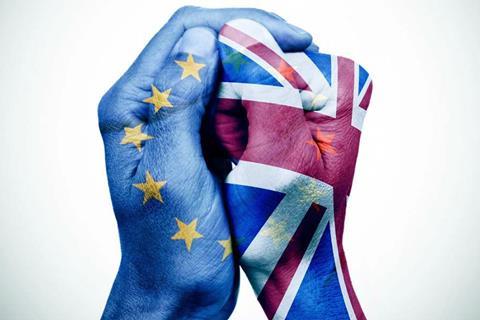 The UK film industry is considering the impact of the increased uncertainty around the country's impending departure from the European Union (EU) following the landslide defeat of the government's proposed departure deal in parliament last night (January 15).
Various political scenarios are now in play, including the growing prospect of no-deal Brexit.
According to the BFI's Brexit Q&A, which is being constantly updated and is available online here, a no-deal scenario means the UK's participation in Creative Europe will end as soon as the UK leaves the EU on March 29.
This could be problematic for companies that receive money from various pots of Creative Europe funding. According to the BFI, "the chancellor has guaranteed that HM Treasury will replace funding for those organisations/projects who had been selected for funding by the EU by this point" - however the specifics remain unclear.
"No one really knows how long that [government commitment] will last," said Philip Mordecai, director of digital ventures at UK distributor Curzon who is now heading up Brexit planning for the company.
Curzon was among four UK distributors to receive a total of €551,200 from Creative Europe in October 2018 to support the release of 10 European films in the UK. Curzon received backing for six of those titles. The company also receives Creative Europe backing across other aspects of its business, including its cinema chain and its VoD platform.
While, according to the BFI, the UK government has pledged to fulfil that funding in the eventuality of a no-deal Brexit, Mordecai noted "it's still unclear how that will happen" and there is "no clear definition of who will administer that".
Multiple possibilities
Curzon, for one, is "constantly modelling scenarios and evaluating the economic outcomes" of the multiple Brexit possibilities now on the table.
Mordecai says his team is constantly in dialogue with Creative Europe, both the London desk and in Brussels, as well as with the government's Department of Culture, Media and Sport (DCMS), Ofcom and the BFI about Brexit planning. They are also regularly speaking to both sales agents and producers on the continent as the process develops.
"We are trying to get as much information as we can, but it's like a carousel spinning at the moment, there's no definitive line to say what will happen," he added.
However, he said Curzon is approaching the Berlin Film Festival as business as normal, with the acquisitions team heading out to do deals. "We are still looking to bring the very best quality in film and bring it to a culturally diverse audience in the UK," he explained.
But Mordecai admitted the ongoing uncertainty has made plans for future growth in wider parts of the Curzon business more complex and uncertain for now. The company has been looking to expand its operations into Europe across the value chain (distribution, exhibition and VoD) but is now waiting to see how Brexit will affect a UK business looking to grow in that way.
Further perspectives
John McVay, chief executive of producers' trade body PACT, said he remains optimistic a deal will be struck that allows the UK to remain a member of Creative Europe until the current iteration of the programme ends in 2020. "Anything beyond that point, your guess is as good as mine. If they extend Article 50, or the negotiation period, or the transition period, that might have an knock-on affect on how long we're a part of Creative Europe," he said. "However, I can't imagine that in government right now, our membership of Creative Europe is a priority."
While beneficial for numerous UK companies, Creative Europe is just one small part of a much larger discussion about how the film industry will be affected by Brexit.
For McVay, of greater concern is the sheer amount of time and money being taken up by the ongoing confusion around the Brexit process. "It has soaked up all the government's bandwidth, so there's very little time or headspace to talk about other things, that's detrimental."
"There are lots of things domestically that need to be addressed but it's virtually impossible to get any head space from the government. The sooner we can get back to that, the better. Brexit has dominated everything for two years and that's detrimental to our longer-term planning as a society. The consequence of the time it's going to all take will mean us probably losing five to ten years of engagement and growth," he suggested.