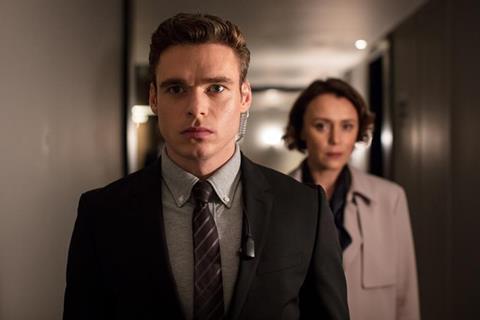 The UK was out in force at the Mipcom content market in Cannes on Monday as its two biggest broadcaster entities - ITV and the BBC - talked about their strategies in the increasingly globalised, multi-platform distribution world.
Opening the conference programme, ITV chief executive Carolyn McCall presented the direct-to-consumer-focused "More Than TV" strategy she has launched since joining the broadcaster last July and also gave a sneak peek of upcoming big-budget adaptation of The War Of The Worlds.
It was the first Mipcom for the respected business woman who was previously chief executive at low-cost airline EasyJet for seven years, and before that spent more than 20 years at the Guardian Media Group (GMG), where she rose to the role of CEO.
Her trip to the French Riviera comes as the broadcaster's production arm ITV Studios is basking in the success of political action thriller Bodyguard, made by subsidiary World Productions for the BBC, as well as literary costume drama Vanity Fair and reality dating show Love Island.
"'More Than TV' is that we're creating a division which is about directly connecting with the consumers. We have communities of fans who want to have a deeper relationship with us, which at the moment is fairly superficial," said McCall.
She said a big part of this strategy was the launch of a streaming service but it would also involve customising and strengthening ITV's catch-up hub, to offer consumers a deeper experience around their favourite shows.
The broadcaster plans to invest $78.9m (£60m) over three years in the restructuring of its existing digital hub alone, excluding its SVOD plans.
"Currently it's a catch-up service and what it will become is much more of a destination where people want to spend time because there will be more personalisation. It will become a much richer user experience," said McCall.
She rejected a suggestion that this focus on a digital on-demand model would cannibalise advertising revenue from ITV's linear services.
"Ten years ago, you could get a 70% reach in Britain by using ITV, today you can get 70% reach by using ITV and hub. You've seen no diminution as a result of all the changes in that marketplace."
New SVOD service
The new domestic SVOD service – which is due to launch by 2019 - would not be a "British-style" Netflix, she said.
"Netflix is Netflix and what we will do will be specific and differentiated for the British market," she said. "All the research we've done shows that people have multiple subscriptions and that as long as you're doing something distinctive and good value, consumers will pay for more than one subscription."
The content would be ITV-led but the broadcaster would also be open to working with partners and would probably eventually commission original series for the platform, she added.
"It will be British originated content. That will be what will make it distinctive," she said. "There will, of course, be original content at some point, but we're not going to launch with that. We're not going to do a big bang, this is it. It will be about testing and making sure we're listening to viewers and consumers."
FAANGs, friends or foes
Quizzed about ITV's relationships with the so-called FAANG companies - Facebook, Apple, Amazon, Netflix and Google - which are at once ITV customers and competitors, McCall said she felt they were "more friends than enemies.
"I think what Netflix has done in terms of getting consumers to pay for content is a massive shift. When I was at The Guardian nobody was willing to pay for anything. It's a significant shift. Netflix is an important client for us and they've changed the way consumers view."
"We're not head to head with Netflix. It is all about people's time. If you make the stuff and it's great, people will view it. Look at Love Island, look at Bodyguard, look at I'm A Celebrity, eight, nine, ten million, Saturday Night Takeaway, 10 million, these are massive shows and people will watch them on TV or on the hub."
ITV Studios
The activities of ITV's global content production company ITV Studios - which were scaled up massively under the tenure of her predecessor Adam Crozier - would remain a key part of the broadcaster's portfolio, said McCall.
"Studios remains an important part of what we do. It's our way of ensuring we have a diversified group. It's doing very well. It is not dependent on any one customer. I think the largest customer is 7% of our business and the biggest show we have is 5% of our revenue," she said.
On the high-end drama front, she previewed an impressively slick trailer for upcoming adaptation The War Of The Worlds, which is being produced by subsidiary company Mammoth Screen for the BBC, and also highlighted World War Two drama series World On Fire (another Mammoth Screen production); the new English-language series version of Bong Joon Ho's Snowpiercer, and Zero, Zero, Zero, an English-language drama about the cocaine trade based on a book by Gomorrah writer Roberto Saviano, produced by Rome-based Cattleya, one of the newest additions to the ITV Studios collection.
McCall added, however: "Studios is an unbelievably important part of what we do but we wouldn't be making the right shifts, given the world around us, if we were not also looking at doing something much more directly connected with the consumer."
BBC plans
This need to adapt in a time of changing viewing habits and in an increasingly globalised production and distribution scene, was also at the heart of a keynote by BBC Studios CEO Tim Davie, focused on the recent merger of production umbrella BBC Studios with distribution network BBC Worldwide into one integrated company.
"We're living in an incredible time, speed of change is dizzying, scale is becoming more defining," he said. "At the end of the day it's about making projects happen and bringing the various components of the business together enables us to move at speed and make bigger things happen quickly."
Davie noted that production and distribution partnerships - whether they be with streaming giant Netflix on Steven Moffat and Mark Gatiss' freshly announced Dracula adaptation or the 2014 deal with AMC Networks, under which the US company controls and manages BBC America - were important for a local player like the BBC.
On the AMC partnership, he said: "We needed a big muscular partner in the US and that was AMC Networks and it has been brilliant."
He also highlighted the upcoming adaptation of Victor Hugo's Les Miserables, which has brought together writer Andrew Davies with BBC subsidiary company Lookout Point as well as the support of US partner PBS Masterpiece.
The latter title was one of three upcoming shows previewed by Davie during the keynote alongside drama MotherFatherSon, starring Richard Gere and Helen McCrory, as well as David Attenborough's new wildlife series Dynasties.
Davie, who is also the chair of the Creative Industries Council in the UK, said the one constant running through all the BBC's productions and strategies, whatever the breadth or make-up of the production and distribution partnership structures, was their focus on UK talent.
"Can a British, local entity compete on a global scale? I often say we're a big small company. We have to pick our battles. We're very focused. We talk about 'British, bold and creative'. We're a global company but we're powered by British creativity and that means our scope is tightly defined in what we're looking for but broadly across genres," he said.