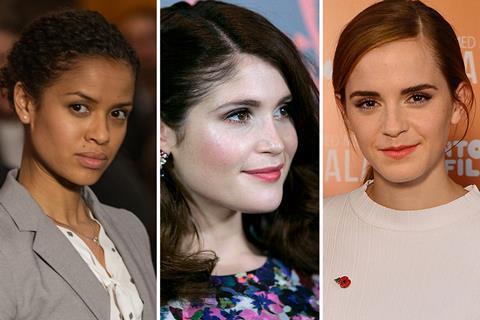 Ahead of tonight's Bafta Film Awards in London, 190 women from the film, theatre and TV industries have co-signed an open letter calling for an end to harassment, abuse and impunity.
Signees include Gemma Arterton, Amma Asante, Gemma Chan, Noma Dumezweni, Naomie Harris, Keira Knightley, Carey Mulligan, Sophie Okonedo, Florence Pugh, Gugu Mbatha-Raw, Saoirse Ronan, Andrea Riseborough, Emma Thompson, Barbara Broccoli, Sienna Miller, Emilia Clarke and Emma Watson.
A portion of guests at tonight's Baftas are expected to wear black on the red carpet as a symbol of unity with victims of sexual misconduct, while others will be wearing pin badges to support the Time's Up movement.
Several attendees will be taking activists as their guests to the ceremony tonight, including Andrea Riseborough, who will be accompanied by Phyll Opoku-Gyimah (co-founder and executive director of UK Black Pride) and Tessa Thompson, who will be accompanied by Marai Larasi (executive director of Imkaan and Co-Chair Of The End Of Violence Against Women Coalition).
The letter states:
"This movement is bigger than just a change in our industry alone. This movement is intersectional, with conversations across race, class, community, ability and work environment, to talk about the imbalance of power."
"In the very near past, we lived in a world where sexual harassment was an uncomfortable joke; an unavoidable awkward part of being a girl or a woman. It was certainly not to be discussed, let alone addressed. In 2018, we seem to have woken up in a world ripe for change. If we truly embrace this moment, a line in the sand will turn to stone."
Separately, a fund is being launched to offer the victims of harassment and abuse at work access to support and justice. The UK Justice and Equality Fund will be administered by Rosa, a pre-existing UK-wide women's fund.
Second letter
A second open letter has also been published today that has been drafted by organisations and activists working to advance equality and women's rights. More than 160 academics, activists, specialist Black and minority ethnic women's organisations, disabled women's organisations, refugees, helplines, trade unions, universities and community organisations have lent a signature.
The second letter reads: "We bear witness each day to the ways that adult women, young women and girls are subjected to violence in every sphere, from the home to the workplace. We know that many women are subjected to abuse, which is not only about sex and gender, but also about factors such as race, ethnicity, sexuality, class, disability, age, and more; and we know that this compounds the marginalisation that women have to face.
"We recognise that the ways in which women in the entertainment industry have been silenced, mirror the ways that women are silenced by individual perpetrators, by companies, by families, by institutions, by communities, and by the state. For each woman in the entertainment industry who has spoken out, there are thousands of women whose stories go unheard. These are not isolated incidents. This is about power and inequality; and it is systemic."