Plus: GKIDS executives join Angelina Jolie on The Breadwinner as executive producers; and more…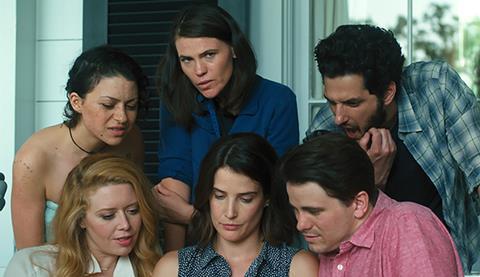 Outfest top brass announced the complete line-up of 162 films from 19 countries on Thursday ahead of the July 7-17 festival.
Opening the festival is Samuel Goldwyn Films' The Intervention, Clea Duvall's directorial and screenwriting feature debut, while Vertical Entertainment's Other People closes the event.
"I am proud and honoured to present a program that focuses on the most talented queer voices across all media – from film to television to the web," said Outfest executive director Christopher Racster.
For full details click here.
Slamdance Presents will release Claire Carré's directorial debut Embers, which closed the 2016 Slamdance Film Festival, on August 5 at the ArcLight Hollywood. The Orchard will release the film at the same time on VOD.
GKIDS announced that CEO and founder Eric Beckman and senior vice-president of distribution David Jesteadt will serve as executive producers alongside Angelina Jolie Pitt and others on The Breadwinner. GKIDS has set an autumn theatrical launch in North America.
Bond/360 has acquired worldwide rights to the documentary An Art The Nature Makes, Molly Bernstein's film charting the career of Boston-based photographer Rosamond Purcell, who specialised in natural and found objects. The film will open on August 10 at NYC's Film Forum and roll out theatrically in Los Angeles in September. Bond/360 negotiated the deal with executive producer Philip Dolin and producer Alan Edelstein of Particle Productions.
Jack MacKenzie will lead the global media practice of Penn Schoen Berland and has joined the firm as executive vice-president.
IFC has acquired US rights to Eric Weinrib's dark comedy Roseanne For President starring Barr and will open the film on July 1.
BBC Worldwide North America has acquired US rights to London Road, the film adaptation of the ground-breaking National Theatre play of the same name. Tom Hardy and Olivia Colman star and the film will roll out in September.