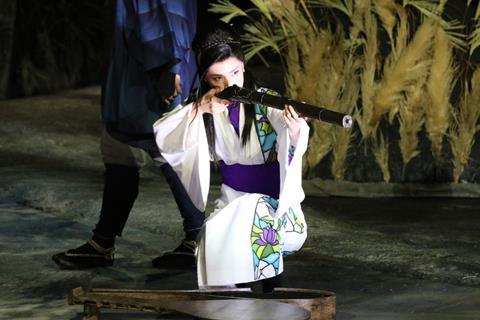 Japan's Village Inc is launching sales at the EFM on the latest Geki Cine production, Siren In The Shadows, featuring Yuki Amami as a roving geisha and deadly sharp shooter.
Village Inc has also announced that it is making its entire slate available for VOD and online distribution, marking the first time the company has made such a move.
Siren In The Shadows, a filmed version of the hit stage play of the same name, premiered in competition at Sitges International Fantastic Film Festival last year and will have its first market screenings at EFM.
Amami, known throughout Asia for TV dramas such as The Queen's Classroom and Boss, plays a geisha who is hired to carry out an assassination but discovers her target has an uncanny resemblance to somebody she once loved. Co-directed by Takuji Izumi and Hidenori Inoue, the production also stars Arata Furuta and Ryo Ryusei.
Geki Cine produces filmed versions of its acclaimed stage plays in a single take and using multiple cameras, surround sound and high-end post-production. Leading actors such as Kenichi Matsuyama, Rena Tanaka and Arata Furuta have starred in previous plays, attracted by the challenges and prestige that they bring.
Previous productions, such as Stray Nightingale and Fortress Of Skills, have played at international film festivals and received theatrical releases outside Japan. But due to the strength of Japan's DVD market, Village Inc has not previously made the slate available for VOD, either in Japan or overseas.
"The DVD and Blu-ray market in Japan is still very solid," explained Village Inc director, International Operations, Hiroyuki Hata. "Our contents are priced at $55 (Y6,000) all the way to $455 (Y50,000) and still sells. But I've been wanting to do VOD for a few years, due to the strong overseas demand, and we've realised it makes sense to do that now."
Hata added that he would consider both worldwide VOD deals and acquisitions on a territory-by-territory basis.