Yoana Pavlova from Festivalists discussed what can be done to introduce virtual reality to the Balkans.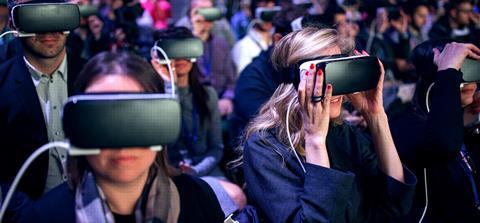 This year's regional forum at Sarajevo Film Festival (Aug 12-20) took on a new subject by highlighting the emerging field of virtual reality (VR), which has been a hot topic at film festivals around the globe over the last year.
On Saturday (Aug 20), Yoana Pavlova from independent film criticism platform Festivalists delivered a lecture covering the current state of VR, offering some advice for any budding film-makers from the region who are considering embracing the medium.
"There are no experts in VR yet," Pavlova began, suggesting that there was plenty of room for discussion, but that film-makers should be the first port of call for instigating discourse.
"It's very difficult to talk about VR theory right now because we're still in a very early stage – the directors have to find their own language, then they will be the ones who share how they perceive their work," she said.
It was very important that "people already involved in cinema should be more involved in these conversations," she added, highlighting that VR currently occupies space across the fields of video games, broadcasting (in particular sport on television) and art, and that continued convergence with film will need to be overseen by experts.
Pavlova briefly looked back over the history of VR, noting that "many people thought VR would boom in the 90s, but it didn't, it was very abstract at the time."
It took until last year, she said, for it to make its mark, but still by December 2015 "almost no one had tried VR."
While film festivals including Sundance and Sheffield Doc/Fest have programmed VR for several years, 2016 has proven to be a watershed moment for the medium.
This year, Sundance's New Frontiers programme, the EFM at Berlinale, and Cannes Marche NEXT programme all embraced VR in a significant way.
Pavlova also noted that at this year's Tribeca Film Festival, it was announced that from 2017 VR films will compete for awards.
However, it was the berth at Cannes that has made a real difference, she said, noting that its placement as a prominent part of the NEXT programme made it seem more important to industry.
The French industry, in particular, needed some convincing, Pavlova said. "In France, people say, 'We don't want technology to be part of our culture, we want technology to preserve culture'."
But that perspective is now shifting.
"Cannes opened the conversation to industry and business people," she said, adding, "But what was missing was that there were no big technology companies taking part in the conversation, but I'm sure they will join soon."
Regional challenges
Pavlova discussed with the local audience what would be needed to kick-start VR in the region.
"In order to make VR here, we need the skills. It takes a lot of trial and error to get the quality to present a project at an international film festival," she suggested.
There are numerous other challenges too, she said, in particular exhibition difficulties, which she noted were prominent in many countries.
Home consumption is still expensive and fairly inaccessible, she said, and theatrical exhibition is almost non-existent. Though this may change in the future, Pavlova added, noting that Amsterdam has recently become the first city to open a cinema dedicated to virtual reality.
Even if content is accessible, there are "demographic problems for audiences", she suggested. "There are less and less young people in the Balkans because they've moved to other countries," she added, noting that older generations tend "not to relate to these kind of technologies".
Pavlova concluded the lecture on a positive note, saying that she foresaw numerous changes to the format of the medium in coming years: "VR will become much more about actions, experiences, and less about words."
What could be done to help film-makers from the region get going with VR? A first step would be for budding directors to come up with a clear idea of the content that they want to create, "When you start creating a story for VR you have to decide, 'Who are we and what is our message?'."