Broader range of local hits over the summer helped drive China box office to $6.79bn from Jan-Aug.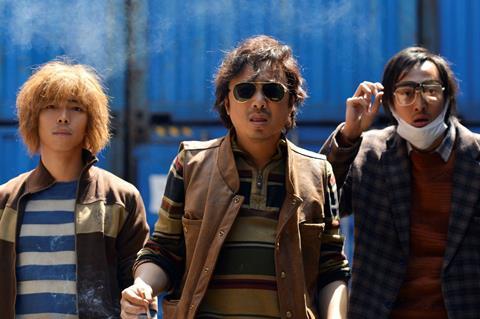 China's box office grew by 17% to reach $6.79bn in the first eight months of 2018, following a summer in which Hollywood titles may have been sidelined, but local productions started to show greater depth and diversity.
According to figures from Chinese consulting firm EntGroup, local films grossed a combined $4.5bn (RMB30.42bn) during January-August 2018, an increase of 46% over the same period in 2017. This gave local films a market share of 66%, compared to 53% for the first eight months of last year (using current exchange rates). Based on these figures, local productions have already out-grossed the combined RMB30bn they took during the whole of 2017.
While China protects its local productions – no big Hollywood titles are released during the peak Chinese New Year and summer box office periods – the growth can't only be attributed to periodic blackouts. In 2017, a big chunk of market share for local films was accounted for by just one title – nationalistic action movie Wolf Warrior 2, which grossed $830m (based on current exchange rates). But so far in 2018, China has been producing a larger volume and more diverse range of successful films. While few of these have obvious export potential, the spoils have been spread across action films, comedies, romances and dramas.
Two local films have already grossed around $500m in 2018: Chinese New Year releases Operation Red Sea, another patriotic action movie, and comedy sequel Detective Chinatown 2. Two summer releases, comedy dramas Dying To Survive and Hello Mr Billionaire, have taken more than $350m. In late spring, Rene Liu's romantic drama Us And Them crept into the 2018 top 10 with a gross just shy of $200m.
Produced by regular hitmakers Xu Zheng and Ning Hao, Dying To Survive is a good example of China's growing maturity in mainstream filmmaking. Based on the true story of a man who illegally imported live-saving cancer drugs into China, the film combines strong performances, caustic wit and drama that packs a punch without being overly melodramatic. Chinese audiences proved they will turn up in droves for an emotionally resonant story and the film ended up grossing $453m.
Relatable stories
Further summer hits included Da Peng's Hello Mr Billionaire ($370m), loosely based on Brewsters' Millions, which taps into China's mixed feelings about sudden acquisition of wealth, and Huang Bo's The Island ($196m), a Lord of the Flies-style comedy drama about a group of office workers stranded on a desert island. With success spread over a wider range of films than last summer, box office for June to August 2018 increased by 7% to $2.5bn (RMB17.4bn), according to figures from online ticketing platform Maoyan.
Most of these hits reveal the extent to which Chinese audiences, around 30% of which are under the age of 25, are preoccupied with issues that relate to their personal experiences. The flipside of this is VFX-driven fantasy films, once a staple of the Chinese box office, or titles from China's older generation of directors, who may be less in tune with local millennials, are not racking up huge numbers. Over the summer, films such as Tsui Hark's Detective Dee: The Four Heavenly Kings and Jiang Wen's Hidden Man were considered to have under-performed, although with grosses of $89m and $85m respectively, they would be considered reasonably-sized hits in any other territory.
There were also some huge flops over the summer – most noticeably big-budget fantasy Asura, in which ambition outstripped ability, and Love Apartment, which misled audiences by selling itself as the film version of a Friends-style TV show but veered off into a tomb-raiding story. Chinese audiences are becoming much more discerning and ubiquitous use of social media platforms (in particular WeChat, Weibo and Douban) will instantly kill off any film that fails to deliver.
Declining imports
Meanwhile, EntGroup figures also reveal imported films grossed $2.3bn (RMB15.36bn) from January to August 2018, a decrease of 18% compared to the same period the previous year. This was despite the fact that 23 non-Chinese titles were released during what proved to be a slightly less severe blackout period over the summer.
Among the US films that slipped through, only those with Chinese elements and investment performed strongly. Skyscraper, a Hong Kong-set action movie starring Dwayne Johnson, was classed as an import but backed by Wanda-owned Legendary Entertainment. Released in July, the film grossed $98m. Warner Bros' shark attack thriller The Meg, starring Jason Statham and Li Bingbing, was classed as an official US-China co-production so not subject to the summer blackout. With a gross of $152m and counting, this August release may have restored faith in Chinese co-productions.
Looking at the year to date, only three US films made it into the top 10 – Avengers: Infinity War, Jurassic World: Fallen Kingdom and Ready Player One. This also reveals how Chinese audiences, who now have access to a much broader range of entertainment compared to the days when Hollywood films were still a novelty, are more focused on stories that resonate with them. While they have embraced Marvel's cinematic universe, there are many other foreign films, such as the Stars Wars franchise and Mamma Mia! Here We Go Again, that just don't connect with millennials, or even their parents, living in third and fourth tier cities, who didn't grow up watching Star Wars or listening to Abba.
Foreign animations, including Incredibles 2 and Hotel Transylvania 3, also under-performed over the summer. But again, rather than being a reflection on foreign animation as a genre, this could be due to the fact that European vampires and the first Incredibles film are not well known to Chinese audiences.
Likewise, representation of Asian actors is not a big issue in a market where audiences can see themselves on screen every day, so the jury is out on how Warner Bros' Crazy Rich Asians will perform if it ever gets a playdate in China. (And as the film itself points out, there are many different types of Chinese people, so American Chinese or old Chinese money in Singapore is not necessarily relatable to mainland audiences).
Hollywood revival?
Now the summer blackout period is over, Hollywood is roaring back to life with Mission Impossible – Fallout, which has grossed $100m in its first six days, and Ant-Man And The Wasp, which is on $111m after nearly two weeks. But the US studios have their work cut out to claw back market share. So far, not many US films have received confirmed release dates before the end of 2018, and they face another blackout over the National Day holidays (October 1-7). During that period, big Chinese films scheduled for release include Zhang Yimou's Shadow, Felix Chong's Project Gutenberg and Renny Harlin's Legend Of The Ancient Sword.
CHINA BOX OFFICE TOP 10
(January-August 2018)
1.Operation Red Sea $534m (RMB3.65bn)
2.Detective Chinatown 2 $497m (RMB3.40bn)
3.Dying To Survive $453m (RMB3.10bn)
4.Hello Mr Billionaire $369.9m (RMB2.53bn)
5.Avengers: Infinity War $349.7m (RMB2.39bn)
6.Monster Hunt 2 $327m (RMB2.24bn)
7.Jurassic World: Fallen Kingdom $248m (RMB1.70bn)
8.Ready Player One $204m (RMB1.40bn)
9. Us And Them $199m (RMB1.36bn)
10. The Island $195.7m (RMB1.34bn)
Source: Maoyan