First titles include Jeff Nichols' Loving and Sean Penn's Flag Day, starring daughter Dylan Penn.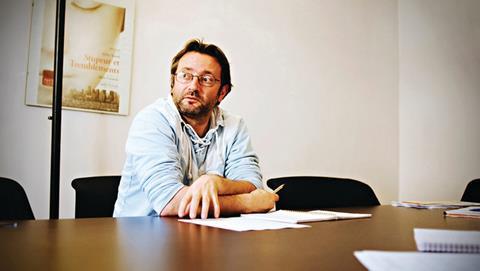 Wild Bunch has announced the launch of a new LA-based sales company, called Insiders, focused on independent pictures with budgets above $15m.
The new outfit will act as a sales service company for third party financiers, who will eventually also have the opportunity to take an equity stake in the entity. Insiders will be their independent sales agent, marketing their films to distributors around the globe.
Wild Bunch co-founder Vincent Maraval said the creation of Insiders was in response to the growing importance of equity financiers in the financing of independent film production in the US.
"Over the last few years we've seen the American market for the financing of independent film change - with equity partners increasingly financing independent American films more than distributors," he told ScreenDaily.
As a result of this trend, he said, Wild Bunch has been increasingly acting as a sales service provider on US titles, rather than as a producer and seller as was the case, for example, on James Gray's The Immigrant.
"We saw this trend accelerating at Cannes last year and decided it made sense to set up a separate entity to handle these films in parallel to Wild Bunch titles… They require two different approaches," said Maraval.
"When we sell films financed by Wild Bunch we have time… and we can also make decisions quickly because they're our films. When you launch a film for a third party, it's a different process… you have to discuss the strategy with your partners, " he explained.
Recent third party films handled by Wild Bunch include Oliver Stones' upcoming Edward Snowden drama.
Equity stake
Insiders, Maraval said, would be a "pure trading" company — in the vein of Film Nation and Summit in their early days — offering sales servicing for equity financiers, but in addition equity financiers who worked closely with the company could also ultimately take a stake in the outfit.
"During our time in LA we noticed there was a real need on the part of the equity financiers to have a distribution company for the films they were financing but there was also frustration over not being able to have a stake in such a company," said Maraval. "We built our business plan around that."
For the first two years, Wild Bunch has secured two partners to help bankroll Insiders' overheads but the idea in the long run is that equity players who have worked closely with the company could take a share.
Creative Artists Agency (CAA) advised on the deal and brokered the partners' deals, all of which will be announced shortly on behalf of the new entity.
Paris-based Maraval is charge of the new company within his role of chief content officer at the Wild Bunch Group. An LA-based sales team is currently being pulled together and will be announced at a later date. Maraval said he would taking a hands-on approach in the early days of the LA arm.
First titles
Although the final framework of the organisation has yet to be finalised, Insiders will be present at Cannes with it first titles.
These will include Jeff Nichols' Loving, based on the true story of Richard and Mildred Loving, a mixed race couple, who were arrested in 1958 for breaking the State of Virginia's law prohibiting interracial marriage.
Threatened with a yearlong jail sentence and then forced to leave the State, the couple spent more than a decade fighting the law in a landmark civil rights case.
Joel Edgerton and Ruth Negga are set to co-star. It is produced by Ged Doherty, Sarah Green, Nancy BuirskI, Colin Firth, Marc Turtletaub and Peter Saraf.
The company is also handling Sean Penn's Flag Day in which his daughter Dylan Penn will make her big screen debut as a young journalist struggling to overcome the loving yet dark legacy of her father, a conman who was the perpetrator of one of the largest counterfeit money operations in US history.
The actor and director will be in Cannes for meetings with potential buyers for the film, currently in pre-production. It is produced by William Horberg and Jez Butterworth, who also wrote the screenplay.
Maraval said at least another two films would be added to Insiders slate during Cannes.
It will also be business as usual for Wild Bunch which is representing a slew of new projects from long-time collaborators such as the Dardenne Brothers and Cristian Mungiu as well as 13 films playing in the festival.