Dir/scr: Yasuhiro Yoshiura. Japan. 2013. 99mins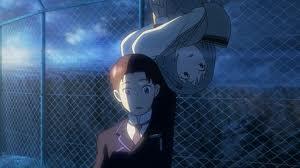 An engaging and nicely complex and challenging film, Yasuhiro Yoshiura's anime Patema Inverted (Sakasama no Patema) manages to be both exciting and charming and while it may lack a certain 'wow' factor it is an assured and enjoyable piece of storytelling and looks great on the big screen.
Patema Inverted offers thoughtful and often exciting anime entertainment.
Originating as a four-episode anime series streamed in 2012, this theatrical version premiered at Annecy earlier this year, and also screened at the Tokyo and Abu Dhabi International Film Festivals.
The film details what happens when two young people from very different world come together and find that what they assumed about their way of living was not quite it seemed. Patema (voiced by Yukiyo Fujii) lives in a community deep underground in an industrial complex, happy yet always interested to explore the boundaries of the community despite being told not to do so by the Elder.
One day she heads into a 'danger zone', but is terrified by a bat-like person, and falls headlong into a void. Meanwhile, above ground, Age (voiced by Nobukiko Okamoto) lives in a strict society ruled by the tyrant Izamura, where Age and fellow students are brainwashed against the 'sinners who fell into the sky' and forbidden to look upwards.
Age slips out of his dormitory and heads to a forbidden area where he can look up into the sky and recall his father who died when he planned a trip in a flying craft. To his bemusement he sees a rucksack floating upside down with its strap caught on barbed wire….at the same time Patema, who has been caught on branches, sees her bag and climbs along a fence that points down below her.
Soon Padema and Age meet. Both controlled by different gravities, each upside down to each other, with Age eventually clinging on to Padema so she does not 'fall upwards' into the sky, and eventually hauling her into a hut where she huddles on the ceiling.
The two young people seek to try and understand what happened to their two worlds, and with Izamura secret police (who turn out to be the 'bat people' Patema saw) in pursuit try and escape and reveal the truth to both of their worlds.
Yasuhiro Yoshiura offers a unique perspective of how life is viewed – and how precarious it can be – from an upside down position, and while rather odd initially once the audience buys into the concept Patema Inverted offers thoughtful and often exciting anime entertainment.
Production companies: Asmik Ace, Good Smile Company, Directions Productions
Distribution: Asmik Ace, www.asmik-ace.co.jp/english/
Producer: Mikio Ono
Cinematography: Daisuke Mataga
Editor: Yasuhiro Yoshiura
Music: Michiro Oshima
Main cast: (voices) Yukiyo Fujii, Nobukiko Okamoto, Oohata Shintaro