BFI's Flare Festival concludes with a trip through Soho in the company of rising star Harris Dickinson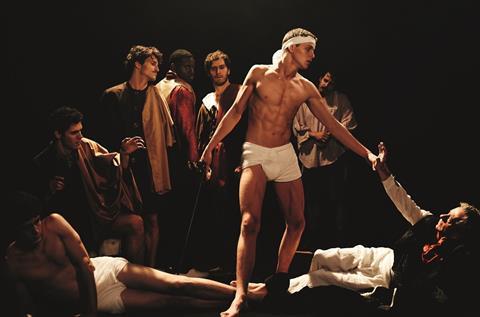 Dir. Steve McLean. UK. 2017. 88 mins
Jim (Harris Dickinson) is a teenager from Essex with the bearing of a Greek God, a hunger for culture and a rare affliction which renders him insensible in the face of great art. Constrained by the insular outlook of his small town, he sets off to London to seek, if not a fortune, then an education. He joins a team of elite rent boys who garnish their basic services with post coital discussions of art and literature, before taking a job as a 'muse' to a painter seeking inspiration. Although visually striking, the mannered style and theatricality of both sets and performances may limit this film's appeal; likewise the fact that the story loses its impetus as Jim progresses on his odyssey through this stylised London underworld.
Writer/director Steve McLean pays homage to a Soho which no longer exists
Postcards From London is the closing night film of London's Flare Film Festival and it is in this kind of slot, in LGBTQ events, that it will likely find its warmest reception. Specialist distributors – Peccadillo has UK rights – might be attracted by the film's idiosyncratic flamboyance, and the fact that Dickinson's star is rising following his revelatory performance in Beach Rats. However the focus on discussions of baroque art rather than the more obvious elements of the Soho rent boy's trade might prove to be a marketing buzz kill.
Writer/director Steve McLean pays homage to a Soho which no longer exists by creating an amalgam of the area which is unmoored from any particular era. Jim and his fellow 'raconteurs' (the name of the rent boy collective that Jim joins) all carry mobile phones. But there is something almost Dickensian about these raffish young dandies who ply their trade in neon-drenched alleys and bars populated by sailor boys and girls straight out of a Pierre Et Gilles fantasy. Costumes nod to key Soho cultural moments: there's a be-quiffed riff on a teddy boy, a sharp-suited latter-day mod. A key reference is the work of Derek Jarman, both in the playful anachronisms and in the thematic significance of the painter Caravaggio.
The work of Caravaggio provides Jim's jumping off point for his deep-diving immersion in arts and culture. It also triggers a bout of Jim's mysterious condition, diagnosed by a hooker-turned-head doctor as Stendhal Syndrome (a rare disorder in which individuals are overcome by their emotional response to art, and also the subject of a Dario Argento film). Jim's case is severe – not only does he collapse, he travels back in time to take the place of one of the models in each picture.
Unfortunately, having set up this device, the film doesn't really know what to do with it, fizzling out with Jim narrowly escaping the clutches of a city trader who wants to monetize his condition as an art appraiser. Disappointing too is the use of Dickinson, who is given very little to do other than to display his profile, as the camera reels, dizzy and mothlike, around his luminous beauty.
Production companies: Diablo Flims
International sales: The Bureau Sales gb@lebureaufilms.com
Producer: Soledad Gatti-Pascual
Screenplay: Steve McLean
Production design: Ollie Tiong
Editing: Stephen Boucher
Cinematography: Annika Summerson
Music: Julian Bayliss
Main cast: Harris Dickinson, Jonah Hauer-King, Leonardo Salerni, Raphael Desprez, Leemore Marrett Jr