EXCLUSIVE: In his first official interview, Film4's new chief talks strategy, challenges and striking a balance between UK and US shoots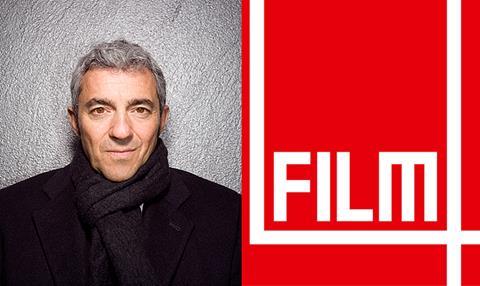 Two months into his new job as the director of Film4, Daniel Battsek is feeling confident that the transition period between himself and former head David Kosse - who stepped down this year to become president of international at STX Entertainment - has been "as seamless as we could make it".
While his official start was early July, Battsek says he has effectively been "part of the overall team" since Cannes. The first few months have been spent familiarising himself with the material on Film4's slate at various stages of development, getting to know the team "some of whom I know very well, and some of who I don't know at all", and meeting with the UK industry.
"I've really enjoyed being in the office getting to know the films, the great team of people, and the Channel 4 environment. It's been fascinating to be part of such a great brand," he said.
While it's early days, Battsek's priorities have been about reassuring the UK industry that Film4 - currently in a healthy place with recent acclaimed and award-winning productions including Carol, Room, Ex Machina and The Lobster - will continue on a similar trajectory, and that the transition phase between himself and Kosse remained as stress-free as possible for Film4's film-making partners.
"I wanted to make sure that the various pieces of the jigsaw that have been put into place were sustained and that there was real continuity between David and myself. There was a lot of material that was about to be greenlit or that had been in production and needed to be followed through, so the top priority was to ensure that the transition was really seamless," he said.
Strategy
Over the summer, Film4-backed The Killing Of A Sacred Deer, produced by Ed Guiney and Andrew Lowe's Element Pictures, has gone into production in the US in Cincinnati, with Andrew Haigh's Lean On Pete following suit in Oregon. Prior to heading to Telluride and Toronto (where Film4 has five films playing: Free Fire, Una, The Oath, Trespass Against Us and American Honey), Battsek visited the set of Lynne Ramsay's You Were Never Really Here starring Joaquin Phoenix, which had 10 days left to shoot in Brooklyn and Manhattan.
"I'm never that comfortable on movie sets on the first few days, when people are trying to find their feet. But it seemed in very good working order and we have a good team of co-producers on that film, including French outfit Why Not [Productions]."
While an executive of Battsek's stature will certainly want (and be expected) to put his stamp on Film4, the native Brit (and die-hard Chelsea supporter) - whose distinguished CV includes stints as president of Miramax Films, National Geographic Films and, most recently, arthouse US distributor Cohen Media Group - is in no particular rush and expresses his immediate desire to continue Kosse's recent legacy.
"We have our own tastes in terms of material but, business-wise, I think we very much see eye-to-eye. I feel that the brand is in very good shape and that the content we have is an interesting, diverse mix, from first-time filmmakers through to experienced filmmakers. I don't want to make any dramatic changes at this point but I hope over time my particular experience and my particular taste will be brought to bear on the material that we initiate and the way that the material is developed and used," said Battsek.
Battsek says Film4 is already seeing the benefits of Kosse's strategy to bolster the outfit's commercial reach and return. The impressive drive included a one-year increase in Film4's funding to £25m, a co-financing deal with Fox Searchlight on Martin McDonagh's Three Billboards Outside Ebbing, Missouri and a four-picture deal with The Inbetweeners creators' FP Films.
"Generally, the new strategy is absolutely the right strategy but, as with any film company, the bigger the hit the more difference it will make."
UK-US balance
Asked what he believes Film4 and Channel4 thought he would bring to the table as the new head of their successful brand, Battsek said: "What excited me about this role and my ability to hopefully achieve what the Channel4 board and David Abraham want me to achieve is that I have had a multi-faceted experience in the UK, the US and internationally. I have never been able to bring that experience to bear in one organisation, but I've been at the coalface in all of those environments. I know from learning it at the deepend and I hope that will be very valuable as Film4 becomes more of a filmmaking brand."
"I want to be out there maximising the opportunity for British content within all of those complicated and very competitive environments," he added.
With three productions shooting simultaneously in the US at present, an increased emphasis on US-based production would seem apparent, although Battsek sees the current situation as "by accident, not necessarily design".
"That's just filmmakers that we are partnered with developing material that happened to be American set. There will always be a balance between stuff we do in the UK and stuff we do in the US [but] we will always be led by our filmmakers."
"We support British and Irish filmmakers across the British Isles. We need to constantly make sure we don't lose sight of that but it's part of our DNA. We are aware of the importance of that."
Battsek professes himself deeply excited at the prospect of working with and supporting key UK filmmakers.
"I am a British and Irish filmmaking fan, I always have been, whether that is Mike Leigh, Danny Boyle, Steve McQueen or Lenny Abrahamson. Some of those I have had direct filmmaking experience with, others I have just been a fan of. I definitely hope to discover new generations of filmmakers and carry on that Film4 legacy but I'm very excited about the filmmakers that we have on our roster at the moment, whether they are actively making something or we are just talking about things to work together on in the future."
Challenges, opportunities
Asked about the biggest challenges facing Film4, and the industry at large, in the face of the rise of platforms, the pressure on independent distribution and sales agents, and Brexit, Battsek insists it's key to remain focused on what is within his ability to control.
"The world of independent filmmaking is always a pressurised environment and nothing ever changes that. The fact that there are more content-hungry entities out there is healthy so long as that's directed in a commercially viable way so that the right movies get made under the right circumstances."
"I try to focus on the material that we have the ability to control, and try to make sure we do stuff we really believe in and that we feel has the chance to succeed both creatively and commercially. That's my focus. I'm aware that there are pitfalls. I will try my best to avoid them."
Battsek cites his 14 years working with the Walt Disney Company, overseeing UK distribution, acquisition and production as managing director of BVI (UK) Limited, as crucial to his understanding that heading up Film4 is about "being part of a bigger environment". The slate deal that Kosse forged with FP Films is part of that. "It will be hard to reach the height of The Inbetweeners obviously but there is an appetite in the UK domestic market certainly for those movies and potentially internationally as well. I'm very excited we have that deal and I hope we get something we can all work together on."
On the possibility of exploiting further TV-to-film adaptations from the stable, Battsek said: "I'm optimistic there will be ways of connecting the dots within Channel4 and hopefully find stuff that feels part of the brand as a whole."
Taking over Film4 immediately post-Brexit, and with the question of privatisation still looming large over Channel 4, Battsek says he feels very "connected" to Abraham and chief creative officer Jay Hunt as they address the issue.
"The important thing is that this is resolved and that Channel4 and Film4 are not destabilised by any uncertainty. I think that Film4 is a shining example of what can be achieved in terms of both creative and financial stability, and it's important that that is able to continue down a path that has been so successful over the years."
With Film4 in a healthy place, Battsek couldn't be more delighted in his current role, and finally getting an opportunity to work with some filmmakers he's been trying to link up with for years.
"I was joking with Martin McDonagh the other day about the fact that I desperately tried to buy In Bruges when I was at Miramax. I was also very keen on Andrew Haigh's 45 Years [at Cohen Media], and I didn't get my hands on that film either. So I feel like I have done a very smart pincer movement, to be working with them now. I feel very fortunate to come in at a time where these filmmakers I have admired either closely or from afar are sort of in one place at one time."
"It's important that Film4's brand and Film4's role, both in the development of new talent and the development of movies by more established talent, is recognised. Even though the films start with us, they obviously go to someone else's pipeline whether that be a producer or distributor and sometimes our involvement in those projects, which is vital during their lifespan, can get a little bit lost. The Film4 logo doesn't get noticed as much as it possibly should, and it's really important going forward that people are more aware of our involvement in these films."