A diagnosis of motor neurone disease did not thwart Simon Fitzmaurice's ambitions to make his first feature, which has gone on to score awards and distribution deals.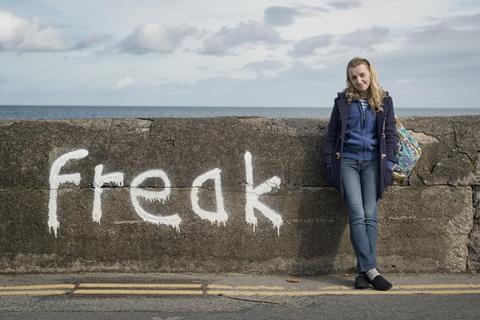 "When all this happened, it was my writing that saved me," explains director Simon Fitzmaurice.
"When my life fell apart, my writing was there for me. I became a writer through my darkest days. And, like writing, the passion of film has never left me."
A diagnosis of motor neurone disease (MND) did not thwart Fitzmaurice's ambitions to make his first feature. If anything, being told he had the progressive condition that attacks the nerves in the brain and spinal cord made him even more determined to get behind the camera.
That he has realised this ambition is an extraordinary feat in itself. The Irish filmmaker is the only known person in the world with MND to have written and directed a feature solo.
My Name Is Emily tells the story of a young woman (Evanna Lynch) who goes on a road trip across Ireland in search of her father. The film screened at the Dublin Film Festival last night [Feb 24] after picking up the Bingham Ray New Talent award and a Cinematography Award at Galway last year before its Toronto berth.
The film follows last year's acclaimed Still Alice, made by MND sufferer the late Richard Glatzer in tandem with his husband Wash Westmoreland.
"I wrote the script to direct it. MND had nothing to do with it," explains Fitzmaurice. "I am not trying to prove anything. I just keep on going, working any way I can, after MND. I'm very determined. It's just the way I am."
But the director pulls himself up: "Actually, I am trying to prove something,". I remember thinking: 'I must do this to show my children to never give up'. So MND made me even more determined to direct this film."
On set, Fitzmaurice, who can no longer speak, communicated with his cast and crew via 'Eye Gaze' technology - a computer retinal recognition software that enables a wide range of communication. Simple yes or no questions would be answered by the director blinking for yes and staring for no.
"Preparation was key," he adds. "I spent a very long time storyboarding. Pre-production was seriously intense. Someone was smiling on me because everyone involved was one hundred per cent committed.
"It was a different set, because even under tremendous pressure everyone displayed the utmost patience while I typed my thoughts on screen. It was insane, but as a team we made it work. I love editing. And, as the pressure was off, I just went in every day like anyone else. Filmmaking is a team sport, and I could not have done it without the support of everyone involved."
My Name Is Emily, which also stars Michael Smiley and George Webster, will be be released in Ireland by Eclipse Pictures on April 8. Visit Films has sold the film to HBO Eastern Europe and the Sundance Channel in Spain and French Benelux. A US deal is in the works.
Produced by Kathryn Kennedy and Lesley McKimm and made with the support of The Irish Film Board, the project was part supported by a crowd funding initiative.
The late Alan Rickman, a friend of Fitzmaurice's since they met at the Sundance screening of his award-winning short, The Sound Of People, several years ago, publicly lent his name to the crowd funding campaign, while Irish actor Colin Farrell was also an enthusiastic supporter.
"When you love films as I do, you simply want to contribute," explains the Irishman. "To contribute and to be able spend this precious time I have doing something that fulfils me at the deepest level."
Fitzmaurice is not finished with his passion. He's currently developing a new film script and working on a book.