The Circle star to lead biopic of Swiss activist who lived in the Borneo rainforest.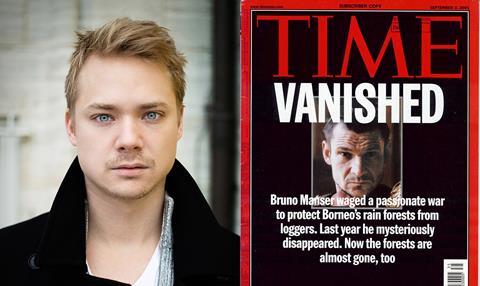 Producers and cast and are rounding on a biopic of Swiss environmental activist Bruno Manser who disappeared years after living in the depths of the Borneo rainforest.
2015 Berlinale Shooting Star Sven Schelker, star of 2015 Swiss hit The Circle, is newly on board to play Manser.
Director Niklaus Hilber, whose drama Amateur Teens won the Best Film Award at the Zurich Film Festival last year, will direct. The English, German and native Penan-language script comes from Hilber and his Amatuer Teens collaborator Patrick Tonz.
Zurich-based production outfit A Film Company (Amateur Teens) will produce in collaboration with local distributor-producer Ascot Elite Entertainment Group, which in 2014 backed one of Switzerland's biggest productions to date in the shape of Northmen: A Viking Saga.
Shoot is due to take place in Borneo and Switzerland in 2017 with the production expecting participation from the tribe with whom Manser lived. Ascot intends to open the movie in cinemas in 2018.
Activist Manser lived from 1984 to 1990 with the native Penan in the depths of Borneo's rainforest and waged a passionate "non-violent" war against loggers and the Malaysian government.
After months on the run from the Malaysian army he returned to Switzerland and founded the Bruno Manser Foundation. He continued raising awareness of the environmental impact of the tropical timber trade and the fate of the Penan people through various, sometimes daredevil actions, including a 60-day hunger strike and a stunt during the G-7 summit in Munich.
Despite being banned from entering Malaysia, Manser nevertheless returned in 2000 to the Penan tribe with whom he lived but later disappeared in the jungle without a trace, leading to significant media coverage, including the cover story of Time Magazine.
Schelker was awarded best actor (Swiss film prize 2015) for popular local drama The Circle (Der Kreis), which was picked up by Netflix for a worldwide release. He also had a recurring role in season five of Homeland.
"Manser is the perfect character for an epic movie," said director Hilber. "He leaves behind everything and everyone he knows to fight for a better world. This story of a modern day hero tells a lot about the world we live in today - how ruthlessly mankind destroys the environment and neglects human rights in its hunger for economical growth and prosperity.
According to the producers Manser's story had already garnered interest from Hollywood.
"We consider ourselves fortunate to have acquired the rights and are extremely proud to be involved in this incredible story", producer Valentin Greutert commented.
"The inclusion of the Penan is not the only thing that will make the production a particular challenge. Filming under extreme circumstances in the depths of an inhospitable jungle territory, most of which can only be accessed by boat or on foot, will create a unique film experience. For the very first time, the audience will be able to witness Manser's story up close with all its danger, tragedy and moments of joy."
"It is the most astonishing and extraordinary film project produced from a Swiss production company for a long time and we are proud to be a part of it," said Ralph Dietrich, CEO Ascot Elite Entertainment Group.
"What makes it so emotional and touching is the fact that this film is based on a true story and is a pure ride of adventure and thrill."