Andy Harries and Suzanne Mackie of Left Bank Pictures talk about their latest feature project, Rafta Rafta, which is based on the successful play by Ayub Khan-Din about a British Asian family, and is currently in post production.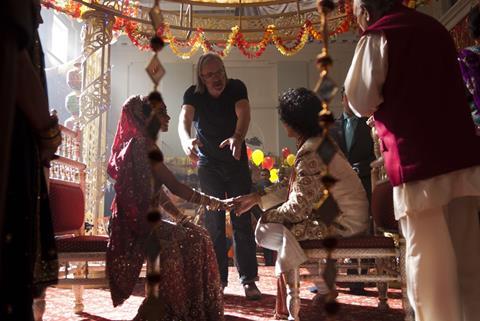 Synopsis: Set in the UK town of Bolton the film centres around a first generation Indian family and their newly wed son Atul Dutt, whose attempts to consummate his marriage are continually thwarted thanks to meddling parents and nosy neighbours.
Director: Nigel Cole
Writer:East Is East/West Is West writer Ayub Khan-Din has adapted the screenplay from his Olivier award winning play Rafta Rafta, which ran at the National Theatre in 2008 before going on to play on Broadway. Khan-Din's play was itself an adaptation of Bill Naughton's 1963 play All In Good Time, which was also turned into a film, The Family Way, in 1966.
Producers: Andy Harries and Suzanne Mackie for independent UK production company Left Bank Pictures
Cast: Reece Ritchie, Amara Karan, Meera Syal and Harish Patel
Financing: Co-financed by Studio Canal and UKFC.
Budget: £5m
International Sales: Studio Canal
Distribution: Optimum Releasing (UK), Studio Canal (France, Germany, Benelux)
Language: English
Locations: Three Mills Studios, in and around London, Bolton
Shoot dates: 2nd August – 4th September
Status: Post-production
Release date: Spring 2011
Andy Harries had a light bulb moment after a trip to see Ayub Khan-Din's play Rafta Rafta at the National Theatre in 2008.
"I was watching a play that got a standing ovation. The fact that it played so well and there was such a massive response, well, it just seemed natural to adapt it into a British movie, especially as it had already been a film and a successful play before." explains Harries on the film's set at Three Mills Studios in East London. "So I went after the rights."
UK distributor Optimum Releasing came onboard soon afterwards, as they had the underlying rights to the first film adaptation (The Family Way) of Bill Naughton's original 1963 play and were keen to support this latest version. "It was a shoe-in for Optimum and Studio Canal," says the company's head of production Jenny Borgars. "It's a warm, heart-felt comedy about family life, something Nigel as a director excels at," she adds.

Khan-Din was already mid way through adapting the screenplay when Suzanne Mackie joined Left Bank Pictures in February 2009. She had previously served as development executive at Harbour Pictures, where she produced, amongst other things, the hit UK comedy Calender Girls, directed by Nigel Cole.
"One of the things I had most admired about Suzanne was Calender Girls, so as soon as we started discussing Rafta Rafta, Nigel was pretty much top of the list," says Harries, who set up independent production company Left Bank Pictures with Marigo Kehoe and Francis Hopkinson in 2007.
"Nigel and I had always talked about doing something again, and he liked this film immediately," explains Mackie, who saw the parallels with Calendar Girls as soon as she read the script."I loved the complex emotional landscape and the fact that you are suddenly disarmed, you think you are laughing but you are actually crying. In other words, very much like Calender Girls."
But the project faced a setback when Cole was called up to make Made in Dagenham for Number 9 Films.
"It was frustrating at the time, but in a funny way we have benefitted from it, because Dagenham has been great for Nigel, he has come back and reclaimed a British film. It's all about timing and confidence with these things." says Mackie.
When it came to casting, there was never any question, says Mackie, that Meera Syal and Harish Patel, the two leads from the play, should reprise their roles for the film.
However they took the decision to cast new actors, Reece Ritchie and Amara Karan, to play the film's young newly wed couple, whilst at the same time bolstering their love story.
Was it a difficult task adapting for the big screen? "The challenge has been to make it feel like a film and not just an adaptation of a stage play. It is about opening it up visually, and in scale, as well as finding ways of bringing in character and closely observed nuance and emotion intensity," says Mackie.
Studio Canal recently launched the film in Toronto, where another of Ayub Khan Din's features, West Is West, (the sequel to his hit 1999 comedy East is East) world premiered. Given that the films both centre around larger than life Indian families, are the producers worried about comparisons?
"They are very different films, this one is much more serious. So I don't think they are competing," says Mackie.
"Although having two films in the market place at the same time did make it more difficult," admits Harries. "For example, West is West was partly funded by the BBC, which meant they were not an option for us."
Despite its focus on British Asian culture, Mackie is hopeful that the film will find a wide audience. "It's about family dynamics and at the heart of it, about a father and son and their troubled relationship. There is something incredibly universal and timeless about it"
Harries agrees. "When I went to see the play, I'd say 30-40% of the audience were Asian. It plays to a large demographic and the fact that it was a very successful movie in the 60s, as well as being a huge hit on the stage, means there is a commercial bone at the basis of this piece."
Next up: Currently Harries and Mackie have several projects in development for Left Bank Pictures including a Pink Floyd feature, Another Brick On The Wall for BBC Films, and Zen which is based on the best-selling novels by the late Michael Dibdin, starring Rufus Sewell as detective Zen. The project is for TV in the UK (BBC) but is being sold as a feature internationally.
Also in development is Gaza to be directed by Philip Martin, with Helen Mirren attached to play a Jewish doctor and No Naughty Bits, a feature adaptation of a play about Monty Python.
On the TV side, they are in post production on Mad Dogs, a Sky 1 series about the reunion of a group of old friends, starring Phil Glenister, John Simm, Marc Warren and Max Beesley which is due to air next Spring.