In a busy week, Univeral's The Adjustment Bureau opens in second place and Optimum has its best opening with Unknown.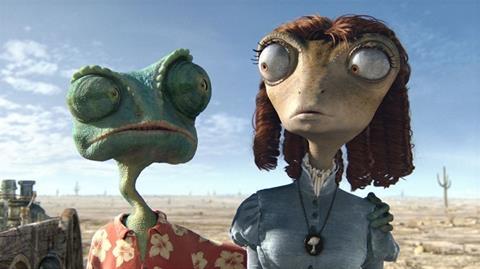 Paramount's animated-Western, starring the voices of Johnny Depp, Isla Fisher and Bill Nighy plundered $2.6m (£1.6m) from 470 locations on debut.
Universal's romance-thriller The Adjustment Bureau opened in second place on $2.3m (£1.4m) from 438 locations.
Adapted from a short story by the bankable Philip K Dick - responsible for the ideas behind Blade Runner, Total Recall, Minority Report and A Scanner Darkly - Bourne Ultimatum writer George Nolfi's directorial debut charts the mysterious forces keeping apart a politician (Matt Damon) and a ballerina (Emily Blunt).
Optimum's third-placed all-star action-thriller Unknown gave the distributor its best ever UK opening, grossing $2.18m (£1.35m) from 332 screens at a week-high screen average of $6,616 (£4,085), narrowly nudging the film past Optimum's previous best The Tourist, which opened on $2.17m (£1.34m) from 413 screens last December.
Starring Liam Neeson, Diane Kruger, January Jones, Bruno Ganz, Frank Langella and Aidan Quinn the pan-continental co-production is the story of a man who wakes from a coma, only to discover that someone has taken on his identity and that no one - not even his wife - believes him. With the help of a young immigrant, he sets out to prove who he is.
Momentum's redoubtable The King's Speech made another $1.8m (£1.1m) (for a staggering $67.9m/£41.9m) – only an 11% week-on-week decline - from 470 screens in fifth position, becoming the first film since Avatar (11 weeks) to go nine consecutive weeks over $1.6m (£1m) in the UK. Mamma Mia! and Slumdog Millionaire went nine weeks over $1.6m (£1m).
The week's biggest holdover performances came from seventh-placed I Am Number Four and ninth-placed West Is West. Disney's action-adventure took $807,800 (£498,822) from 382 screens for an underwhelming cumulative of $4.2m (£2.6m), while Icon's comedy-sequel grossed a further $732,130 (£452,075) for $2.6m (£1.6m)
The week's only other top 30 new entries were Artificial Eye's 21st-placed drama Archipelago ($97,420/£60,162 from only 18 screens) and Warner's 22nd-placed action Ironclad, which could only muster a poor $84,951 (£52,470) from 101 screens – a screen average of only $842 (£520).
Disney's The Tempest, whose budget has been estimated at $32.4m (£20m), debuted in 32nd, taking only $13,675 (£8,445) from 16 screens.
This week sees saturation releases for eOne's thriller Fair Game, Paramount's horror The Resident, Sony's action-sci-fi Battle: LA and Warner's comedy Hall Pass. Universal's drama The Company Men gets a wide release.