Dir. Nanette Burstein. US, 2016, 100 mins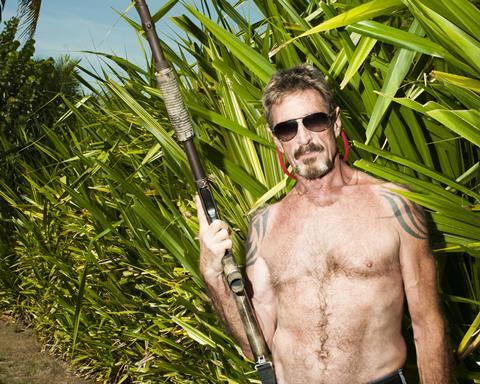 You could not make up a character like John McAfee and expect him to be taken seriously. A combination of Bond villain and Colonel Kurtz-style renegade, the software pioneer has ricocheted from philanthropist to fugitive, from spiritual guru to 2016 candidate for the US Presidency. Only Donald Trump could eclipse him on a list of wealthy eccentrics with political aspirations.
John McAfee would have made rich pickings for an Orson Welles feature.
Documentary veteran Nanette Burstein (The Kid Stays In The Picture, American Teen, etc) displays the tenacity of a dog in search of a juicy bone as she attempts to unravel the many lives of McAfee in a polished, engrossing film that is scheduled for Showtime cable in the US on September 24.
Burstein sketches in the background of the Scottish-born McAfee, who gained wealth and fame as the creator of antivirus software. Later in life he moved to Belize using his wealth to assist the local population and create a world in which he was the undisputed master. Surrounded by heavily-armed guards and attended by a harem of young women, he seemed to be beyond the reach of a law force he could buy with loose change. McAfee was the prime suspect when his neighbour was executed. Finding out exactly what happened becomes one of the objectives for bloodhound Burstein.
Like any good journalist, Burstein begins by trying to secure a face-to-face interview with her subject. "Let's talk, " she breezily emails him. "Let's not," comes the terse reply. Despite his attitude, McAfee keeps up a lively email correspondence with Burstein and that brings a real flavour of his personality into the film. He veers from laid-back to paranoid, eventually deciding that Burstein is Satan and that he will destroy her. Naturally, she uses all of his emails in the film.
Gringo: The Dangerous Life Of John McAfee is a testimony to the rewards of methodical, old-fashioned investigative reporting. Burstein follows the facts and even travels to Belize to talk to McAfee's often surprisingly chatty and indiscreet colleagues, workers, friends and lovers.
Early on, Burstein muses that McAfee's ability to evade justice or consequences for his actions confirms that there are different rules for the rich and privileged who seem able to get away with murder. Quite literally in McAfee's case. Allegedly.
Burstein's investigations give further credence to outstanding allegations against McAfee and she has been able to track down a wide range of individuals willing to speak on camera. She is a presence and a voice in the film but doesn't make a big fuss about putting her own life in danger.
There are some absorbing images from the dirt poor side of Belize that tourists never visit although tellingly most ordinary citizens cover their faces as the camera team approaches. There is a clear sense of an island paradise where it was all too possible for a rich man to appoint himself King and consider himself untouchable.
Burstein and her editing team have carefully stitched together a good deal of television interviews given by McAfee. He seems to be the consummate rogue, a master of reinvention for whom the only thing worse than making headlines was being ignored. He might have made rich pickings for an Orson Welles feature.
Colourful and engrossing, Gringo suffers from not having a wow finish. Burstein uncovers more than the police and FBI combined but the 70 year-old McAfee sails merrily on, pursuing the Libertarian Party nomination for President in 2016 and returning to his old hunting ground as a respected specialist in computer security. The fact that he may not be as well known as he seems to think could also make Gringo more of a small screen certainty that a big screen candidate.
Production company: Ish Entertainment, Showtime Documentary Films
Contact: Showtime, pressreleases@showtime.net
Producer: Chi-Young Park
Cinematography: Robert Chappell
Editors: Lars Woodruffe, Matt Colbourn, Kenneth Levis
Mus: Dana Kaproff, Brenden Anderogg