Working Title's version of the 1976 Air France hijacking stars Danuel Brühl and Rosamund Pike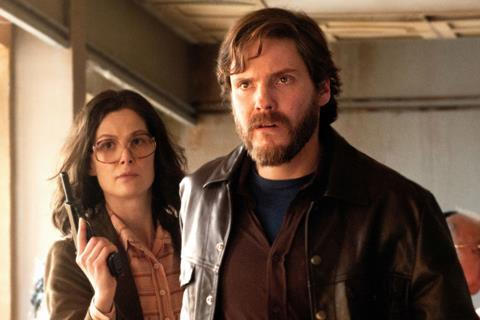 Dir: José Padilha. USA, UK. 2018. 107 mins
José Padilha (Elite Squad, Robocop) brings a typically bruising approach to this fictionalised version of the events surrounding the hijacking of an Air France plane in June 1976. The flight, which originated in Israel's Ben Gurion airport, was taken over by two members of the Popular Front For The Liberation Of Palestine and two German members of the Revolutionary Cells, Wilfried Böse (aka Boni), and Brigitte Kuhlmann (Daniel Brühl and Rosamund Pike). The plane was redirected to Entebbe, in a Uganda governed by the famously unstable Idi Amin.
Padilha's film cuts between the rapidly deteriorating conditions in the airport terminal where the hostages are held, and the corridors of power in Israel, where Prime minister Yitzhak Rabin (Lior Ashkenazi) and defence minister Shimon Peres (Eddie Marsan) butt heads over the correct method of response. Although much of the film is effectively claustrophobic, it is too bogged down by exposition to fully take off.
Performances are varied, with Pike delivering an effectively caustic turn as the harried-looking terrorist
The bold rescue by commandos from the Israeli Defense Forces is the stuff that action cinema is made of. And, not surprisingly, several films have previously explored the event (Victory At Entebbe, Raid On Entebbe and The Last King Of Scotland). This version doesn't tread lightly over the politically sensitive material, but does maintain a propulsive pace and a sense of mounting jeopardy. The main issue which might prevent the film from connecting with audiences is the dialogue, which is full of tiresome revolutionary slogans and characters explaining their motivations. Writer Gregory Burke, whose feature debut, '71, was a textbook example of taut economy, overextends himself slightly here.
The fact of Germans threatening Jews with execution adds a queasy ideological resonance which, in this version of the story, the two Germans protagonists find profoundly uncomfortable. Their loyalties, they argue, are to the Palestinian cause, not to Germany's Nazi past. It's worth mentioning that much of the subsequent analysis of the hijacking has concluded that Boni and Brigitte had no such qualms. A former Revolutionary Cells member, Hans Joachim Klein, accused them of being more anti-Semitic than the leader of the PFLP. It's perhaps a small detail but it's an important one – if the film has tweaked the complexions of the Boni and Brigitte to make them more flattering, can we trust it not to have manipulated the facts elsewhere? Dramatic license is all very well, but when it comes to Middle Eastern politics, there is a certain added responsibility to the truth, as much as it can be known.
Performances are varied, with Pike delivering an effectively caustic turn as the harried-looking Brigitte, haunted by her part in the death of Ulrike Meinhof, and prone to over-compensating for her perceived female weakness. "I am not a woman, I am a revolutionary," she argues. She pops ominous blue pills and, as the pressure takes its toll, hacks at her hair with a pair of nail scissors. As Idi Amin, Nonso Anozie gets one chilling scene in which he jovially announces the imminent deaths of a pair of child hostages, but otherwise leans heavily on the big despotic African laugh school of acting. And Marsan, quietly calculating as Shimon Peres, is ultimately defeated by his prosthetic eyelids. Of the hostages, Denis Ménochet stands out as the plane's straight-talking chief engineer. He cuts through Boni's woolly dogma with a damning appraisal. A plumber is worth ten revolutionaries, he comments as he reconnects the airport's water supply, and an engineer is worth fifty.
Operation Thunderbolt – the codename for the IDF response – has been described as one of the most daring rescue missions in history. One would think that there was enough drama contained within in to sustain a taut third act climax. But in a jarring device which soon goes from being confusing to intensely irritating, the film cuts back and forth between the mission and a performance of a contemporary dance piece, choreographed by Ohad Naharin, artistic director of Israel's Batsheva Dance Company, and set to a version of the traditional Passover song 'Echad mi Yodea'.
Production values are generally high. The design is clammily effective, with the 1970s era evoked through a palette of olive green, mustard brown, sweat and nylon. Brisk editing and nervy cinematography bring a sense of contained panic to the story.
Production company: Participant Media; Working Title Films
International sales: Lionsgate International rbennett@lionsgate.com
Producers: Tim Bevan, Eric Fellner, Kate Solomon, Michelle Wright, Ron Halpern
Screenplay: Gregory Burke
Cinematography: Lula Carvalho
Editor: Daniel Rezende
Production Design: Kave Quinn
Sound design: Glenn Freemantle
Music: Rodrigo Amarante
Starring: Rosamund Pike, Daniel Brühl, Eddie Marsan, Lior Ashkenazi, Denis Menochet, Ben Schnetzer, Angel Bonanni, Juan Pablo Raba, Nonso Anozie