The concluding episode of Jonas Carpignano's Calabrian trilogy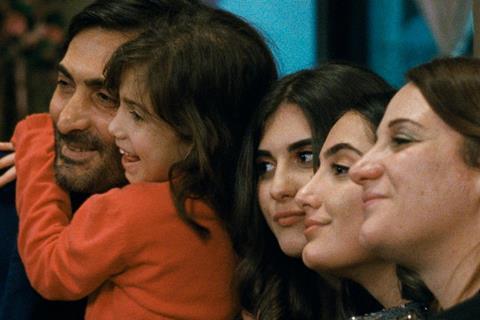 Dir/scr: Jonas Carpignano. Italy/France. 2021. 121 mins.
Having evolved an immersive brand of neo-neo-realism in two fresh and affecting films, Mediterranea and A Ciambra, Italo-American director Jonas Caprignano pushes his creative boundaries in what he has declared is the third and final part of a trilogy set in Gioia Tauro, a Calabrian town beset by organized crime and economic decline. Centering on a 15 year-old girl from a seemingly happy family who discovers her father is not what he seems, A A Chiara reprises some of Carpignano's by-now familiar immersive techniques – working with a brilliantly natural but untrained acting talent (Swamy Rotolo) and surrounding her with family members who are partly playing themselves, partly characters created by the writer-director.
Carpignano's ambition sometimes exceeds his delivery
Carpignano is more artistically ambitious this time around, creating a horror-tinged vision of a ravaged land forced to live beyond the law and beyond the pale in ways that are both literally and metaphorically subterranean. A Cannes sidebar fixture (A Chiara is debuting, like A Ciambra, in Directors Fortnight), Carpignano cannot rely here on the 'executive produced by Martin Scorsese' imprimatur of that film – which also became Italy's 2018 Oscar selection. But this latest should nevertheless enjoy a decent arthouse run in Italy, France (where Haut et Court is distributing), and a few other territories.
A Chiara's only obstacles will be, first, the fact that the film's mafia backdrop may feel more cinematically familiar to audiences than A Ciambra's insights into the daily life of a Calabrian Romani community; and second, that Carpignano's ambition sometimes exceeds his delivery. There are times when the crunch of the gears can almost be heard as the director shifts up to this new expanded allegorical register, moments when we yearn for a little more depth in the film's exposé of the inner workings of the Calabrian 'ndrangheta, and scenes in which the freshness of the director's improvisational work with actors doesn't quite disguise a lack of character development.
But the intensity of Swamy Rotolo's central performance and the story's fiery commitment to her character sweep most of these quibbles aside. As in Mediterranea, which followed a Burkinabe migrant, and A Ciambra, whose focus was a resourceful Romani teenager, A Chiara derives much of its power from its unwavering loyalty to the point of view of its titular protagonist. Like many girls of her age, Chiara projects an arrogant self-assurance and rebelliousness; as with many girls of her age, there's a naivety and vulnerability just beneath.
The film's first half hour is mostly taken up by a long scene set at the 18th birthday party of Chiara's older sister Giulia. Dad Claudio is handsome and quiet, adored by his daughters, who he treats with affection and solemn gallantry. But his refusal to improvise a rhyming birthday tribute to Giulia in the Calabrian tradition, to her obvious disappointment, sets warning bells ringing. It's a form of domestic omertà, one we are reminded of when – after the explosion of a parked car outside the family house – Claudio simply disappears, or rather, goes to ground.
Against the advice of her mother and older sister, Chiara, who has meanwhile discovered what her father really does for a living, determines to seek him out and confront him. This takes her into a series of underground hideouts – all abandoned, except one – as the film begins to inject a dark fairytale note (at its best in a scene set in lashing rain) into its gritty realist register, even leaning on special effects in a couple of dream vision sequences. Some elliptical editing two-thirds of the way in, when Chiara is offered a way out, of sorts, by a social worker, even leaves open the possibility that the film's darkest scenes – in which she is finally confronted with what it means to work for the 'ndrangheta – may be a kind of 'sliding doors' vision that never actually happened.
Cameo performances by both A Ciambra's lead Pio Amato and Mediterranea's Koudous Seihon bind A Chiara to the earlier two parts of the trilogy, but the ties are looser, with a subplot that sees Chiara disfiguring a Romani girl feeling a little thin and contrived. Another familiar element is the soundtrack by Carpignano's director/composer friend Benh Zeitlin with Dan Romer. Unobtrusive at first, it rises in intensity as the story becomes more sombre and the Calabrian dialect becomes more impenetrable.
Production companies: Stayblack Productions
International sales: MK2, intlsales@mk2.com
Producers: Jon Coplon, Paolo Carpignano, Ryan Zacarias, Jonas Carpignano
Production design: Marco Ascanio Viarigi
Editing: Affonso Goncalves
Cinematography: Tim Curtin
Music: Dan Romer, Benh Zeitlin
Main cast: Swamy Rotolo, Claudio Rotolo, Grecia Rotolo, Giorgia Rotolo, Antonio Rotolo, Vincenzo Rotolo, Carmela Rotolo