Rattle your dags, Shaun is back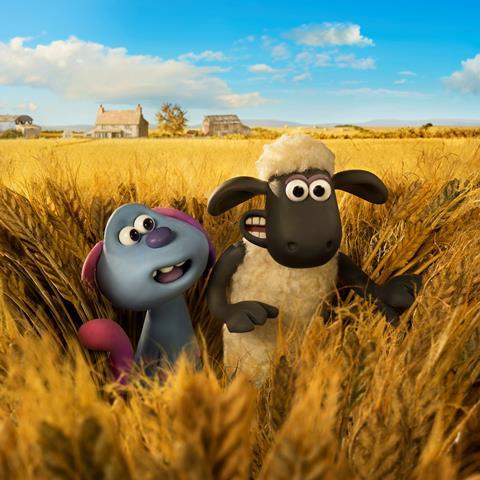 Dirs. Will Becher, Richard Phelan. UK. 2019. 86mins.
Sheep in Space? Baah, humbug.
A little over four years ago, animation powerhouse Aardman successfully turned its seven-minute episodic TV series Shaun The Sheep into a full-length dialogue-free feature animation for children which was delightful enough to get parents on side. The mischievous Shaun, with his bendy black limbs and stretchy mouth which sticks out of the side of his head, defied expectations to become a global super-sheep with an Oscar nomination and over $100m of cinema tickets sold, not to mention ancillaries.
If you come out of a second Shaun The Sheep film still wanting more sheep, how can that be a baaad thing?
With a change of directors – in fact, some big changes at Aardman itself as Sean Clarke replaces retiring MD David Sproxton – the kings of claymation have just about repeated the same feat with the sequel, Farmageddon, although they're cycling even further down the demographic with the introduction of a purple/pink blobby plasticine alien called Lu-La who has sparkly ears and not always endearing Tellytubbie ways about her. Parents may sense a merchandising proposition, but Aardman can still count on the wayward sheep and their canine nemesis Bitzer to deliver another winner for the studio and its international partners.
Again, there's no dialogue or even distinct words for young children to follow as a spaceship accidentally lands near Mossy Bottom farm and everyone becomes involved in a rainbow-coloured extra-terrestrial drama. Shaun the Sheep finds Lu-La, the baby escapee alien, and attempts to return her home as the hapless Bitzer tries to stop Shaun and his flock with the usual limited success. Meanwhile, The Farmer, obsessed with the idea of buying a snazzy new combine harvester, decides to cash in on the alien arrival by opening a theme park called Farmageddon. And Agent Red and her ingeniously Hazmat-suited gang of goons want to get their hands on Lu-La.
Given the studied innocence and overall good intentions on display here, it seems churlish to (sheepishly) bemoan the disappointing amount screen time for Shaun's scene-stealing sheep family. A blob, literally, Lu-La has none of the subversive qualities of the cheeky woollybacks and looks suspiciously Chrstimas toy-friendly. Shaun arrived in 2015 as a series of linked vignettes, tied up with a history of the farm's past and a concern about its future linked by a runaway caravan. Opening sequences here, with the sheep getting up to all sorts of ridiculous antics such as firing themselves out of cannonballs, continue the sort of demented fun which the pre-school friendly blob doesn't entirely contribute to. Farmageddon is one whole 86-minute silent story, and it can be a little bit of a strain to get there, involving three separate musical montage numbers.
Yet unlike, say, Aardman's Curse Of The Were-Rabbit, there's no real peril here and the thrills and spills all have soft landings: Shaun exists simply to entertain children and he fulfils his brief. Lu-La's magical ears turn sparkly and create wonder at opportune moments, thanks to some low-key CGI which is rarely used by the studio. It can be easy to take Aardman's stop-motion brilliance for granted; they make it all look so easy. But let's face it, if you come out of a second Shaun The Sheep film still wanting more sheep, how can that be a baaad thing?
Production company: Aardman
International sales: Studiocanal
Producer: Paul Kewley
Screenplay: Jon Brown, Mark Burton
Cinematography: Charles Copping
Editing: Sim Evan-Jones
Production design: Matt Perry
Music: Tom Howe
Main voice cast: Justin Fletcher, John Sparkes, Joe Suggs