Unusual documentary captures three cisgender friends as they find acceptance and release in Turin's ballroom scene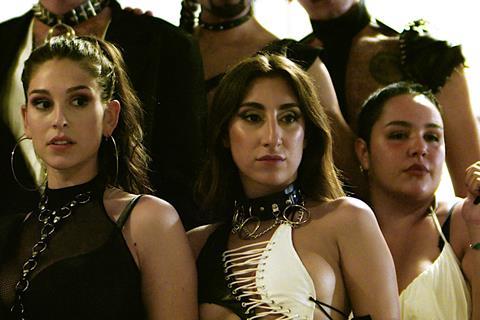 Dir/scr: Dunja Lavecchia, Beatrice Surano, Morena Terranova. Italy. 2023. 80mins
The feature debut of filmmakers Dunja Lavecchia, Beatrice Surano and Morena Terranova offers a closely observed portrait of three cisgender Italian friends at the point where their lives start to shift in different directions. Everyday concerns and family issues are contrasted with their involvement in the local ballroom scene, where they savour the safe space to express themselves and their sensuality. The only Italian production chosen for Venice Critics Week competition, this coming of age story is captured with an affectionate eye in a modest, small-scale production that could attract interest from documentary and specialist festivals.
A fly-on-the-wall approach and close-ups encourage a sense of intimacy
About Last Year begins in the dark, plunging the viewer into the backstage shadows where a group considers outfits and make-up. Gold costumes and glitter, red and black harnesses, gloves and thongs are among the available options. Once suitably attired and ready for their close-up, the group are glimpsed in the dazzle of camera flashes that highlight nails like talons and jungle red lipstick. These are all members of the Kiki House of Savoia, participating in the Turin ballroom scene.
Initially bewildering, the film provides us with little background information or context and makes no concession to those unfamiliar with ballroom, a queer subculture that combines burlesque, voguing, performance and catwalk parading. (The television series Pose and feature Port Authority in 2019 have served to nudge ballroom into the mainstream.)
Gradually the film finds it focus in the stories of friends Letizia Nacci, Giorgia Oliverio and Celeste Borgialli, cisgender women in their twenties who have discovered a sense of family in the ballroom community. Letizia is working as a delivery driver for a pizza company in the summer before she leaves for University in Portugal. Celeste is focusing on passing her driving test as a means to leave home and travel to America, while Giorgia is more committed to staying in Turin. As the camera eavesdrops on their conversations together and with their families, we gain a sense of their hopes, dreams and longings. There is a distant echo of Fellini's I Vitelloni (1953) in the feeling that this will be the final summer when the friends are this close and connected.
The filmmaking trio of Lavecchia, Surano and Terranova favour a fly-on-the-wall approach and close-ups that encourage a sense of intimacy. We also see glimpses of some of the material that Letizia and Giorgia post on TikTok and the mixed reactions they receive. The striking contrast here is between these banal-seeming lives and the confident, attention seeking figures who perform in public in Italy and on a visit to a competition in Paris. There is a more dynamic energy to the filming as all three strut, sway and gyrate. Slow-motion allows the viewer to appreciate the sense of release on the club floor and there is a focus on sweaty bodies and moving flesh in a world where everyone is accepted and nobody is judged.
Letizia competes in the Sex Siren category, and relishes the sense of escape in performing for her own pleasure and not being objectified by others. The whole ballroom community is seen as a place of acceptance for queer, trans and non-binary individuals as well as cisgender women. " There are no straight guys in the ballroom scene," observes Letizia.
At one point, the friends touch on the concerns of white Europeans appropriating a movement that began in New York among black Americans; they all want to live in the moment and savour the freedom. Ultimately, About Last Year combines the personal and the political, fondly capturing a time of promise in these three young lives.
Production company: Base Zero
International sales: Base Zero info@basezero.film
Producers: Enrico Bisi, Stefano Cravero
Cinematography: Dunja Lavecchia, Beatrice Surano
Editing: Morena Terranova
Music: Pietro Cavassa