After 46 years, Aretha Franklin's legendary documentary finally sees the light of day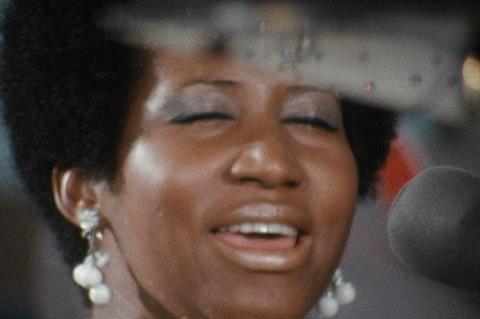 Dir. None credited. US. 1972. 87 minutes
Aretha Franklin made sure that Amazing Grace, her 1972 gospel concert filmed by Sydney Pollack, was never shown publicly. Now that both singer and director have passed away, it finally shows at the Doc NYC festival in New York this week, without a credited helmer. It's raw religion, and it's a treasure.
If raw is one apt description of the performances in Amazing Grace, bare-boned is another
Franklin, not yet thirty and on camera most of the time, with a slight serene hint of a smile when she's not singing, does not perform her hits here. With the help of a spirited choir, the minister's daughter is reaching back to the world that formed her, the music of the black church. For those new to gospel, emotion in those songs ranges from rhapsody to gut-wrenching moans. Franklin captures all that and more in a film that's distilled from two days of concerts in January 1972. The resulting album, also called Amazing Grace, was drawn from those same performances. Released in late 1972, it is the singer's best-selling recording. Its appeal suggests this film's potential range.
Franklin's death this past August makes any film about her timely. (Her estate made the decision to allow the world to see the doc; the singer had resisted for more than four decades.) Her fans are the natural audience for the film. So is the public for music documentaries and performance films. Foreign interest will also be strong.
If raw is one apt description of the performances in Amazing Grace, bare-boned is another. Accompanying Franklin in a non-descript church space are her core band of guitar, bass, and drums (the Atlantic Records rhythm section) plus a pianist and organist from the New Temple Missionary Baptist Church in the Watts section of Los Angeles, better known for riots and torched buildings. Dressed in streaming robes, Franklin barely says a word when she's not singing. The film is almost all music, from beginning to end.
And the music is what's so special about Amazing Grace. There are no interviews, no small talk on the stage, no man-on-the-street reactions from the packed house that somehow included Mick Jagger and Charlie Watts of the Rolling Stones. The focus is on Franklin, who seems in her element as she sings songs from the canon of gospel, sure to be a revelation to those who haven't sampled the genre. Franklin opens her first concert with a song associated with Marvin Gaye, another minister's child who became a pop star. Wholy Holy sets the tone for the gospel songs—a piercing declamation of words of prayer and then sensuous repetitions of those lyrics that remind you that this is also the singer of Chain of Fools.
Much of singing is about acting, and Franklin is quite the actress here. She can lead the Southern California Community Choir, clad in black robes and silver vests, into poignant performances of classics like I Got Over or Never Grow Old. Yet at other times, at the piano, she's preaching the lyrics to the crowd that calls back when she hits a high note or connects with emotional wounds. There's an added drama to the songs. Each of them is a journey that wades through more emotion than the under-five-minute minute versions of Franklin's commercial hits.
Amazing Grace was initially directed by Sydney Pollack, who had just come off the filming of Jeremiah Johnson which would be released in late 1972. We see Pollack rushing around the church interior as he himself filmed Franklin singing and as the camera gets close to Franklin and to the church's musical director, James Cleveland, a bear of a man with a voice to match. Songs are performed in their entirety, which tends to be long. Franklin may have entered the church wearing a full-length fur coat for the early January concerts, but there's sweat on her face in almost every close-up. The camera gets close enough for you to see light sparkle in it.
Re-edited by Alan Elliott, who is credited with producing and "realizing" the doc (Pollack's estate wanted the director's name off the film), the filmmaking is like the church itself—a witness to the task of framing the rarefied and gut-level religious experience that happened there. Franklin's hits, almost all of which were recorded before this concert, were bolts of memory as her passing was marked this year. Amazing Grace broadens our awareness of that legacy, as we watch the singer return to the culture that made her who she was.
Production company: Sundial Films
International sales: William Morris Endeavor lcop@wmeentertainment.com
Producer: Alan Elliott ('produced and realized by'), Joe Boyd, Aretha Franklin, Rob Johnson, Chiemi Karasawa, Sabrina V. Owens, Jerry Wexler, Tirrell D. Whittley, Joseph Woolf
Editor: Jeff Buchanan
Music Mixer: Jimmy Douglass
Original album producers: Aretha Franklin, Arif Mardin, Jerry Wexler