Errol Morris takes on Steve Bannon in this cinematic if elusive documentary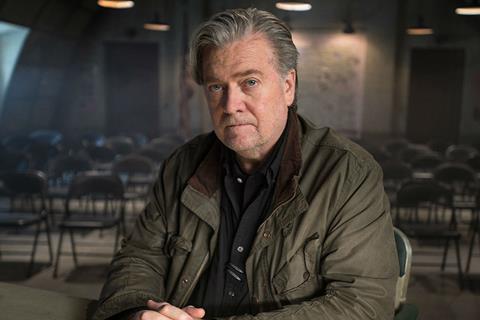 Dir: Errol Morris. US. 2018. 98mins
It was his admiration of The Fog of War, Steve Bannon reveals to Errol Morris a little way into the Oscar-winning documentarian's feature-length interview with Donald Trump's former campaign coordinator and chief strategist, that made him want to enter the film and media business. It's a priceless moment, documentary gold – and the wily Bannon knows this just as much as Morris, who blurts out in disbelief "So I'm to blame?"
If you can't convey the attraction, the director seems to be saying, you can't convey the danger
This is the issue with taking on a subject as media-savvy as Breitbart News co-founder Bannon: a man who is used to playing others, and controlling the message, was always going to be hard to play. Morris faced a similar challenge in The Unknown Known, his last cinematic sparring match with one of liberal America's chief bogeymen, Donald Rumsfeld. But Rumsfeld was also, like The Fog of War's Robert McNamara, a consummate politician unable to resist the cut and thrust of a debate on strategy. Bannon, for all the abyss that divides the two men's views and styles, is a weaver of narratives, creator of images and editor of the truth, just like Morris, and simply goes quiet when asked questions he finds uncomfortable.
The result is a fascinating but also in some ways frustrating film, a game of tag that looks resoundingly cinematic but feels like more of a cable or VOD prospect - not least because it lacks the killer punch, the Bannon stumble or revelation that would make American Dharma newsworthy.
At the same time, Bannon loves to talk. So Morris's strategy in this slickly produced film is to get Bannon to open up, not just about Trump, the alt-right and episodes like Russiagate or his own dismissal immediately after the Charlottesville violence of August 2017 – but about films. In particular, the right-wing pundit's all-time favourite, Twelve O'Clock High. Directed by Henry King, this 1949 war drama about stressed US bomber aircrews starred Gregory Peck as what Bannon calls a "hard-ass" commander. Morris runs with the suggestion, reconstructing the Quonset Hut where the black and white movie's crew meetings took place and using it as the setting for the interview, with an abandoned Massachusetts airfield outside serving as Archbury, the fictional British airfield out of which Peck's men flew their missions. Bannon walks moodily around the weed-strewn runway in shots that bookend the chapters of the film's roughly chronological stroll though the banker, editor and strategist's career to date.
Does this not risk glamourising Bannon? Sure. Morris embraces the risk, even indulges it in his widescreen framing and tenebrous lighting of the stubble-chinned populist with his backcombed hair and Midwest hunter sartorial style. If you can't convey the attraction, the director seems to be saying, you can't convey the danger. There's a telling moment when Morris brings up the figure of Lucifer in Milton's epic poem Paradise Lost. Bannon not only smirks when he realises where his interviewer is going with this comparison, but completes Morris' quotation "Better to reign in Hell…" with the second half of the English poet's famous line "…than to serve in heaven". This small moment sums up the film's raison d'etre: the director's very honestly paraded bafflement that a man this cultured can hold the rancid beliefs that he does.
Morris' run through the before, during and after of Bannon's involvement with the current President of the United States throws up nothing as juicy as the revelations in Michael Wolff's bestselling behind-the-scenes-in-the-White-House book Fire and Fury. Bannon is clearly in guarded mode here, refusing to denigrate Trump and doubling down on his contempt for the established political order, from Clinton to Obama to Bush. He opens up, however, with something like glee, on how he helped derail the controversy over the leaking of Trump's infamous 'grab them by the pussy' comments by fielding, in a surprise press conference, three women who have accused Bill Clinton of sexual misconduct.
By simply giving time to a man who few liberals have much time at all for, Morris illuminates a way of thinking that blurs the line between truth and propaganda. At the same time, the director makes sure we realise what side he's on by overlaying Bannon's more objectionable pronouncements (like his dismissive comment about Trump's shady commercial deals – "it's the real estate business") with a graphic overlay of newspaper and website headlines that make the opposite case. He also uses an emphatic soundtrack, horror-film camera angles and some flashy special effects involving fire to highlight the Breitbart News "apocalyptic rationalism", his belief in dharma (defined by Bannon as a mix of "duty, fate and destiny") and a forthcoming revolution that will "clear out some of the underbrush".
Production companies: Fourth Floor Productions, Maje Productions, Storyteller Productions, Moxie Pictures
International sales: Endeavor Content, lcopland@endeavorcontent.com
Producers: Errol Morris, Marie Savare, 
P.J. van Sandwijk, Robert Fernandez, Steven Hathaway
Production design: Adam Stockhausen
Editing: Steven Hathaway
Cinematography: Igor Martinović
Music: Paul Leonard-Morgan