James Longley's hopeful documentary follows school children in modern Kabul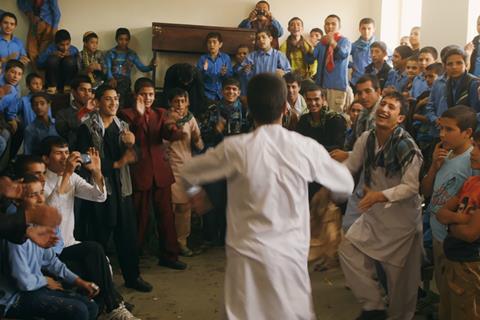 Dir. James Longley. USA-Den-Nor. 2018. 117mins
Afghanistan tends to be portrayed as a place of endless violence or a quagmire of corruption, or both. Yet James Longley's touching documentary, which observes a school over the course of three years, finds humanity there, and even some hope. For viewers who adjust to its deliberately slow rhythms, the reward is a vivid portrait of daily life in Kabul and a rich look into childhood from the perspective of children who have every reason to expect the worst.
Angels Are Made of Light, for all its discouraging frankness, finds a resilience among the most vulnerable of its characters
Angels Are Made of Light is Longley's first feature doc since Iraq In Fragments (2006), a probing and visually inventive trek through post-invasion Iraq that won several prizes. Angels takes a more meditative look at present and future for children who have known only a country at war. While films set in the conflicts of the Middle East and central Asia tend to struggle at the box office, expecially in the US, Longley's previous success gives Angels a head start on the festival circuit, where critics are likely to rally in support. If it is marketed as a film about childhood, rather than as a dispatch from a conflict zone, its audience could expand beyond the art house and educational markets.
At the center of Angels is a school in Kabul, where instruction continues in spite of everything around it. Longley's closest focus is on a family of three boys; especially young Sohrab, who studies as his greying father toils in the market and one brother hammers noisily in a metal workshop. Education, as always, is the promise of a better life, but young Sohrab already knows that Kabul hasn't seen that better life in a long time, despite soothing speeches by politicians.
Longley, who also filmed the doc, gets remarkably close to the boy and his family in tactile close-ups and scenes that take you from competition over grades at school to mischief with slingshots to the brutal drudgery of child labor. Teachers and other students supply their own reflections, and candid archival footage of a modernizing Kabul before the Soviets invaded in the late 1970's offers a heartbreaking picture of what Afghanistan might have been.
Angels is not the first doc about vulnerable children in Afghanistan, and Longley seems to have been limited to filming the girls at the school in separate classes (another rich subject) at a distance. Yet his doc reaches for broader affinities: with Steve James' Hoop Dreams (1994) in its multi-year reality check of children's hopes and frustrations; and with Nicholas Philibert's To Be and To Have (2002) in its portrayal of the closeness of a community of pupils and teachers.
Skeptics might suggest that there's too much hope in Angels, given the latest rise in deadly Taliban attacks in Kabul. Longley does keep violence out of his film, except for the slaughter of sheep for a banquet. Yet these children and their teachers are clear-eyed about the ruinous city around them, and, surprisingly, about religious pronouncements. They seem less anxious about terrorism than about a future working for nothing in the streets. "My land is tired, tired of deceitfulness," says one.
Modulated by Kaada's discreet music, and with gentle, intimate editing by Longley, Waltteri Vanhanen, and Janus Billeskov Jansen, Angels Are Made of Light, for all its discouraging frankness, finds a resilience among the most vulnerable of its characters.
Production companies: ro*co films, Just Films/Ford Foundation, Final Cut for Real, Louverture Films, Piraya Film, DayLight Factory
International sales: ro*co films annie@rocofilms.com
Producers: James Longley
Executive producers: Danny Glover, Basil Shadid
Cinematographer: James Longley
Editors: Waltteri Vanhanen, Janus Billeskov Jansen, James Longley
Original music: John Erik Kaada