Three childhood friends find reunion to be a rocky road in Junji Sakamoto's intimate drama.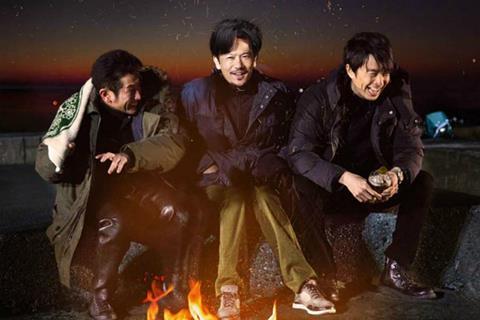 Dir/scr. Junji Sakamoto. Japan. 2018. 119mins
A wistful, intimate affair about friendship and fateful choices, Another World, also ruminates on small-town living and reflects the stresses of military service. Writing as well as directing, Japanese filmmaker Junji Sakamoto (Knockout, Children of the Dark, Danchi) packs plenty into his emotional tale of childhood friends reuniting as adults. What starts out as a familiar homecoming story with more than a dash of middle-aged male malaise slowly deepens into a textured and poignant — albeit still somewhat well-worn — rural drama.
One of two Japanese titles premiering in this year's Tokyo Film Festival competition, Another World already has a theatrical date with local audiences in February 2019, as well as a certain drawcard in ex-boy band star Goro Inagaki. Despite pop group SMAP's three-decade career at home, Inagaki won't offer the same allure abroad, with the feature's worldwide fortunes likely to remain limited to the festival circuit.
Inagaki plays Koh, one third of a self-described 'triangle' of pals with Mitsuhiko (Kiyohiko Shibukawa) and Eisuke (Hiroki Hasegawa) — the latter of whom he unexpectedly finds wandering around his rundown mountainside home after years away. Koh and Mitsuhiko stayed in town after high school finished, with Koh taking on his father's physically demanding and now financially declining charcoal business, and Mitsuhiko operating the resident car yard. Eisuke enlisted in Japan's Self-Defense Forces, serving in both in Hokkaido and overseas.
Superficially, it's a happy reunion. Old wounds still remain from their younger years but the charmingly (and often drunkenly) no-nonsense Mitsuhiko is eager for the friends to renew their bond. But life hasn't been overly kind to the trio as they all near their forties. In addition to his business woes, Koh's rebellious teenage son is being bullied, while local heavies have been trying to take advantage of Mitsuhiko. As for Eisuke, now divorced and with no family left in the village, he's marked by unspoken scars from his time in uniform.
Initially, it's Inagaki, Shibukawa and Hasegawa's lived-in performances that draw viewers into this story, which Sakamoto unfurls as methodically and patiently as the charcoal-making process he chronicles in near-hypnotic detail. Saddled with the bulk of the film's dramatic focus in contrast to Shibukawa's more laidback, comic role, Inagaki and Hasegawa's overworked patriarch and suffering returned soldier are archetypes but never stereotypes. The duo play their parts like the sum of decades worth of flint waiting to spark, their characters never realising how close they are to setting everything ablaze.
Steeped in the ebbs and flows of small-town life, cinematographer Shingo Gima's imagery has an eye for both everyday routine and the film's greenery-surrounded location; as befitting a film that finds inertia a stumbling block to substantial change and growth. Shinichi Fushima's patient editing gives on-screen events room to establish a realistic rhythm over three months in the character's lives, while a late-stage tussle brings energy as well as finessed fight choreography.
Plunging into the vagaries of male friendship may be recognisable cinematic territory in general but for Sakamoto, in his 29th directing credit, this is somewhat of another world. Working with autobiographical elements, he's a natural at imparting an authentic, emotive feel to a tale that's mostly small in scale but considerable in impact. And, in his subplot about the weight carried by those who have served and returned, Sakamoto proves equally probing and thoughtful.
Production company: Kino Films
Japanese distribution and contact: Kino Films, kinofilms-master@kinofilms.jp
Producer: Yukiko Shiii
Production design: Mitsuo Harada
Editing: Shinichi Fushima
Cinematography: Shingo Gima
Music: Goro Yasukawa
Cast: Goro Inagaki, Hiroki Hasegawa, Kiyohiko Shibukawa, Chizuru Ikewaki, Miyako Takeuchi, Rairu Sugita, Takehiko Ono, Renji Ishibashi