An unusual mostly-animated trip through the delta of the Saint Lawrence River in Quebec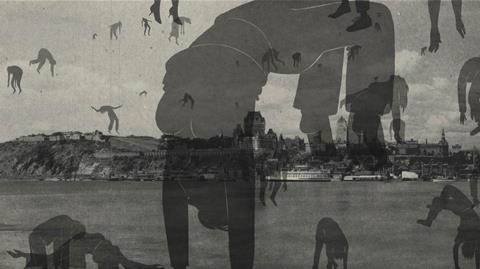 Dir/scr: Félix Dufour-Laperrière. Canada. 2021. 72 mins
Through a lyrical, mainly animated journey along the Saint Lawrence river, this beguiling but nebulous film taps into the soul of a home land. The land is Quebec, the home of director Félix Dufour-Laperrière; the film is an impressionistic travelogue which journeys into its history and psyche. It's definitely at the more enigmatic and experimental end of the documentary spectrum, but will appeal to audiences attuned to imaginative and unconventional approaches to the medium.
Designed to inhabit the liminal space between the cinema and the gallery
There is a kinship here with Chris Marker and Patrick Keiller's psycho-geographical voyages into the unknown. And, in common with the work of those filmmakers, Archipelago is a picture which seems designed to inhabit the liminal space between the cinema and the gallery.
The Saint Lawrence River flows in a north-easterly direction, connecting the Great Lakes with the Atlantic Ocean. Dotted throughout the river's delta are numerous islands, clustered into archipelagos; each, the film suggests, with its own discrete and distinct personality. Two voices, a woman (Florence Blain Mbaye) and a man (Mattis Savard-Verhoeven) guide us on an island-hopping venture which sometimes excavates deep into the rich earth of the floodplain, and at others, is tantalisingly opaque in what it shows. At one village we "stay long enough to see nothing and to hear nothing". On screen, indistinct figures merge and diverge in an abstract expression of a folk dance.
There is not always harmony between the two narrators: "You don't exist," the male accuses the female. It's not always clear what standpoint they represent although the female presence, at some junctures visually represented by an animated female form filled with images of nature, seems to be more spiritually connected with the land we are exploring. But, as she warns early on, she is not an entirely reliable guide. There are fictions intertwined with the facts in the film, it's a portrait which not only embraces mythology but creates new ones.
This creative approach to documentary and elastic reading of history is mirrored by the film's use of animation. It's a striking magpie haul of styles, from a long list of animators. While some segments are entirely animated from scratch, many take archive footage as a jumping-off point – the visual facts are raw material to be embellished, incorporating the voice of each individual artist. One particularly lovely sequence takes footage of dancers captured at least seventy years ago, and then playfully overlays new costumes and animated fancy dress. A woman wrapped in the arms of a man morphs into a rabbit whirled around the dancefloor by a penguin.
No less poetic but rather bleaker is a sequence which overlays interlocking outlines of bodies, rendered in bright primary colours. This eye-catching infographic represents the past violence which has left its mark and its memories on the land. And it's here, perhaps, that the film's enigmatic elasticity of approach fails to serve its subject. This is land, after all, which was colonised. The First Nations are acknowledged, with Innu poet Joséphine Bacon reading one of her works in Innu-aimun. But in a curious and slightly uncomfortable decision, no translation is offered for her words until much later in the film. Though the intention is presumably not to rob her of a voice, it does feel like an unnecessary obstacle when it comes to understanding her perspective.
Production company: Embuscade Films
International Sales: La Distributrice de Films serge@ladistributrice.ca
Producers: Félix Dufour-Laperrière, Nicolas Dufour-Laperrière
Editing: Félix Dufour-Laperrière
Cinematography: Félix Dufour-Laperrière
Music: Stéphane Lafleur Et Christophe Lamarche-Ledoux
Voice cast: Florence Blain Mbaye, Joséphine Bacon, Mattis Savard-Verhoeven