A run-down mental health hospital in Tehran is the setting for Fereydoun Jeyrani's brooding and stylish thriller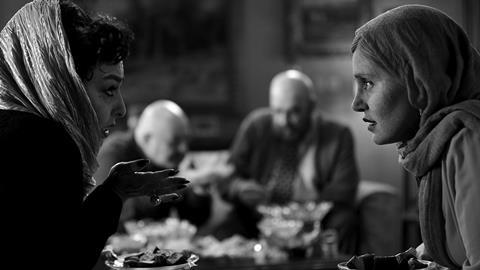 Dir/prod/scr: Fereydoun Jeyrani. Iran. 2017. 108 mins
The head nurse at a run-down Iranian mental institution, Sahra (Elnaz Shakerdoust) finds herself caught between a wife who has been admitted to the hospital in a state of apparent catatonia, and the husband who may or may not be the cause of her breakdown. Shot in moody black and white, this is a brooding thriller which wears its Hitchcockian influences stylishly rather than slavishly. Although character motivations might, at times, seem a little opaque, this film offers a commentary on a society in which even a successful woman is nothing unless she has a man's support.
Asphyxia has an atmosphere which crackles with slow burning menace
Although we are introduced to her at a moment of tension, her face bloodied and bruised, the Sahra we get to know is the nurse who, twenty days before the striking opening shot, is a serenely confident presence on the ward. The doctor explains to Masoud (Navid Mohammadzadeh) that he defers to her meticulous observations of each patient before he makes a diagnosis. Masoud is the husband of the latest patient on the ward, Nassim (Pardis Ahmadieh), who has eyes which are huge and fearful, and a face which doesn't register any recognition of where she is or why.
Meanwhile, outside, a blizzard has been lashing the city for days and the crumbling infrastructure has started to give way. Electricity regularly fails; the candlelight which pinpoints eyes and faces give this asylum an almost Dickensian sense of claustrophobic tragedy. Chunks of the ceiling fall down to punctuate the discussions of Nassim's mental health. The musty, airless production design emphasises the gothic themes of decay and rot.
Outside of work, Sahra has her own problems – she faces eviction as her apartment building is due to be demolished. Her neighbour Zohreh tries to persuade Sahra to follow her in taking an elderly man as a lover and financial support. Sahra recoils from the leering suitor, horrified by the stench of his unwashed feet.
The vulnerability of Sahra's precarious situation is why, perhaps, having initially taken the side of Nassim, who is roused from her trance and confides the details of her husband's abuse, Sahra finds herself increasingly drawn to the manipulative Masoud.
While Asphyxia might not have the genre punch which helped to propel Under The Shadow onto the international arthouse circuit, it has an atmosphere which crackles with slow burning menace. Fereydoun Jeyrani's latest film should prove to be a draw on the festival circuit and, while it might struggle to generate theatrical business, it could connect with audiences searching for unusual fare on VOD platforms.
With his unblinking stare and his slow, deliberate movements, Mohammadzadeh's performance as Masoud is more sinister than seductive. While the film doesn't fully explore the complicated power dynamic which the needy Sahra mistakes for romance, Shakerdoust is convincing as a woman who finds that she will do whatever it takes for survival and male approval (in this portrait of Iran, the two are linked).
The camera's measured wariness echoes the reptilian calculation of Masoud's movements; music is also well used, particularly the swelling schmaltz of Andy Williams' 'Love Is A Many Splendored Thing', which provides a suitably melodramatic backdrop to the film's casually cruel ending.
Production companies: Ticket, Persia Film Distribution
International sales: Persia Film Distribution info@persiafilmdistribution.com
Cinematography: Masoud Salami
Editor: Bahram Dehghan
Music: Karen Homayounfar
Main cast: Navid Mohammadzadeh, Elnaz Shakerdoust, Mahaya Petrosian, Pardis Ahmadieh, Poulad Kimiaei, Parviz Pourhosseini