Two teen cannibals attempt to find their way in Luca Guadagnino's tender romantic drama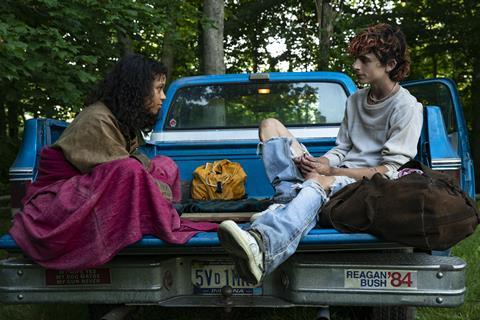 Dir: Luca Guadagnino. US. 2022. 130mins.
If anyone is going to make a cannibal coming of age story work, it's Luca Guadagnino. The Italian director has always liked to range from genre to drama and back again and, in his third collaboration with screenwriter David Kajganich (after A Bigger Splash and Suspiria), he pulls off the tricky task of smearing a tender story of a young girl's search for love and guidance in blood, skin, cartilage and viscera so fresh we can practically taste them.
The one joke in a film that takes the comma out of "Let's eat, people!" is its planned US release date: 23 November, one day before Thanksgiving
It's true that Palme d'Or winning French director Julie Ducournau did something similar in her 2016 debut, Raw. But Guadagnino's seventh feature is unlikely to remind most viewers of that, or any of the other hybrid horror dramas that have come our way since Let the Right One In. Pairing rising talent Taylor Russell and risen star Timothee Chalamet in the roles of two misfits drifting across the American Midwest trying to make sense of what they are while quietly falling in love, Bones and All is essentially a romantic road movie Western; a horror-tinged Bonnie and Clyde or Badlands in which frontiers are as much ethical and emotional as they are to do with purple hills on the horizon.
The one joke in a film that takes the comma out of "Let's eat, people!" is its planned US release date: 23 November, one day before Thanksgiving. Otherwise, there's not a hint of comedy here, not even of the dark variety. But that's a smart decision. It's not just the presence of Chalamet, surfing in on Dune's sandwaves, that will push the R-rated Bones and All over the bump in the box-office road represented by its often gory content, but its serious, clear-eyed sympathy with its young protagonists, and its celebration – channeled through golden-hour photography and an edgy country guitar soundtrack by Trent Reznor and Atticus Ross – of the potent American myth of the romantic drifter.
Set in the Reaganite 1980s, the film gives Taylor Russell another chance to shine after her breakout role in Trey Shults' Waves. Her performance here is captivating: in playing a late-teen girl with a dark secret who is feeling her way into living alone and fending for herself, she seems to mirror that exploration by sensitively feeling her way into her character, giving Maren's gradual awakening extra resonance.
The film is only loosely based on its source material, a young adult novel by Camille DeAngelis. Kajganich switches out the gender of Maren's parents: in the book, she was brought up by her mother and, when the latter disappeared, set out to look for the father she never knew. Here it's the opposite. Maren's difficult-to-control taste for flesh is established early on – it involves only the half-chewed finger of a high-school friend; this is a film that eases us gently into the gore. Her meeting with Timothy Chalamet's fellow cannibal Lee comes when she's Greyhound bussing it across state borders. Lanky, curved in continual forward movement, Lee is a post-punk chancer, drifter and hustler, sating his appetite for warm human meat partly by picking up gay men (it's here that the film strikes one of its few off notes: deep down, we realise, Bones and All is strangely hetero-normative).
But Lee is not the first fellow 'eater' Maren encounters. That's Sully, a much older cannibal played with magnificently held-in menace by Mark Rylance. It's he who informs the young girl that there are others like her, and teaches her how to use her nose to sniff out not only fellow cannibals, but also humans who have recently died or are on the point of death. Eaters make up their own moral codes: Sully's include not eating fellow eaters, and waiting for his human meals to die rather than killing them. With his pheasant-feather hat and odd tweedy garb dotted with souvenir pins, Sully is part Davy Crockett, part scout master; a strange mash-up of American frontier myths that have curdled into a lonely, needy cannibal.
Elsewhere, Bones and All serves up some tasty American rural architecture, John Ford and Edward Hopper in its often ravishingly beautiful drift from Virginia via Maryland and Kentucky to Nebraska. Travelling in a beaten-up and occasionally blood-smeared blue Chevy pick-up, Maren and Lee are two damaged people trying to navigate their way through friendship and love alongside the demands of their strange appetites. By the end, loving and eating, wanting and devouring are made to converge in ways that are both gruesome and fascinating, thought-provoking and oddly touching.
Production companies: Frenesy Film Company, Per Capita Productions
Distribution: Warner Bros (International); United Artists Releasing (USA); Vision (Italy)
Producers: Luca Guadagnino, Theresa Park, Marco Morabito, David Kajganich, Francesco Melzi d'Eril, Lorenzo Mieli, Gabriele Moratti, Peter Spears, Timothée Chalamet
Screenplay: David Kajganich, based on the novel by Camille DeAngelis
Production design: Elliott Hostetter
Editing: Marco Costa
Cinematography: Arseni Khachaturan
Music: Trent Reznor, Atticus Ross
Cast: Taylor Russell, Timothee Chalamet, Michael Stuhlbarg, André Holland, Chloë Sevigny, David Gordon Green, Jessica Harper, Jake Horowitz, Mark Rylance