A day in Berlin in the company of a newly-hatching cross-channel pair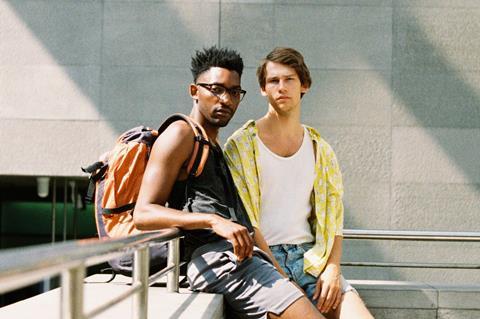 Dir: Daniel Sanchez Lopez. Germany. 2021. 70 mins
A brief encounter in Berlin blossoms into something potentially more meaningful in Boy Meets Boy. Daniel Sanchez Lopez's debut feature has obvious antecedents in Richard Linklater's Before Sunset and Andrew Haigh's Weekend but has enough tender charm of its own to attract incurable romantics at LGBTQ Festivals and specialist distributors, with Peccadillo already acquiring UK rights.
A light, easy chemistry
Lopez finds an economical way of delineating the character of the two individuals at the heart of Boy Meets Boy. We first meet Johannes (Alexis Kotsoulis) in a dance studio as he practices his moves to KSW's 'Please Don't Go'. The bright lights, clean lines and open spaces reflect something of his orderly mind. By contrast, British tourist Harry (Matthew James Morrison) is first seen in the messy disarray of a hotel room as he uploads an intimate picture in search of his next casual hook-up.
The two men first lock eyes across the crowded floor of a club. When dawn breaks after a night of sweaty dancing and kissing, they decide to surrender themselves to a day without responsibilities. Harry has 15 hours before his flight home. Johannes agrees to help him print-off his boarding pass and to show him Berlin. What follows is a day of strolling and cycling, flirting and bonding in which they move beyond getting to know each other into more serious territory. Flippant, quickfire questions (Anal or oral? Sunrise or sunset?) retreat into deeper conversations about love, commitment, hopes and dreams.
The two personalities remain constant throughout with Johannes more earnest and reflective as he reveals his desire to become a father. He appears to be more cultured, with references to DV8 and Pina Bausch and a Cindy Sherman poster on his bedroom wall. Junior doctor Harry seems the more frivolous, thrill-seeking part of the couple, expressing his contentment with a succession of one-night stands rather than anything more long term.
Lopez collaborates with cinematographer Hanna Biornstad to lend the film an appealing intimacy. Favouring close-ups at key points, the camera also edges us nearer to the two men, inviting us into their special day. Boirnstad captures the bold glances and twinkling smiles that signal an initial attraction and lingers over tastefully exposed flesh to convey their desire.
The use of natural light, a low-budget aesthetic and a brief running time all create the impression that Boy Meets Boy is a slight proposition. The wide-ranging conversation and the conviction of the central performances allow it to acquire more substance. Over the course of the film Harry and Johannes cover everything from gay stereotypes to the environmental issues destroying the planet, from dating apps to open relationships.
There is something of the confessional in the candour of their conversations and the light, easy chemistry between Alexis Kotsoulis and Matthew James Morrison goes a long way to make us care about how this encounter will end.
Production companies: Cosmic Productions, GagaOOLala, GOL Studios
International sales: The Open Reel sales@theopenreel.com
Producers: Lucia Sapelli, Daniel Sanchez Lopez
Screenplay: Hannah Renton, Daniel Sanchez Lopez
Editing: Thea Aae
Cinematography: Hanna Biornstad
Main cast: Matthew James Morrison, Alexis Kotsoulis, Louis Habron-Johnson