Dir. Sharon Maguire. UK, 2016. 122 mins.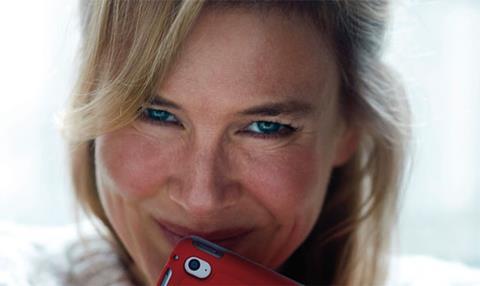 Depending on which side of the age divide viewers fall, Bridget Jones's Baby will either be viewed as charmingly retro or irredeemably irrelevant. And that's clearly a concern for the film-makers, who amp Renee Zellweger's dim British middle-class klutz up to deafening levels while falling back on the formula which propelled Bridget Jones's Diary (2001) and Bridget Jones: The Edge of Reason (2004) to global success. One hapless heroine, two suitors, and, in this case, an unexpected pregnancy.
If Bridget has failed to grow any wiser or more interesting, Zellweger still delivers her with enough charm to carry the film over the finish line
This long-gestating project – Hugh Grant was at one point slated to co-star, before making way for Patrick Dempsey – bears no relation to author and co-screenwriter Fielding's own printed resurrection of Bridget last year, where she killed off Mark Darcy and left her heroine as a dating single mother of two. Instead, Colin Firth re-appears as Bridget's one true love, the story being that they have long since separated due to the British barrister's obsession with saving the world. Grant's slimy publisher Daniel Cleaver has – literally – vanished into thin air, and he is replaced by the hunky American dating guru Jack Qwant (Patrick Dempsey).
So Bridget is back where she started, more than 20 years after Fielding first invented her for a column in The Independent, landing in cinemas at the very tail end of a summer which has also re-birthed her TV counterpart Absolutely Fabulous for the big screen. The end results are similar: fitfully-funny nostalgia viewing which sits a little awkwardly in 2016.
Zellweger oozes neurotic charm as the 43 year-old Chardonnay-soaked singleton, who has remarkably learned nothing in the twenty years since her creation. She's still on her own, even as her friends have paired off and, even more remarkably, given she's fatally accident-prone at work, has risen to the role of executive producer for a nightly TV news show (Bridget Jones' Baby also rather stridently rails against the media's loss of integrity, a somewhat disingenuous message from a studio sequel).
Attending a rock festival (where she's inappropriately dressed and fails to recognise Ed Sheerhan), Bridget falls drunkenly into a tent which she mistakes as her own and ends up having sex with Dempsey's Qwant. Soon after, she reunites and has sex with Mark Darcy at a christening. When she finds out she's pregnant, Bridget does not know which man is the father. So in true Bridget fashion, she tells both men the baby is theirs, and the scene is set for Firth and Demsey to engage in the high-camp knockabouts which were so entertaining in the original film when Grant was in the frame. Emma Thompson turns up as her cheerfully brusque obstetrician.
In its own deja vu way, Bridget Jones Baby is intermittently entertaining, mainly thanks to Zellweger's performance. Endless column inches have been devoted to the actress's weight gain/loss or supposed surgical enhancements, but Zellweger bravely looks exactly like the 43-year-old woman she's supposed to be. If her character has failed to grow any wiser or more interesting, Zellweger still delivers her with just about enough charm to carry the film over the finish line. Firth and Dempsey mostly diall it in.
Bridget Jones' Baby works best as a nostalgia piece, to help viewers recall where they were in the late 1990s when the world thought it was charming for a woman to be so prettily inept and Colin Firth was coming off his wet-shirt moment in Pride And Prejudice. We're all older, although Bridget is none the wiser. Whether Working Title/Universal can keep this up until Bridget Jones' Grand-baby is anybody's guess.
Production company: Working Title Pictures
International distribution: Universal
Producers: Tim Bevan, Eric Fellner, Debra Hayward
Executive producers: Amelia Granger, Liza Chasin, Helen Fielding
Screenplay: Helen Fielding, Dan Mazer, from characters and story created by Fielding.
Cinematographer: Andrew Dunn
Production designer: John Paul Kelly
Editor: Melanie Ann Oliver
Music: Craig Armstron
Main cast: Renee Zellwegger, Colin Firth, Patrick Dempsey, Jim Broadbent, Emma Thompson