Dir/scr/prod: Noel Clarke. UK, 2016. 104 mins.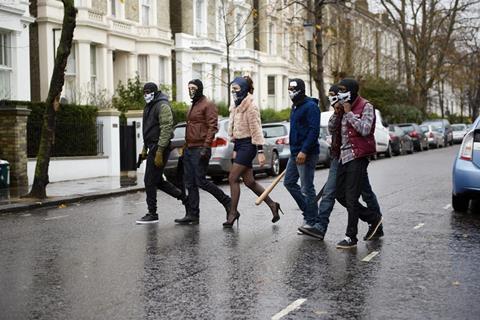 After a significant gap, British writer-director Noel Clarke reprises the role of Sam Peel in Brotherhood, concluding the West London crime trilogy he started with 2006's Kidulthood and followed up with Adulthood in 2008.
The steam may have cooled on Clarke's anger, but the points he makes are still worth listening to.
Opening in the UK on August 29 ahead of a Toronto Film Festival push, this final chapter is smoothly executed with some unexpected comic highs, yet it mostly comes across as a standard, rap-infused revenge thriller without sufficient distinguishing features to mark it out commercially. Brotherhood illustrates Clarke's growing maturity as a film-maker but the originality of the series seems to have gradually leeched away, as the on-screen protagonists become more settled in their lives and the returning villains ever more gratuitous.
Kidulthood, shot by Menhaj Huda and written by/starring Clarke, told the flavourful story of a gang of troubled 15 year-olds growing up on the housing estates around Ladbroke Grove in West London. Back then, Sam Peel (Clarke) brutally murdered a boy with a baseball bat. By Adulthood, released two years later, Clarke was directing himself and Sam had emerged from prison as a wiser, more regretful person who was determined to walk the straight and narrow, despite the threats from his past.
Brotherhood finds Sam living in middle-class, terraced-house respectability with his loving lawyer girlfriend Kayla (Shanika Warren-Markland) and their adored children, working multiple jobs. The neighbourhood has changed, and Sam has grown older and softer - Clarke isn't vain about his performance.
Menace still lurks in the background, however, and Uncle Curtis (a scenery-chewing Cornell John) isn't in a forgiving mood. Newer, tougher gang members have moved in, and Sam will soon find himself struggling to keep up, although is biggest battle has always been with himself.
Where Brotherhood holds its own – and stands out - is in its unique, very British perspective, mostly through Clarke and DoP Aaron Reid's on-the-ground vision of the West London neighbourhood which rubs up against Notting Hill's newfound white wealth. Sam's relationship with his best friend and sidekick Henry (Arnold Oceng in a standout role), his mother Agnes (Adjoah Andoah), who still lives in the tower block, and the idea that all these men must now live with the consequences of the decisions they made in Kidulthood is also captivating. What's less successful is the depressing depiction of women – "slags", naked prostitutes, sex-mad granny killers etc – who live in a fancy house under the largesse of an evil white cockney gangster Daley, played by Jason Maza. Even the police seem bewlildered by it all.
Unlike the first two films, Brotherhood is softer on the issue of class, but that's probably inevitable as the characters grow up. While UK grime artist Stormzy makes his feature debut, and young Fady Elsayed has a small but sweet role, Clarke's film is pretty much stolen by the Prius-driving Arnold Oceng and a running gag about a supermarket discount card. The story seems partially personal; Clarke himself is 40 now, and a father. The steam may have cooled on his anger, but the points he makes are still worth listening to.
Production companies: Unstoppable Entertainment, Carpalla Films
International sales: Lionsgate (UK distribution)
Producers: Noel Clarke, Jason Maza, Maggie Monteith, Gina Powell
Executive producers: Josephine Rose, Chris Reed, Damien Jones, Zygi Kamasa, Nick Manzi, Nicola Pearcey, Marco Costa, Marcello Moscarello
Screenplay: Noel Clarke
Cinematographer: Aaron Reid
Editor: Tommy Boulding
Production designer: Monica Black
Original music: Tom Linden
Starring: Noel Clarke, Shanika Warren-Markland , Jason Maza, Arnold Oceng, Stormzy, Alissa, Ashley Thomas, Adjoah Andoah, Lashana Lynch, David Ajala, Rosa Coduri, Fady Elsayed, Cornell John