Dir. Woody Allen. USA. 2016. 96mins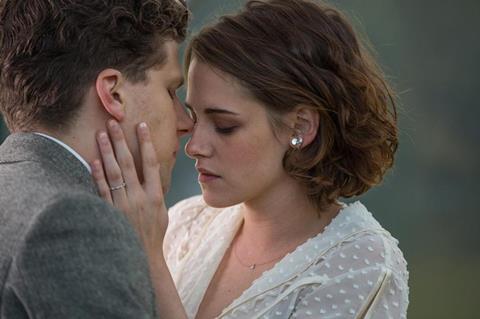 Visiting a romanticised past has sometimes served Woody Allen well (The Purple Rose of Cairo, Midnight in Paris), sometimes rather badly (the recent Magic in the Moonlight). But the glitter of the 1930s American beau monde rubs off handsomely in Café Society, a bittersweet comedy of manners that sees Allen pushing the boat out stylistically and in narrative ambition, even as he treads familiar ground. Sumptuous visual execution plus a top-rate ensemble cast should place this in the high altitudes of Allen's recent commercial successes, especially in France, where it opens simultaneously with its launch of the Cannes official selection.
In some ways, there's little here that is truly surprising, although what could have been deeply mechanical in the development of Bobby's path actually works out with a ring of classical ironic logic
Essentially a tale of individuals losing their illusions as they find their way to worldly success, Café Society opens at an L.A. poolside party at the house of powerful, name-dropping Hollywood agent Phil Stern (Steve Carell). Allen's own voice-over narrates a constant zigzag between L.A. and New York, where we meet the Dorfmans, the working-class Jewish family of Phil's sister Rose (Jeannie Berlin).
Rose's son Bobby (Jesse Eisenberg) soon arrives in L.A. looking for new avenues and, after a false start, is given a mailroom job by his uncle Phil, who also introduces him to his secretary Vonnie (Kristen Stewart). She's a down-to-earth soul, unimpressed by Hollywood pretensions, and Bobby falls instantly for her. But an irony that might strike some as just too darn neat stands in the way of their happiness, and Bobby flies back home. There he reinvents himself as the front-of-house charmer at the chic Manhattan nightclub run by his brother Ben (Corey Stoll), a gangster who's built his empire on sudden death ("If you ask nicely, people will listen," he says, dumping a business associate into a cement pit).
In some ways, there's little here that is truly surprising, although what could have been deeply mechanical in the development of Bobby's path actually works out with a ring of classical ironic logic. In recent years, Allen has often seemed stifled by the vignette-style concision of his anecdotes (as in last year's philosophical trifle Irrational Man). Here he opts for a more expansive narrative scale, spinning his story out over a year and zig-zagging between different sets of characters and sub-plots that build up teasingly.
Another ace is the film's visual grace. Where some of Allen's more sumptuous recent films like Vicky Cristina Barcelona have erred on the side of picture-postcard kitsch, here he works for the first time with star DoP Vittorio Storaro to enlivening effect. Together with Santo Loquasto's richly realized production design, Storaro provides a range of colour schemes for different settings; from the expected 30s sepia for the Bronx, to the vibrant aquatic blues of the opening pool scene. What's different for an Allen movie is the mobility of the camerawork, which opens up space and gives a sense of the way that enclosed worlds of superficial glamour can both dazzle and oppress their inhabitants.
There is, however, a certain amount of Allen-by-rote here, and some lapses of tone: a meeting between Bobby and a gauche novice prostitute feels awkward and misplaced, not least because Eisenberg's acting seems somewhat stagy (he gets more into his stride later). There are also flashes of familiar philosophical kvetching, graced with a drizzle of sharp one-liners ("Live every day as if it's your last, and some day you'll be right"). But where the ethical agonizing was massively over-literal in Irrational Man, here it's effectively internalized in the drama itself.
Allenites will notice an unusual note of self-homage in a Manhattan-referencing shot of the Brooklyn Bridge. Jewish themes are also very much to the fore, with an eye to a streak of anit-semitism in American life. "It's true what they say," Bobby's new WASP squeeze (a silky Blake Lively) says to him –fondly, but even so – "you people are pushy."
Acting-wise, this is one of Allen's best ensembles for a while, the cast including Ken Stott and Sari Lennick as Bobby's parents from the Bronx, and Carell on terrific form as a man of power wrestling with his emotional vulnerabilities.
At moments, Eisenberg is simply too full-on nervy but overall, he's highly affecting as a would-be idealist only too open to the corruptions of success.
And although Kristen Stewart doesn't seem entirely of the film's period – at the start, she seems like a 50s boho free spirit before her time – nevertheless, she continues to mature as a very subtle performer, unfolding layer after layer of secrets and changes.
Production companies: Gravier Productions, Perdido Productions
International sales: Filmnation Entertainment info@wearefilmnation.com
Producers: Letty Aronson, Stephen Tenenbaum, Edward Walson
Screenplay: Woody Allen
Cinematography: Vittorio Storaro
Editor: Alisa Lepselter
Production design: Santo Loquasto
Main cast: Jeannie Berlin, Steve Carell, Jesse Eisenberg, Blake Lively, Parker Posey, Kristen Stewart