A terminally ill Romanian man searches for someone to care for his grandchild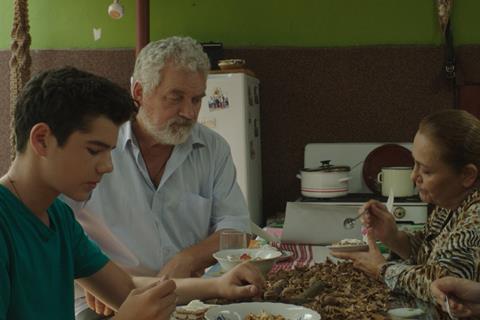 Dir. Liviu Sandulescu. Romania-Sweden. 2019. 90mins
A cancer diagnosis and the news that he has a matter of months to live means that Carturan (Teodor Corban) must get his affairs in order. Most crucially, he must find a new home for Cristi (Vlad Popescu), the orphaned 13-year-old grandson he has raised since the death of the child's parents. He is also keen to perform a religious rite to 'pave the way for his soul' to the next life. This muted Romanian drama pits one man against an uncaring system. But despite the ticking clock of Carturan's disease, and the child whose future is in peril, director Liviu Sandulescu favours a resolutely low key, deliberately undramatic approach.
Carturan pulls back from the almost comedic levels of official misconduct explored in other Romanian films, and takes a more pensive tack
The first feature from Sandulescu has impeccable Romanian new wave credentials. It is produced by Mandragora, the company founded by Anca and Cristi Puiu, and has cinematographer Oleg Mutu (4 Months, 3 Weeks and 2 Days; The Death Of Mr Lazarescu; Donbass) on its credit list. But even with this level of talent behind it and with performances of the typically high quality we have come to expect from Romanian cinema, the picture might be too gentle in its storytelling to make much noise outside of the festival circuit.
Mutu's photography emphasises the sunny tranquility of life in the village where Carturan and his grandson sit companionably over a chess board and fish together by the river. The picture is at its most affecting at these moments, where the grandfather's love for his grandson is revealed in his gruff pride when the boy makes a particularly sharp chess move.
Corban (12.08 East Of Bucharest) brings a grizzled gravitas to the role of 60-year-old Carturan, who distributes whipped cream cakes from the city to his grandson and neighbours, and downplays his visit to the doctor. It's only when Cristi has gone to play football with his friends that Carturan lights up a cigarette ("There's no point in not smoking.") and explains the severity of his condition to the two women who help around the house. His hope is that they will take over the care of Cristi, but neither are in a position to do so.
So begins the slow slog around the bureaucratic Romanian child care system. Carturan comes equipped with envelopes stuffed with cash but even so, there's a Kafka-esque futility in his meetings with officials. There are parallels with the 'man lost in a maze of corruption' narrative of Mr. Lazarescu and of Cristian Mungui's Graduation. But Carturan pulls back from the almost comedic levels of official misconduct explored in other Romanian films, and takes a more pensive tack.
Slightly less compelling as a storyline is Carturan's other aim: to follow the tradition of the region where he grew up and hold an almsgiving ceremony before he has actually died. The priest he asks to officiate is perplexed. What is considered standard practice in Carturan's former village is dismissed as superstition and, worse, a grave sin in his current home town. Unlike the more universal concern about the future of a child following the death of his carer, this is a plot line which is a little too regionally specific to connect with a broader audience.
Production Company/international sales: Mandragora, Anca@mandragora.ro
Producer: Anca Puiu
Screenplay: Liviu Sandulescu, Bogdan Adrian Toma
Editing: Ioachim Stroe
Cinematography: Oleg Mutu
Production Design: Alexandra Alma Stroe Ungureanu
Music: Hasan Nasser
Main cast: Teodor Corban, Adrian Titieni, Dana Dogaru, Vlad Popescu, Cristina Flutur, Iulia Lumanare