Dir. Eva Orner. Australia, 2016, 96 mins.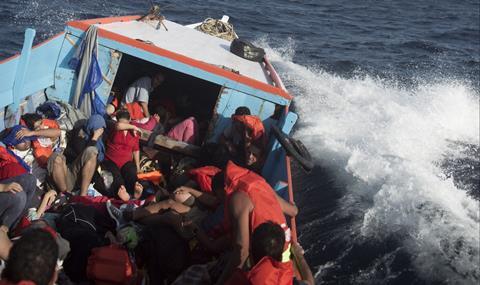 As a producer of Alex Gibney's Oscar and Emmy-winning documentary Taxi To The Dark Side, Eva Orner helped uncover the American military's use of torture as an interrogation technique. Now, directing her second feature after 2013's The Network, the Australian-born filmmaker turns the camera on her own country's institutionalised regime of mistreatment. Unpacking the consequences of the nation's severe stance against asylum seekers, she tries to cultivate the same level of anger and attention. Given the intense and incendiary nature of the film's secretly-shot footage and revelatory whistleblower interviews, plus the continuing debate raging about the subject around the world at present, Chasing Asylum should easily achieve that aim.
As a no-holds-barred expose of injustice, Chasing Asylum inspires a visceral reaction that is likely to resonate with viewers around the world.
More than a decade of anti-refugee political rhetoric, coupled with the 2013 decision to indefinitely house anyone arriving by boat in offshore centres in Nauru and Manus Island provide the topical basis for Orner's film. In fact, with Papua New Guinea's Supreme Court recently deeming the Manus Island facility illegal and calling for its closure, her hard-hitting effort has timing on its side as well. With or without opportune news headlines, the documentary's infuriating and heartbreaking content should arouse ample international interest following its Hot Docs premiere. Just as successive Australian governments have proven effective in employing harsh tactics to discourage asylum seekers from attempting to enter the country, Chasing Asylum is similarly brutal in revealing the human toll of putting that plan into action.
The film's sympathies reside might be apparent from the outset, with the feature commencing with loaded images of sea-faring refugees. A newsclip-heavy primer charts the nation's checkered history in the area, primarily comprised of every Prime Minister from John Howard to current leader Malcolm Turnbull reiterating the importance of deterring people-smugglers from setting sail. Journalists David Marr and Michael Bachelard, human rights lawyer David Manne, and former Prime Minister Malcolm Fraser offer expert commentary; the latter, still well-regarded for his own welcoming policies during the 1970s, is the only official figure willing to participate.
Other contextual information is delivered via on-screen text, with the bulk of Chasing Asylum's 96-minute running time reliant upon first-hand tales and on-the-ground recordings. Skirting a widespread media ban that has kept any distressing images from interested eyes thus far, they substantiate the film's convincing position that stopping the boats has come at an unforgivable cost, and not just in monetary terms. Indeed, presenting excrement-smeared tents, expletive-spewing security guards and carved messages exclaiming "kill us" can only paint a damning picture of the refugee experience within the two detention camps. The stealthy footage is made all the more dramatic courtesy of shaky camerawork that captures the kind of urgent, intimate details the rest of the world wasn't ever meant to discover.
Accounts from former detainees, as well as mothers and wives left abroad worrying about their lost sons and husbands, and candid testimony from former support and security staff, further flesh out not only the squalid conditions and sickening abuses, but also the widespread knowledge of the situation by Australian authorities. Ex-worker Mark Isaacs explains hiring strategies that favoured inexperienced students and retirees, while veteran correctional officer Martin Appleby tells of the death threats levelled against him after he complained higher up the chain. One woman, among those presumably too scared of reprisals to show their faces, characterises her role as "asking people not to harm or kill themselves".
By the time protesters compare Nauru to Guantanamo during a riot caught by one of the five credited cinematographers, the biting truth behind their words has already been demonstrated several times over. Accordingly, Orner's documentary lets reality do the talking, and proves all the more powerful for her purposeful but impassioned approach. As a no-holds-barred expose of injustice, Chasing Asylum inspires a visceral reaction that is likely to resonate with viewers around the world. Cornel Wilczek's judicious score helps keep emotions heightened throughout, though given the challenging sights and stories deftly cut together by producer/editor Annabelle Johnson and consultant editor Jill Bilcock, such a touch is hardly necessary.
Production company: Nerdy Girl
International sales: Dogwoof, info@dogwoof.com.
Producer: Eva Orner
Executive producers: Robert Connolly, Steven and Lani Castan, Ned Montarello, Roger Savage, Laini Liberman, Ben Rozenes, Shana Levine.
Co-producer / editor: Annabelle Johnson
Consultant Editor: Jill Bilcock
Cinematographers: Tim Deagle, Marin Johnson, Michael Downey, Khadim Dai,
Corey Baudinette
Music: Cornel Wilczek